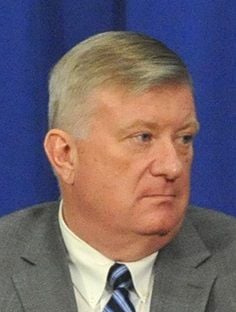 Ray Rice never would have faced jail time in the assault that knocked his now-wife unconscious, even if he had gone to trial, the Atlantic County prosecutor said Wednesday, breaking his silence on the case for the first time.
TMZ's release of a video showing Rice punch Janay Palmer inside a Revel elevator has sparked national criticism of Jim McClain's decision to allow Rice into a pretrial intervention program, avoiding prosecution.
McClain decided to open up about the case in an exclusive interview with The Press of Atlantic City to clear up misinformation and help restore trust in the agency.
"Even if they disagree with why I did what I did, I just want people to know the decision was made after careful consideration of the law, careful consideration of the facts, hearing the voice of the victim and considering all the parameters," he said. "I want people to have confidence in this agency, even if they don't agree with everything we do."
Rice was charged with third-degree aggravated assault causing serious bodily injury. Third-degree charges — especially for someone like Rice with no criminal record — carry a presumption of no incarceration.
To result in a second-degree aggravated assault charge, a crime has to involve "serious," or permanent, bodily injury. There is no first-degree charge of aggravated assault.
"People need to understand, the choice was not PTI versus five years' state prison," McClain said. "The choice was not PTI versus the No Early Release Act on a 10-year sentence. The parameters as they existed were: Is this a PTI case or a probation case?"
But state Senate President Steve Sweeney said the law needs to be changed.
"If everything was done by the book, that means we need to fix our domestic abuse laws," said Sweeney, who has called for an attorney general review of the decision.
"My whole point is not to criticize the prosecutor but to focus on what happened with the system," he said. "If this is the system our prosecutors and judges are forced to live with, we need to change it."
McClain said the video would have been enough evidence against Rice to get a conviction at trial, even without Palmer's cooperation. But all that would have come after the headlines and the daily coverage would be a probationary sentence, "and it's not fair to the victim to put her through that when that was the difference."
"I'm very glad that people are repulsed by the video, because this type of violence is an ugly, ugly thing," McClain said. "But the fact that this assault was on video makes it no more nor any less ugly than those hundreds of domestic violence situations where similar violence was inflicted on a victim and it's not captured on videotape. Reality is reality whether it's captured on videotape or not. And the reality of violence is that it is always ugly."
In looking at the case, Rice had no prior criminal history, no history of domestic violence and a long-established career that included public service. He also entered into therapy voluntarily, although likely at the direction of his lawyer, McClain said.
Probation would have been about two years — twice as long as the 12-month PTI program Rice was given. But, in either case, Rice would be able to clear his record if he had no more problems, he said.
Still, McClain admits he was "on the fence until very late in the deliberative process."
Then, he asked himself one question: "If this wasn't Ray Rice. If this wasn't a public figure. If this were some relatively anonymous person who had all the attributes that he had, where the situation was just the same as was present here, what would you do?"
The answer, he said, was PTI.
"Just like it is not just or fair to go easier on somebody because of who they are, neither is it fair or just to go heavier on somebody because of who they are," McClain said. "I felt, and still feel, this disposition was appropriate."
The video has been the biggest turning point in public opinion on the case. The Baltimore Ravens originally issued no punishment to Rice beyond the two games the NFL suspended him. But after the video went public Monday, Rice was released. Then NFL Commissioner Roger Goodell suspended him from the league indefinitely.
Goodell has denied seeing the tape. He said a request was made to the prosecutor, but that was denied. McClain backed that, saying the only interaction his office has with the NFL was that rejected query.
The videos TMZ released — both the aftermath outside the elevator and the one that shows the altercation inside — appear to have been leaked by a former Revel employee, and McClain does not believe any crime was committed.
"If I found out that anyone in this office did that, they'd be fired immediately because that's not what we do," he said.
McClain did not return a call seeking comment on that, or to say whether an investigation would now be started, since that could fall under official misconduct.
Seeming to echo what Palmer said on her Instagram account Tuesday about the pain the video's release has caused, the prosecutor said those trying to use the video as a platform for domestic violence are also revictimizing the victim.
"Every time you click on that video, you are forcing that woman to relive one of the worst days of her life and one of the most humiliating incidents," he said.