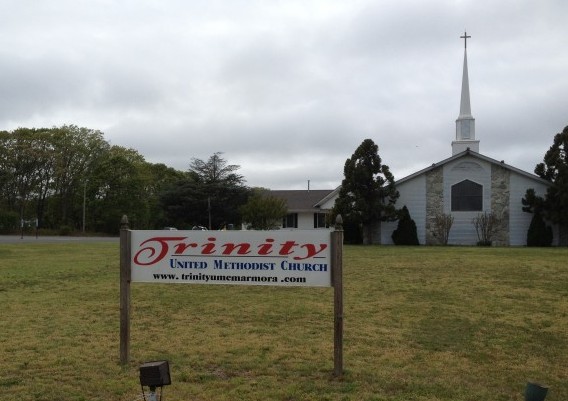 UPPER TOWNSHIP — About 100 people shouted at church leaders Wednesday night during a meeting to address a pastor's arrest for allegedly trying to engage in prostitution.
Preschoolers' parents received a letter in early April from Trinity United Methodist Church addressing rumors that the Rev. Randy Harry had been arrested months earlier. Harry was charged with loitering with the intent to engage in prostitution, but later pleaded guilty to a reduced disorderly conduct charge.
Harry ministers at the church, but does not teach at the adjacent school.
Parents' concerns — and teachers' allegations that their jobs were threatened if they discussed the arrest — prompted church leaders to hold an open meeting at their building on Route 9 in the Marmora section of the township.
The meeting was tense at several points, with parents shouting at Harry's attorney, church leaders and members of the congregation who said they believe Harry innocent.
Harry sat in the front pew but did not turn around or speak, except to say "No" when asked if he threatened teachers' jobs if they spoke about his arrest. That response was met by a chorus of boos from the teachers in attendance.
Harry, 51, of Millville, has been a pastor at the church since last summer. He formerly preached at churches in Dennis Township and in Cumberland County. His attorney, Jeffrey DiLazzero, spoke on his behalf and opened the meeting with an explanation of what happened.
A police report stated that a Millville police officer in an unmarked car saw Harry driving in circles through downtown Millville on Nov. 11. At one point, the officer said, a woman got into Harry's car, but then the officer lost sight of it as he proceeded through traffic.
The officer spotted Harry's car a few minutes later, pulled him over and questioned him, the police report states. Harry gave various reasons for why he was driving in the area, ultimately telling the officer he was driving to clear his mind after arguing with his wife.
Harry would later say that the woman who entered his vehicle asked for a ride and then for money — and that he gave her $4. Police said they later found the woman and confirmed she had been arrested in the past for prostitution.
DiLazzero said that when the matter went to court, he advised Harry to take a plea deal, explaining to the crowd Wednesday night that there was no point in taking the case to trial, even though he believed Harry was innocent.
He concluded his statements by saying, "You know Pastor Harry."
"No we don't!" shouted a large portion of the crowd.
At that point, several parents started challenging DiLazzero, Administrative Council Chairwoman Diana Adelizzi and United Methodist Church Superintendent the Rev. Paul Maliel about what they knew, when they knew it and why they did not let parents know sooner.
They responded that they knew in November about the incident and that they handled the situation as a personnel matter.
They said if there were charges that would have indicated the children in the adjacent preschool were at risk, then they would have notified parents immediately.
Parents said that shouldn't have been up to the church leadership, and parents accused them of simply trying to cover up the matter. Parents said that when they tried to get more information, they were stonewalled by church leaders.
Some parents compared the issue to the recent sex abuse scandal at Penn State University, saying that the people who knew about a potential issue did not do enough. They demanded either Harry step down or they would pull their children out of the school.
"We pray for his future, but it cannot be here at Trinity United Methodist Church," said Greg Guyon Jr., of Estell Manor, a former youth leader for the church who said he was fired for speaking out on Harry's arrest.
Adelizzi opened the meeting by saying no decisions would be made, but she said they would reconvene soon to discuss a course of action.
"I hear you, and I want to make things better," said Chris Hayes, a member of the church council and the church's former lay leader, who eventually spoke on behalf of the church when the parents grew too frustrated with the other representatives.
"We will take action and, hopefully, it will be an appropriate action for you," he said.
Several parents and employees who spoke out during the meeting declined to provide their names afterward, simply saying they did not want to be in the newspaper.
Erin McAllister, of Ocean City, said she takes her children to the school because the teachers are excellent, and said it would be a shame for parents to start pulling children out because of the scandal.
"Our children are in good hands here," she said, "but I think (the church has) a lot of work to do."