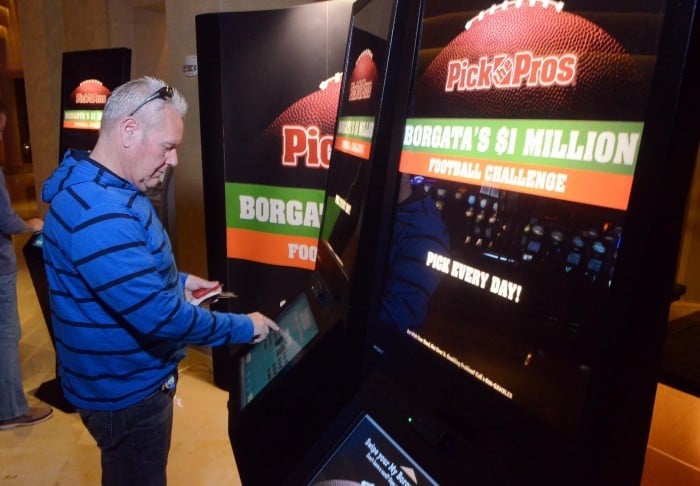 On Sunday, New Jersey's backroom bookies and office pools again will be among the limited options for people looking to gamble on the Super Bowl, but the state's top officials are plowing ahead in their campaign to legalize sports betting and dismantle the shadow sports-betting economy.
The nation's main casino lobby, in its PR campaign to overturn a federal ban on sports betting, released a study last week forecasting that Americans will bet $4.2 billion on the big game this year. Nearly 97 percent of the wagers will be made with illegal bookmakers, the American Gaming Association said.
Meanwhile, attorneys for New Jersey are preparing for a Feb. 17 appeals court hearing in Philadelphia, where federal judges will consider allowing the state to become the fifth in the U.S. where some form of sports betting is legal.
The Professional and Amateur Sports Protection Act, or PASPA, makes it illegal for nearly all states to "sponsor, operate, advertise, promote, license or authorize" sports betting. Nevada, Delaware, Montana and Oregon received exemptions to maintain sports-betting operations in place before Congress enacted PASPA in 1992.
In Nevada, the only state with a full array of legal sports betting, sports bettors wagered about $4.2 billion legally in 2015, according to the Center for Gaming Research at the University of Nevada, Las Vegas. Bookmakers kept about $231.7 million, which amounted to about 2.1 percent of total gambling revenue in Nevada last year.
But when gamblers go to casinos to bet on sports, "that's not all they'll do," said Lloyd D. Levenson, a prominent casino-law attorney.
"They have to eat. They'll drink. They'll buy some retail. They'll see a show. They'll stay in a hotel room."
The big boon from legal sports betting is "the ancillary benefit, not just the benefit that comes from sports wagering," he said.
In a 2011 referendum, about two-thirds of New Jersey voters authorized an amendment to the state constitution to allow sports betting at the state's casinos and racetracks. In 2012, Gov. Chris Christie signed a law aimed at regulating sports betting at those facilities.
The National Collegiate Athletic Association and all four major sports leagues, which say sports betting taints honest competition by stoking suspicion that bets are affecting games, promptly sued to block the law. Federal judges sided with the leagues, ruling that the law entailed a state-regulated sports betting regime and therefore violated PASPA. The U.S. Supreme Court let the ruling stand.
The Legislature responded by repealing the corpus of state law pertaining to sports betting. The repeal was designed only to apply to New Jersey's casinos and racetracks.
If the state remained mum on sports betting at gambling halls, not authorizing it but not barring it either, there would be no violation of PASPA, because that law only bans state-authorized sports betting, attorneys for the state argued.
Some attorneys called the approach a creative workaround to the federal ban; others, including attorneys for the leagues, called it a bizarre end-run around the law.
In August, a three-judge panel of the 3rd U.S. Circuit Court of Appeals rejected the state's argument, ruling for the leagues.
But in October, the court decided to take a closer look at the case. It vacated the August order, and now the full court is reviewing the case. Attorneys for both sides are scheduled to make their case before the 3rd Circuit this month.