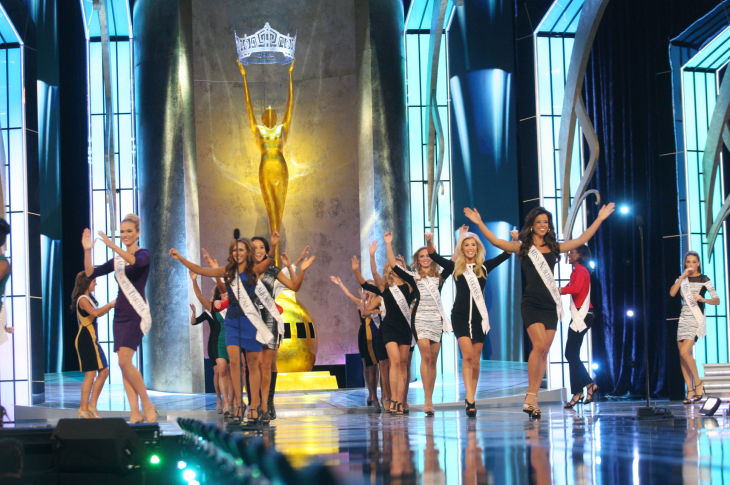 The Miss America Organization was welcomed back to Atlantic City last year with open arms and deep pockets as the state provided $7.5 million for one of the most generous subsidy packages in the organization's history.
Today, as officials tout the success of the September competition that brought images of Atlantic City into millions of living rooms across the country and an estimated $32 million into the city, critics question why an organization responsible for millions is guided by arrangements between friends more than best business practices.
The organization, a registered nonprofit as a scholarship organization, operates under the guidance of Sam Haskell, a CEO who has no set salary.
The Miss America Organization in 2012 agreed to pay Haskell's firm $500,000 as a consultant while he was serving as board chairman. When that money wasn't available, he took a fifth of the amount, with the balance still owed "at a future date," according to tax returns for the organization, which lost more than $430,000 in 2012. The former Hollywood agent, who has been included on lists of the most influential people in television, also took on the role of CEO last year after seven years as board chairman.
While the MAO and officials who control the subsidies to Miss America insist nothing is amiss, one charity-watchdog organization said even decisions made with good intentions can have unintended consequences.
"It's a red flag," said Sandra Miniutti, vice president of marketing for independent charity evaluator Charity Navigator. "The charity could potentially have to pay out that sum in the future without warning. A question mark over an executive's salary is not a best practice."
Meanwhile, the Casino Reinvestment Development Authority, which has financed the competition's return to Atlantic City, agreed to advance a $250,000 payment in November after the organization said it could not pay its bills without the added cash flow. The MAO is due $7.5 million in installments stretching through the contract's end in 2015.
CRDA Executive Director John Palmieri insisted there is no reason to believe the organization is not financially viable.
Miss America officials blamed the deficit on the fact that the organization had not properly accounted for putting on two competitions in one year, rather than a lack of revenue from the Miss America parade. While that event was well attended, it drew smaller crowds than anticipated.
After an eight-year stint in Las Vegas, Miss America returned in 2013 to its birthplace of Atlantic City, where production costs are double those of the Las Vegas show, due to the age of Boardwalk Hall and labor costs associated with it. The timing of the move left the organization putting on two shows last year: one in Las Vegas in January, the second in Atlantic City in September.
"When we had to produce two pageants in one year, our sponsorship dollars don't come in at a rate to support that double production," Haskell said. "But we had some expenses from this telecast that need to be paid before the end of the year, and John was gracious enough to give us the advance so we could handle the cash flow. This was not an issue of the parade."
Not so, said Palmieri. He said the payment — half of a $500,00 payment due in May but made seven months early — was necessary because the organization overshot its revenue projections for the Miss America parade, opting for a professionally produced spectacle over the former home-grown productions of the past.
Parade crowds were not as large as anticipated, with organizers hoping many would pay for seats on the Boardwalk rather than reinstate the tradition of bringing beach chairs and watching for free. Officials initially estimated a crowd of 200,000 but have reduced that tally to 100,000.
"They just didn't get as much revenue as they thought they would with some of the Miss America activities. The parade was an issue for them. They wanted to go high-end," Palmieri said. "It's not as though they're saying, 'We're broke,' but in terms of cash flow, which is an important thing in business, they needed help."
Asked later about Palmieri's comments, Miss America Organization President Sharon Pearce again cited "unforeseen and unbudgeted expenses" due to the cost of producing two nationally televised events in one year. She then also referenced the added production costs of the Miss America parade.
Haskell, a Mississippi native, joined the 14-member Miss America board in 2005 and became chairman a year later. Once made up primarily of locals who had long been pageant cheerleaders, the Linwood-based organization's board now consists of former Miss Americas and communications professionals, among others.
As chairman of the board, Haskell has never drawn a specified salary. But 2012 tax returns show the organization agreed to pay $500,000 to Haskell's firm, Magnolia Hill Consultants. Haskell described the organization as the "Sam Haskell consulting company" and his accountant's way of setting up a vehicle through which he can be paid for his consultant work and public speaking appearances.
The name references Haskell's Oxford, Miss., Colonial-style estate, dubbed "Magnolia Hill," which has been featured in Mississippi Magazine. The organization was required to disclose the payment on tax returns because it was conducting a business transaction with a board member.
Haskell called the payment "reimbursement money" for the seven years he has spent leading the organization's board. He said there is an agreement that the organization will pay him only if it can afford to do so; he won't put the organization in financial jeopardy. That's why $400,000 of the sum was not paid in 2012, though it is still owed to Magnolia Hill, according to tax returns. Pearce confirmed the arrangement.
"They felt I had been taken advantage of for seven years," Haskell said of the board. "I've got all the network negotiations and all the advertising negotiations. ... I have really good friends on the board who decided it's time for me to get something, you know?"
Haskell initially said during an interview that he had been working for seven years for free, noting that he believed past board chairmen of the organization had been paid. Later he acknowledged there have been board chairmen who also served as CEO and were paid; others have volunteered their time. However, Haskell said his tenure as board chairman has been unique, pulling on his expertise and connections from his position as head of worldwide television with the William Morris Agency.
"This obviously takes away from my family and other business opportunities, because I do this 24-7," Haskell said. "I don't feel there's a need to defend it, but you're making me feel that way."
A review of the Miss America Organization's tax returns from 2004 to the present shows during that time, the entire board, including the board chairman, was unpaid. Calls placed to four past board chairpersons were not returned, but at least two people long affiliated with the organization said no one on the board ever has been paid. Neither John Birtwistle, of Ventnor, a board member for about 30 years, or his wife, Elizabeth, a volunteer committee member for about 30 years, could recall a time when anyone on the board was paid.
Through 2013, Haskell headed the board under the direction of longtime Miss America CEO and President Art McMaster, who was at the head of the organization when it left Atlantic City in 2005 and when it returned in 2013. But when McMaster announced in May 2013 that he would step down, Haskell took on the joint roll of board chairman and CEO. CEO always has been a salaried position, but Haskell said he will continue to take only what the organization can afford to pay him, leaving his salary a question mark each year.
That's problematic, said Miniutti of Charity Navigator, saying not only should a salary not be left undecided, but overlapping duties of board chairman and CEO can create accountability concerns.
"The whole point of a board of directors and with a chair is that the person who runs the organization has to be accountable to somebody," she said. "You can't be accountable to yourself. It's fine for the CEO to be a member of the board, but he shouldn't be the chair."
McMaster, of Sewell, Gloucester County, was at the helm of the organization for nearly a decade, taking over in 2004 and primarily leading the competition through its years in Las Vegas.
Asked about the decision to pay Haskell through Magnolia Hill Consultants in 2012, McMaster declined to comment. He also declined to comment on his own salary fluctuations.
"Gosh, I'm not even with Miss America anymore," McMaster said. "Anything with Magnolia Hill, you should ask them."
McMaster's own salary took a hit in 2012, as the organization prepared to pay as much as $500,000 to Haskell. Tax returns show McMaster earned $193,675 in 2012, a 23 percent decrease from the $252,136 he earned in 2011.
When Miss America was last in Atlantic City in 2004, executive salaries weren't nearly as high. At that time, McMaster earned $161,000 annually. That changed in 2006, when McMaster saw a nearly $89,000 raise in a single year. The 56 percent raise left him earning $248,884 in 2006.
Deciphering the state of the organization's finances based on its tax returns is challenging, if not impossible. In 2008, the organization restructured its finances, giving the Morristown, Morris County-based Community Foundation of New Jersey oversight over its assets and scholarship responsibilities.
For instance, tax returns show Miss America's assets have fallen from $873,895 in 2009 to $61,418 in 2012, but officials say many assets now rest with the Community Foundation, which does not specify liabilities of individual funds such as the Miss America Scholarship Fund on its tax returns.
According to the contract between the Miss America Organization and CRDA, the parties agree to split the annual production costs and one-half of the annual building operation costs associated with the pageant, up to $4.5 million. The organization pays for the Miss America parade, with CRDA helping to secure necessary city permits and security services.
That means that every year, the CRDA will pay up to $2.3 million. In May, $500,000 is due; another $700,000 is due 30 days before the competition; $800,000 is due on the day of the show; and the remaining balance is due 30 days after the event.
Budget reports submitted by the Miss America Organization to the CRDA show the organization stuck to its $4.4 million budget.
However, according to the contract, the organization is supposed to provide written reports evidencing production costs every 90 days, which has not happened. Instead, the organization submitted an initial budget in May 2013 and a post-production budget in January, according to documents returned in an Open Public Records Act request. Sharon Dickerson, an attorney with the CRDA who responded to the OPRA request, said the 90-day reports were generated late.
The funding advanced to Miss America late last year accounts for half of the $500,000 payment that was due in May. Emails and a letter between Miss America officials and the CRDA show the funding was advanced one month after the request was received in writing.
Little explanation was given in an Oct. 18 letter from Haskell to Palmieri, the CRDA executive director, in which he asked that $250,000 be paid by Nov. 1 to facilitate an updated production payment schedule. He followed up with an email to Palmieri that same day saying, "We just dropped the letter we discussed at your office! Thanks for everything my friend!"
Palmieri responded that he would review the request with his staff and get back to Haskell within days.
"By the way, I plan to write a screenplay about the return of Miss America to Atlantic City and the private stories of the contestants and all the hijinks that goes on. Can you be my agent?" Palmieri joked.
By Nov. 19, the CRDA board approved the action unanimously without any public discussion.
"This was a simple request … so we provided them with an advance," Palmieri said. "We're in this for three years with them. We see this as a big deal."
@ACPressJennifer on Twitter