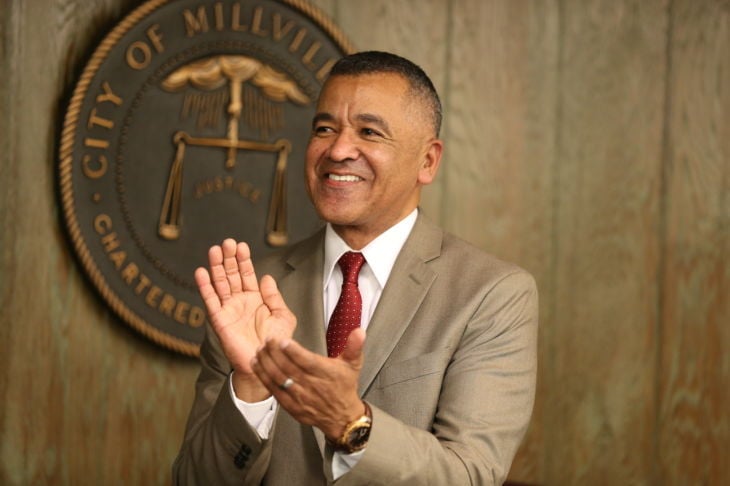 MILLVILLE — Members of a new and more diverse City Commission took their oaths of office during ceremonies at the municipal building Thursday night.
Michael Santiago not only became the panel's first Hispanic member, but also the city's first Hispanic mayor by virtue of his first-place finish in the November election.
"Thank you," a smiling Santiago said repeatedly as the people in the City Hall meeting room applauded after a 5-0 vote made him mayor.
Joining Santiago on the panel was David Ennis, who becomes the municipality's first African-American member. Lynne Porreca Compari took office as City Commission's first female member in more than a decade.
Also taking office were Jim Quinn, who was sworn in to his fifth term on City Commission, and Joseph Sooy. Porreca Compari and Sooy ran together on the "New Team for a Better Millville" ticket. They became the first candidates with links to the Millville First watchdog group to win City Commission seats.
Santiago called the new City Commission "an outstanding group."
"There is a lot of energy up here," Santiago said. "I know we are going to be successful. You'll be proud of us.
"I'm going to put forth my best effort to be a team player," he said. "I'm going to be a strong advocate for the city of Millville. Know that no concern is too large or too small for us to handle. See us as your servants for the promising future of this great city."
Quinn said called the new City Commission "energetic."
Porreca Compari said she wants to work hard to improve the city's image, and that she will work with her follow commissioners to get that done.
"We five commissioners each have our individual strengths, but we share the common goal that we want to improve the city," she said.
Ennis said people have asked him if city commissioners are "dreamers."
"No, we're visionaries," he said. "The vision is built upon the premise of rebuilding, reclaiming and restoring. We're going to work hard to make sure we reclaim the name of Millville, and people will flock to get here. And you all are going to help us."
Sooy said he will "do the best I can to work for you."
"We also need your input," he said. "We need your ideas. We need you watching."
Also during Thursday's proceedings, each city commissioner got a department to supervise.
Santiago, a former city police officer, will oversee the Department of Public Safety.
Quinn will once again oversee the Department of Revenue and Finance. He took over that department in January 2013 when City Commissioner Joseph Derella resigned after being elected to the Cumberland County Board of Chosen Freeholders.
The other department assignments have Porreca Compari overseeing the Department of Public Affairs, Ennis overseeing the Department of Public Works, and Sooy overseeing the Department of Parks & Public Property.
While City Commission has some new faces, some of them have previous experience as elected officials. Santiago and Ennis were members of the local Board of Education.