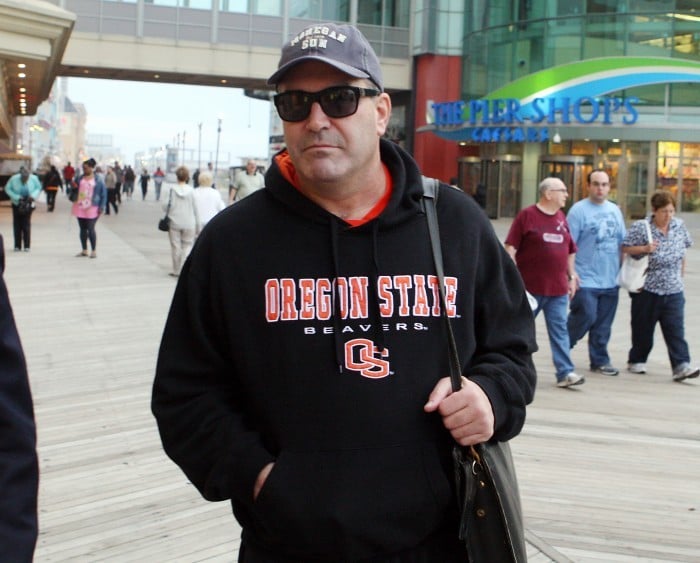 ATLANTIC CITY - He took Caesars for more than $4 million, burned Borgata for about $5 million and then topped it off by beating Tropicana out of $5.8 million.
For Don Johnson, it was an incredible streak of good luck at the Atlantic City blackjack tables.
"I'll take luck over any other skill," Johnson said, laughing. "There's no magic to this. Eventually, someone would whack them. I'm just glad it was me."
Johnson, 49, of Bensalem, Pa., is the chief executive officer of Heritage Development LLC, a Wyoming-based company that uses computer-assisted wagering programs for horseracing.
He confirmed in two interviews with The Press of Atlantic City that he is the blackjack player who has been single-handedly scorching the casino industry in the past six months. His identity previously had been a mystery, known only to the casinos where he was a pampered high roller.
By Johnson's account, he won $4.23 million at Caesars Atlantic City in December. Next, he conquered Borgata Hotel Casino & Spa, winning about $998,000 in December, then $1.8 million in March and April and $2.25 million over two nights later in April. Most remarkable was his haul of $5.8 million during a 12-hour spree at Tropicana Casino and Resort in April, a record loss for the casino. Multiple sources in the casino industry confirmed the accuracy of Johnson's story.
In all, Johnson racked up about $15.1 million in blackjack winnings during a six-month span, although he acknowledged incurring some undisclosed losses along the way.
"I don't wear Kevlar," he said. "I'm not bulletproof. I do have some losses in between."
His huge wins capped a casino gambling career that started with him placing $25 bets at blackjack about 15 years ago. As he became more proficient, he transitioned into high-stakes wagering. At Tropicana last month, he was allowed to bet up to $100,000 a hand.
"That's the highest I've ever heard of," he said.
Johnson hardly fits the Hollywood image of a high roller. He is not decked out in Armani suits or Bruno Magli shoes. He does not drape himself in expensive jewelry. He dresses casually in sports attire, preferring sweatshirts, jeans, sneakers and baseball caps from casinos he's visited.
In one interview, he showed up wearing a throwback Wrigley Field Chicago sweatshirt and a blue Nike T-shirt. He was clad in an Oregon State Beavers sweatshirt for the second interview. He grew up on a farm in Oregon and maintains a second home there, in Salem.
By turning the tables on the casinos, Johnson destroyed the old adage that "the house always wins."
"They beat most people in the long run because the average person won't have the bankroll," Johnson said. "But I have my own bankroll. If you can take the swings, you're going to win. You also have to understand the math."
Johnson, who declined to call himself a professional gambler, would not divulge his betting strategy. However, he emphatically said he is no cheater and denied being part of any gambling ring.
"I'm not breaking any laws," he said. "I'm beating them with my own skills."
Groups of card sharks playing together are not uncommon in the casino industry. A blackjack-playing team of students from the Massachusetts Institute of Technology was chronicled in the book "Bringing Down the House" and the movie "21." The MIT students systematically beat the Las Vegas casinos at their own game.
"I don't do anything like the MIT guys," Johnson said. "I can figure things out on my own."
Jim Wortman, a former Atlantic City casino executive and nationally recognized gaming expert, said it was entirely plausible for one player to win so big at the blackjack tables - if he had sound knowledge of the game, deep pockets and exercised self-discipline.
"There are a lot of people who have the knowledge and who have the bankroll, but they fall short of discipline and start changing to losing hands," said Wortman, gaming director at the Conrad N. Hilton College of Hotel and Restaurant Management at the University of Houston.
Wortman noted that casino surveillance officers would have scrutinized every hand that Johnson played to make sure there was no cheating. Casinos also use sophisticated computer software to track gamblers' betting habits and strategy, hoping to figure out how they are winning.
"The casinos want a chance at your money," Wortman said. "There is a house advantage to every game. They know that nobody wins all the time or loses all the time."
Johnson joked about his own losses, but added that he has come out on top over the years.
"It's a lot," he said of his winnings. "I pay millions in taxes."
Johnson's visits were a risky affair for the casinos. He ruined Tropicana's table games revenue in April, driving the casino into the red for blackjack. Monthly revenue figures compiled by New Jersey gaming regulators show that casinos had lost money on blackjack only six other times in Atlantic City's 33-year history of legalized gambling.
Lately, Tropicana has been using high-limit table games as the centerpiece of its casino strategy. Tropicana had posted higher table games revenue in six of the past seven months, but its lucky streak ended in spectacular fashion in April because of Johnson.
"We ran very unlucky," Mark Giannantonio, Tropicana's outgoing chief executive officer, said in an interview in early May.
Giannantonio disclosed then that one blackjack player had won a record $5.8 million, but he declined to release the gambler's name. Giannantonio denied that the casino's big loss had cost him his job. Parent company Tropicana Entertainment Inc. announced on May 6 that Giannantonio had been fired and would be replaced by veteran gaming executive Tony Rodio starting June 1. Tropicana has not said whether it will continue with its high-stakes table games play when Rodio takes over.
Representatives of Borgata and Caesars said they do not identify gamblers because it is their policy to protect the privacy of patrons. Dennis Gomes, CEO of Resorts Casino Hotel, said his gaming hall refused Johnson an opportunity to play because "he wanted to bet very big."
Johnson insisted the casinos have only themselves to blame for their losses, opening the door by offering him high-stakes gambling. They also agreed to discount 20 percent of his blackjack losses as an incentive to get him to play, he said. For instance, if he lost $1 million, the casinos would forgive $200,000.
"The best thing is, they offer you discounts on your losses," he said.
Blackjack is not the only type of gambling that has attracted Johnson. He has been involved in the horseracing industry for years, including thoroughbred ownership. He served as the manager of Philadelphia Park in the 1990s, before the Pennsylvania racetrack was transformed into the Parx Casino.
His winning exploits at the blackjack tables have recently made the casinos wary. Johnson said he has been banned at the Caesars and Harrah's casinos in Nevada and was turned down by Resorts and Trump Taj Mahal Casino Resort in Atlantic City. Unlike the past, the casinos are no longer willing to give him a 20 percent discount on his losses or shower him with other high-roller perks, he explained.
"I don't think they will let me play anymore," he said of the Atlantic City casinos. "But it's not going to change my life. If I don't play blackjack, I'll just go to the horse races."
Contact Donald Wittkowski: