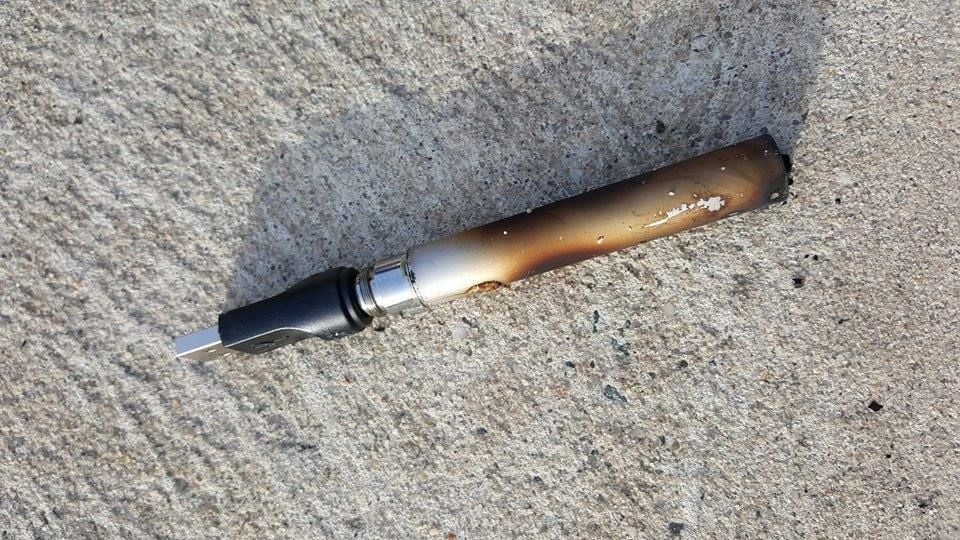 LITTLE EGG HARBOR TOWNSHIP — Firefighters responded to a report of "an exploded e-cigarette" at a township residence, Mystic Island Fire Chief Bill Stenger said.
"It was the first time we had ever seen this. We weren't sure what we were going to find. But it was, indeed, an e-cigarette that had exploded," Stenger said.
What happened after the explosion two weeks ago was a lesson for both the homeowner and the firefighters.
Stenger said fire Lt. Roman Isaryk recently read about the danger of using a cellphone charger to charge an e-cigarette.
Firefighters asked the homeowner, and she admitted she had been using a cellphone charger instead of the charger that came with her e-cigarette.
"She said she didn't know the difference (between the two chargers)," Stenger said.
The cellphone charger looked the same — and fit the same —as the e-cigarette charger.
Stenger and Isaryk discussed the explosive danger with the homeowner, and they shared the information with other firefighters.
While the cellphone charger cord and the e-cigarette charger cord may both look alike, they are very different in strength, Stenger said.
"They both use USB cords," Stenger said.
He said the charger for a cellphone puts out too much electrical current.
Also, e-cigarettes don't charge as quickly as cellphones.
"The e-cigarette uses a USB charger like everything else. But using the wrong charger makes the e-cigarette battery overheat," Stenger said.
"It was really easy to figure out. Roman had read something that this was an e-cigarette problem involving people using the wrong chargers. Say what you want, he hit the nail on the head," Stenger said.
The explosion from the e-cigarette was "minimal," he said.
"There was damage to the kitchen. There were char marks in the kitchen," Stenger said.
The fire company instructed the homeowner to only use an e-cigarette charger.
"It could have been a lot worse," he said.