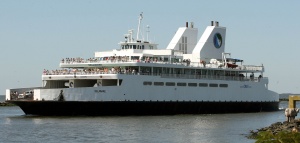 The Cape May-Lewes Ferry has been awarded a nearly $1 million grant from the Environmental Protection Agency to upgrade a vessel's engines, according to the Delaware River and Bay Authority.
The $975,000 grant will be used to bring clean air technology to the ferry boat MV Delaware, and the upgrade is the equivalent of removing emissions from a dozen diesel tractor trailer trucks, EPA officials said in a statement. Specifically, by repowering the vessel's propulsion engines, fuel use will be cut by almost 40,000 gallons and carbon monoxide emissions will decrease by 443 tons annually.
The grant was awarded to the DRBA, which operates the ferry, through the U. S. Environmental Protection Agency's Diesel Emission Reduction Act grant program.
Be the first to know
Get local news delivered to your inbox!