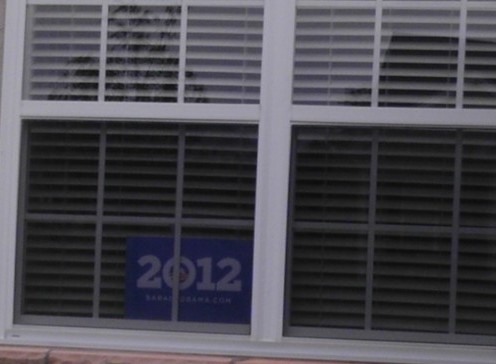 BARNEGAT TOWNSHIP — Anita Carbonara, 75, says the signs she hung in her home's windows supporting President Barack Obama are not hurting anyone.
But the Heritage Point property management organization and local homeowners association do not want the signs displayed at Carbonara's home where she has lived for the last two years.
A self-proclaimed democratic activist and former secretary to dean of students at Seton Hall University, Carbonara said will do everything she can to get Obama re-elected, including displaying campaign signs where she and her husband, Michael, live on Portland Street.
"I truly believe in Barack Obama. I believe he is the best thing that has happened to this country," Carbonara said.
Carbonara said last month she made a request to the management company at Heritage Point to allow her to place the signs on her property, but the community's Board of Trustees ruled against her.
After repeated attempts Monday, Larry Palumbo of Heritage Point's property management did not return a call for comment.
"I believe this is a violation of my freedom of speech. I do not think the Board of Trustees can take away my civil rights just because it is a rule of the development," Carbonara said at her home Monday afternoon.
Marta Harrison, vice chairwoman of the Ocean County Democrats, said the rules that homeowners associations impose are often solely up to them.
"We're glad that Anita wants to get President Obama elected, and we'll be glad to find ways for Anita to support the president if the community's rules don't apply," Harrison said.
Carbonara has not removed the signs from her windows — one in the home's front window and another in the side window. She said the signs are not intrusive and she doesn't understand why the community's Board of Trustees ruled against displaying them.
"I have had no response other than they refused me in the first place and now it's been quiet. I've had it out there for month," she said.
The small square signs in the windows at the Carbonara home do not detract from the manicured lawn or the pink impatiens in bloom at the front stoop. At first glance, the signs are not even noticeable.
There is no rule regarding political signs in the Heritage Point 63-page book of rules and regulations for residents. She said she was given the binder of rules and information when she moved into the home two years ago.
"I will not have my rights denied. For them to tell me I can't put a sign in my window, well, I just won't go for that. The problem with our party is that they don't stand up and they don't fight. The Republicans do all the fighting," she said.
Michael Carbonara, a former republican councilman in Essex County, is on board with his wife's decision.
"It's not about party affiliation, it's about believing in the person, and I believe in Obama," Michael Carbonara said. He said he is now registered as an independent.
She said she will fight as hard as she has to and she pointed to a similar case in northern New Jersey that was decided last month in court.
Carbonara was referencing the case of Wasim Khancourt, 56.
The repeat Parsippany Township Council hopeful has lost several elections in the very Republican Morris County since 2005. Khancourt, a Democrat, was ordered by the homeowners association at his townhouse complex to remove his own campaign signs displayed at his home in 2005, according to a report last month in the Star Ledger.
The state Supreme Court ruled 5-1 last month that Khancourt's free-speech rights were violated.
Part of the court ruling included that the homeowners association "sign policy in question violates the free-speech clause of the State Constitution."
The Carbonaras say they feel a sense of relief and hope after reading about the decision in the Khancourt case.
"I will be posting political signs on my property. I urge all of you who live in these kinds of communities to also exercise your right to freedom of speech," Anita Carbonara said.
"Next, I want to put a sign up with a big picture of Obama's face," she said and smiled.
Follow Donna Weaver on Twitter @DonnaKWeaver