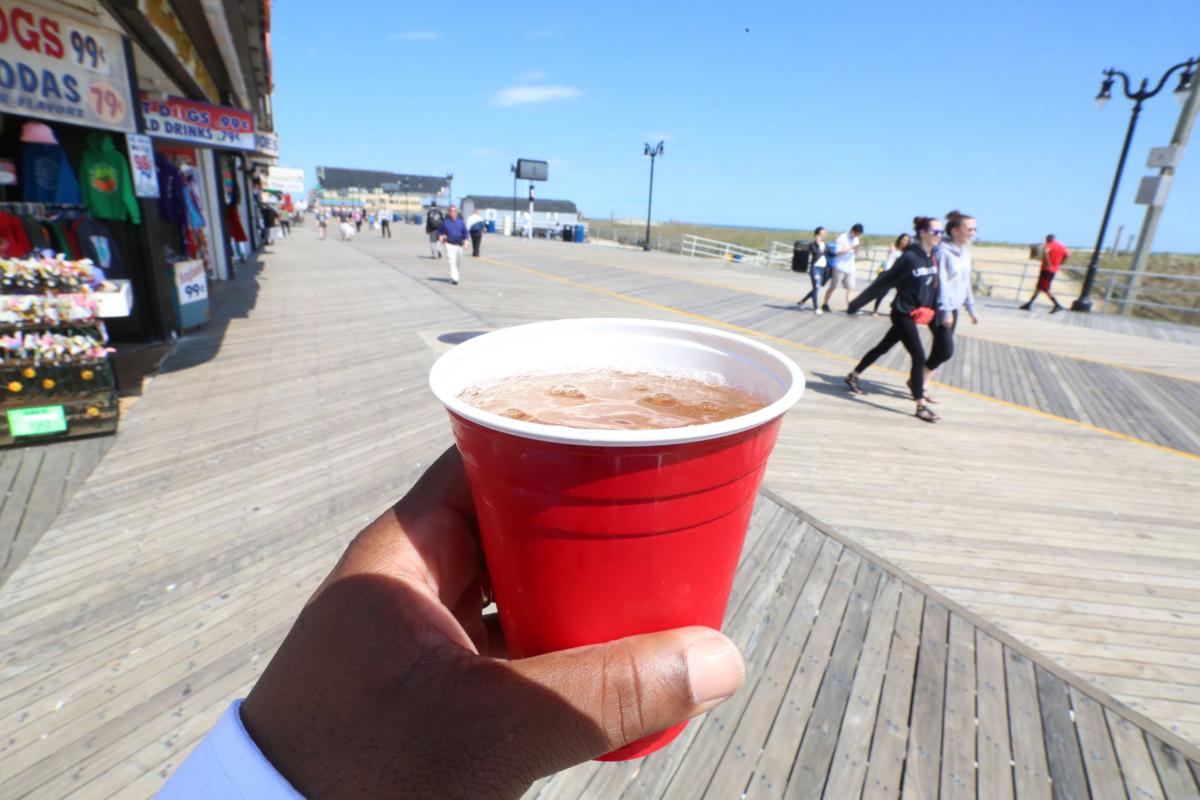 ATLANTIC CITY — Booze on the Boardwalk will be a boon to business, lead to drunken chaos or have no impact at all, depending on whom you ask.
As city officials weigh a policy allowing patrons 21 and older to walk the boards with an alcoholic drink, experts, tourists and businesses offered varying opinions on the proposal.
"We think it's great for the city and great for our customers," said Mark Giannantonio, president and CEO of Resorts Casino Hotel. "We want to treat our patrons like adults. We think they should be able to take a drink out of Resorts, out of Landshark (Bar & Grill), out of Margaritaville and be able to walk on the Boardwalk with it."
But others worry the policy could lead to trouble on the Boardwalk. Some tourists, like Marta Galarza, 56, of Jersey City, said the open containers are a bad idea.
"There are a lot of children here," she said Monday.
Michael Busler, a finance professor at Stockton University, had mixed feelings about the proposal and wondered whether it could be successfully enforced.
"We do want to encourage as many people to come as possible," Busler said. "On the other hand, we don't want a lot of drunken people running up and down the Boardwalk."
Under the ordinance, customers can carry one drink in an open plastic container purchased from a licensed beverage establishment adjacent to the Boardwalk. The container must bear the name or logo of that business. The drinks will only be allowed on the Boardwalk between Albany and Metropolitan avenues.
Busler fears there could be a tendency to abuse those rules, such as people taking the drinks outside the designated area.
Then there are those like Frank Pileggi, manager of Irish Pub, who thinks the policy is no big deal at all.
"Quite frankly it's already happening," Pileggi said, adding he regularly stops customers who try to bring in drinks from other bars. "They want to basically legalize what has never been enforced."
The policy is intended to help distinguish Atlantic City — which has lost its East Coat gaming monopoly — and to create more foot traffic on the Boardwalk.
Tony Rodio, president and CEO of Tropicana Casino & Resort, said other destination resort markets like Las Vegas allow customers to carry open containers, something that puts Atlantic City at a disadvantage.
"I think it's a great idea and a long time coming," Rodio said. "The more we can do to make Atlantic City a full destination resort, the better."
That was the argument of Tom Forkin, who chairs the city's Alcohol Beverage Control Board and has pushed for the city to not only allow open containers on the Boardwalk, but throughout the entire Tourism District also.
"They have open containers in New Orleans, they have open containers in Miami, in Key West, and of all places, Disney World," Forkin said at Wednesday's council meeting.
Council ultimately tabled the ordinance Wednesday.
Council President Marty Small, who supports the proposal, said bars on beach blocks but not on the Boardwalk wanted to weigh in.
"We'll invite them to a committee meeting soon to discuss this matter and then hopefully vote it out with everyone on the same page," Small said.
Council could adopt the ordinance as soon as July.