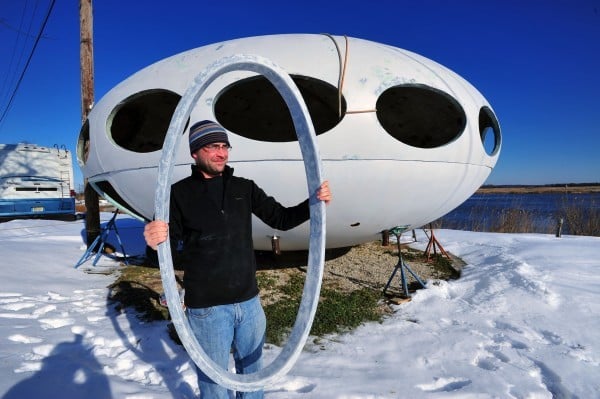 GREENWICH TOWNSHIP - This is a story about a man and his desire to live in a spaceship.
A few feet from the water's edge at Hancock Harbor Marina in Cumberland County's Greenwich Township is a 25-feet-wide, saucer-shaped oddity intended when it was built to be the house of the future.
Called a Futuro, the small homes - incorrectly labeled as portable - were invented in Finland in the late 1960s, just as humanity was making space travel a reality.
Only about 100 Futuros were built. The idea, for a number of reasons, was a bust. Many exist around the world in various stages of decay, but Matt Damon, a New York-based modern furniture dealer, wants to call the one in Greenwich home.
"I knew it was a really, really old piece, but it was such an iconic piece and it just so much embodies everything the '60s stood for," Damon said. "For me, being a modern-furniture dealer, it was like the trophy, the white elephant. So I went out and got it."
Today, Damon's prized piece does not look like much more than an egg with window holes cut into it. He bought the house for $15,000 cash a few years ago, he said, and so far has spent about $65,000 on it.
The visible result of that work so far is little more than a few coats of primer and a bunch of plastic window moldings.
Depending on what shape the interior takes, the complete restoration of the Futuro will likely run Damon, 44, a quarter of a million dollars. Right now, he is conflicted about whether to go ultra-modern with the interior or take it in a Jules Vern-esque direction, complete with red leather, brass buttons and rich mahogany.
"It's the interior that's going to be a real challenge," Damon said. "There are a couple of options, and one is to reproduce the original interior. The original interiors were pretty boring. It was like being in the 'Brady Bunch' den, not very cool."
Joe Pepin started overseeing the restoration project about a year ago. As Damon's personal assistant, Pepin lives in an apartment at the marina and has spent time learning the history of the Futuro, including the one in Greenwich.
The Greenwich Futuro once existed as a ride on Morey's Piers in Wildwood. A video posted on YouTube features home movies of Wildwood circa 1974 to the backdrop of a classic rock song, while the Futuro is shown spinning around slowly, settled in between prop stalagmites and a sign that reads "Star Trek."
Eventually, the ride was retired and sent to an amusement park graveyard, Pepin said. Morey's officials did not return calls left at their administrative offices.
In 2003, the owner of the marina, Scott Gifford, brought the former science fiction home and science fiction ride to the marina with a police escort.
"When people come to the marina and see this, most of them ask when it's going to take off," Pepin said.
Cool is key for self-billed eccentric Damon. As a modern furniture dealer, he said he has made a living discovering trends. Once he realized there were people willing to spend $20,000, $40,000 and even $100,000 on a piece of furniture, moving up to houses seemed like a natural progression.
His plans right now are to restore the house and live in it, but he admits he is speculating.
The Greenwich Futuro is the second Damon has owned. The first one he bought in Colorado but had to sell at a loss when the economy went south more than a year ago. He said he has been tempted to walk away from the one in Greenwich as well, considering how much money he will have to put into it, but the ultimate goal of having a one-of-a-kind house is keeping his checkbook open for now.
Pepin said Damon plans to live in the Futuro at the marina or on a lot nearby, as the cost to transport the house is infeasible. Often, helicopters were used to carry Futuros to their destinations, but Damon estimates it would cost him about $100 per mile to do so.
The permitting and costs required to put the saucer-shaped house on a flatbed and drive it up to Damon's home in Tuckahoe, N.Y., also would be unrealistic, he said. Being at the marina, however, Damon said - if he guesses right and the Futuro is the next hot thing - the house can be put on a barge and sent all around the world.
"This is speculative. This is like building a boat. It's worth very little until I'm done. It's probably not worth more than $10,000 or $20,000," he said. "If I finish it, I get the bragging rights. Most people that I know who don't know me very well all say the same thing: 'You have a vision. Good for you.' It's scary as hell, but I'm doing this for posterity. I will really feel like I've accomplished something once this is done."
Contact Edward Van Embden: