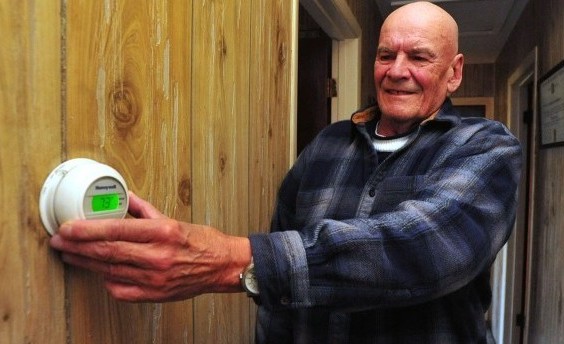 While temperatures eclipsed 30 degrees Fahrenheit on Tuesday, Robert Seligman relaxed in his Hammonton home with the thermostat at a pleasant 74. But an incessant string of chilly days and chillier nights had him concerned about whether he can pay his heating oil bill through the winter.
"I'm 73. I got to live as comfortable as possible," said Seligman, wearing a flannel shirt on top of a sweater and T-shirt.
Seligman is one of hundreds of thousands of New Jersey residents who rely on grants each year to help cover their energy bills. But with demand expected to surpass that of a year ago - and only so much funding available - more people could face the threat of a winter without any heat.
"I would predict the need this year will be even greater," said Jim Jacob, executive director of the nonprofit New Jersey SHARES, which provides home energy grants worth as much as $1,000. "More folks will be coming to us because the economy is still bad and, so far, it feels like a colder winter."
New Jersey SHARES assisted about 20,000 households statewide in 2009, and it currently has more than $6 million in funding available, Jacob said. In 2007, funding totaled about $4.7 million, but the number of people seeking help also was considerably less - at 8,100 households.
Funding comes from the state, individual donations and matching grants from utility companies. The group awards up to $300 toward residents' electricity bills and $700 toward natural gas, propane or heating oil costs. Last year, the average grant was $675.
"We'll pay enough so that their service will be continued and they're able to work out a payment plan with their utility so service doesn't have to be shut off," Jacob said.
New Jersey SHARES assists people who may not qualify for federal or state programs and whose income does not exceed 400 percent of the federal poverty level. For instance, a family of three with a gross income of less than $6,100 per month can apply.
Meanwhile, the Low Income Home Energy Assistance Program, or LIHEAP, serves lower-income residents who would make no more than 225 percent of the federal poverty level. That means a family of three would have to earn no more than $3,434 per month, while a family of four must make no more than $4,135 per month.
The state Department of Consumer Affairs, which oversees the federally funded program, said the average grant this fiscal year is $609, down considerably from $1,500 a year ago, when more than 305,000 people received assistance.
New Jersey received about $188 million in LIHEAP funding in fiscal year 2009. While the total funding for 2010 has not been determined, the state's program coordinators expect to receive about the same amount this year, as Congress has maintained its funding at $5.1 billion.
So why are the grant amounts lower? DCA spokesman Edwin Carman said in an e-mail that the program is anticipating a 25 percent to 35 percent increase in applications, which means more people need to be helped.
Carman said that last fiscal year's allocation also was based on fuel prices that were higher - heating oil was more than $4 per gallon at the beginning of the fiscal year, which began in the summer of 2008. This fiscal year, oil fell below $3.
However, the cost to consumers has been on the rise. On Tuesday, some heating oil companies in southern New Jersey were advertising prices at $2.69 per gallon, a 10-cent increase from the day before.
Robert Woodruff Jr., president of Woodruff Energy in Bridgeton, said prices last winter were in the low $2 range. But people also were consuming less oil because temperatures were milder.
The U.S. Energy Information Administration forecasts residential heating oil costs this winter will increase to $1,911 from $1,864 last winter.
On the other hand, users of natural gas can expect household expenditures to fall more than 12 percent from a year ago, according to the EIA, as there remains an abundant supply of that heating source. Residential propane and electricity costs are expected to decline slightly nationwide as well.
Typically, a poor economy and increasing unemployment may leave people without enough money to pay their utility bills.
In 2008, there were 27,866 instances of natural gas shutoffs for residential customers in New Jersey. From January to November 2009, that number was already at 28,578, according to the state Board of Public Utilities. (Those numbers do not include the state's largest utility, Public Service Electric & Gas Co.)
Eric Hartsfield, director of the BPU's Division of Customer Assistance, said more people would have had their utilities shut off last year for nonpayment if it wasn't for the "safety net" of LIHEAP and other programs.
Seligman, the Hammonton homeowner, is hoping that further LIHEAP funding can be released. Last year, he received about $1,780 in aid. This winter, he received a $552 grant in December, enough to fill about 220 gallons of his 275-gallon tank. But if the cold weather persists, that oil would barely last a month, he said.
He added that a state program official assured him Tuesday that he can apply for emergency heating oil funding if necessary. He said his oil provider, Ace Oil in Hammonton, also has been understanding about collecting payment.
"I'm thinking positive about this," he said. "I don't want to have to struggle."
Press staff writer John Froonjian contributed to this report.
RESIDENTIAL HEATING COSTS
Source                                                   2008         2009          2010
Heating oil (per gallon)                            $3.22        $2.43        $2.74
Natural gas (per thousand cubic feet)        $16.22      $15.18      $14.44
Propane (per gallon)                                $2.77       $2.48         $2.48
Electricity (cents per kilowatt hour)           15.2         15.1           15.4
Source: Energy Information Administration, Northeast/Mid-Atlantic
-New Jersey SHARES assists people who may not qualify for federal or state programs and whose income does not exceed 400 percent of the federal poverty level. Clients must fill out an electronic application with the assistance of a local community-based organization. For more information, call 866-657-4273 or visit www.njshares.org
-Low Income Home Energy Assistance Program (LIHEAP)/Universal Service Fund is for lower-income residents. To find out if you qualify, contact the county-based programs: Atlantic, 609-348-3020; Cape May, 609-889-2699; Cumberland, 856-451-2966; Ocean, 732-244-9041.
-The Gift of Warmth Fund was established by New Jersey Natural Gas for its customers, including in Ocean County. The fund is for people with financial difficulties or facing extreme hardships. Contact the agency, Ocean Inc., at 732-244-9041.