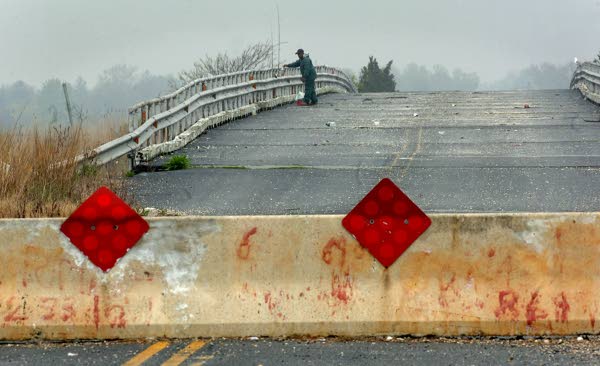 Cape May County officials said the state Department of Transportation must determine whether it wants to commit more money to repair and reopen the Beesleys Point Bridge, the Route 9 toll bridge that has been closed nearly six years.
County officials met with the DOT this month regarding a recent engineering report that estimated reopening the bridge, which connects Cape May to Atlantic counties, would cost $32 million, not the $20 million identified in a 2006 DOT study.
"They have to make the decision whether $12 million (more) is worth an additional 25 years (lifespan on the bridge)," said Stephen O'Connor, Cape May County's administrator and executive director of the Bridge Commission. "The county's still willing to operate it as a toll facility as long as no county tax dollars are involved."
The state is considering the options, DOT spokesman Joe Dee said.
"The commissioner (James S. Simpson) recognizes the importance of the bridge to the area and the importance of working toward a resolution," Dee said.
The 82-year-old bridge has been in limbo since June 2004, when the private owners, the Beesleys Point Bridge Co., said they could not afford repairs after an old concrete pier threatened to collapse into a steel support. The bridge has been closed since.
After years of negotiations and a lawsuit Cape May County freeholders initiated against the DOT, all sides reached an agreement in December 2008 that could have repaired the bridge if costs remained at $20 million.
In a controversial purchase, freeholders bought the bridge for $1. The Beesleys Point Bridge Co. promised to repay $900,000 it received from the state in 1997 under the condition that the bridge remain open for 20 years.
The state also agreed to pay the first three years of a $1.3 million annual debt to repair the bridge. The plan involved using 60 percent of toll revenues to pay off debt to fix the span, which left the remaining 40 percent for the county operate it.
But a February report by the county's engineering consultants, Greenman-Pedersen Inc., put tentative plans on hold because damage - including replacing the entire bridge deck and framing, rehabilitating the mechanical and electrical functions of the moveable span, and repairing bulkhead and fenders - was more severe than previously thought.
The future of the bridge remains in doubt. The bridge may reopen one day, or it may potentially serve as a fishing pier, O'Connor said.
"Either way the county is not committed and not responsible for any county money towards the structure," O'Connor said.