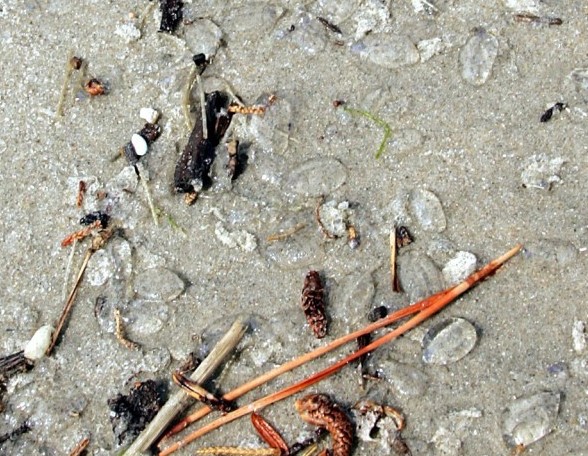 Scientists studying Barnegat Bay say the number of stinging jellyfish, or sea nettles, has surged in the past three years.
That is troubling news, and not just because of the risk of a few stings.
"They've always been part of the bay ecosystem to some degree, but in recent years it's been widely observed that their numbers have really bloomed," said Jeanine Cava, public outreach coordinator for the Barnegat Bay National Estuary Program. "Something is off. The increases in their population ... are an indicator of a disturbed ecosystem."
Reports of thicker sea-nettle concentrations began in earnest in 2007, Cava said. The phenomenon is more common in the northern bay. In the southern bay, reports are mixed.
Hightstown, Mercer County, resident Johnny Cox remembers last summer well, not for the fun he had at his family's Surf City beach house, but instead for the massive jellyfish that stung him.
"I was swimming in the bay in Harvey Cedars, when out of nowhere I felt something wrap around my arm. I felt a shock and then a terrible burning feeling," said Cox, now 15. "It was horrifying."
Cox was swimming in deep water at the time, but said he immediately went into "a state of shock."
"Other people were kayaking in the area. They picked me up, put me in their kayak and took me over to the dock where my friend was," said Cox, who said the pain lingered for several hours and that his arm was still red the next day.
Cox's family has vacationed on Long Beach Island since his parents were children, but they never worried about jellyfish in the bay prior to Johnny getting stung.
"When the water gets warm in the ocean, we're constantly on the lookout for jellyfish. And we had heard there were some jellyfish out in the bay, but we're just not used to seeing them in there," Karen Cox said. "I just hope that it's not a huge issue again, because the kids like going out in the bay … and getting stung by jellyfish is clearly not a pleasant thing."
And, while Johnny Cox said last year's incident will not deter him from enjoying what Barnegat Bay has to offer, he said he will never be able to look at it the same way again.
"I'll go swimming and everything, because I love the beach," he said. "But I am going to think twice if I see a jellyfish."
The swimming waters off Barnegat Township's beach have filled with more sea nettles in the last two years, resident Linda LaRusso agreed as she relaxed on the sand. But fellow resident Susan Mondie said she had noticed no change. Windsurfer Bob Kopec, who prefers the moniker "Thermal Bob," said he encountered jellies off Bayview Park beach in Long Beach Township a month ago.
Mid-spring is unusually early for jellyfish. A few unexpected hot days have warmed the water prematurely, Kopec said. "I think they just came in to have babies."
Growth of industry and development in the northern bay has put more chemical nutrients in the water. That process is called eutrophication, considered the root of a variety of bay changes. In the case of sea nettles, Cava said, the abundance of nutrients facilitates the growth of microscopic organisms that are the creatures' chief food supply.
The gradually rising temperature of the bay also is a boon to a species that likes to reproduce in warm water. Nettles are seen most often in July and August, Cava said.
Where the water is cloudier, sightless sea nettles find food more easily than the fish they normally compete with. And when anglers catch more and more large fish, possible predators of the sea nettles, the jellies become even more entrenched.
"It really is just this perfect concoction for them to run amok," Cava said.
Exactly how amok will be something for northern bay lifeguards to check this summer. A pilot program by the Ocean County Health Department will, for the first time, train lifeguards to count visible sea nettles every day for a summer-long census, and to dispense treatment tips if someone is stung.
Authorities also will post color-coded signs to alert beachgoers whether to expect a jellyfish problem. The program includes bay beaches in Beachwood, Brick Township, Island Heights, Lavallette, Ocean Gate, Pine Beach, Point Pleasant, Seaside Heights and Toms River.
The National Estuary Program is working on funding for a more comprehensive, scientific, baywide census, Cava said. In the meantime, her agency won't be casting any nets to catch sea nettles and thin out their numbers in the bay.
"Those solutions do not work. They push through the nets and break up into smaller pieces. When their stingers break off, they can still sting," Cava said. "There's no plans to remove them. They're a nuisance for people, but we don't know whether their bloom is causing problems or if it's a symptom. We're thinking more about just getting a handle on why they're here."
Contact Eric Scott Campbell: