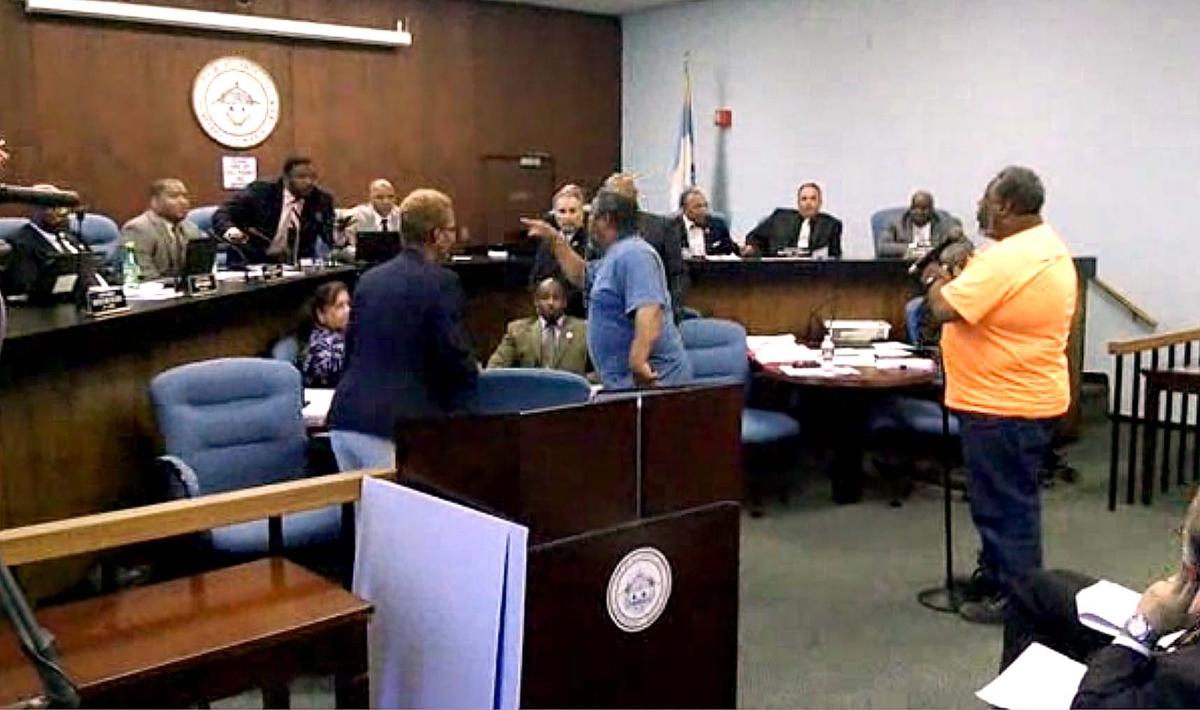 Nero fiddled. Atlantic City bickers.
As the resort faces a financial crisis, a state takeover and bad publicity, video of a verbal fight between a councilman and his former political ally has garnered the wrong kind of attention for the city.
What began as comment on a project to revitalize a rundown housing unit in the city's 2nd Ward devolved into personal attacks between Councilman Marty Small and Craig Callaway during Wednesday's City Council work session.
Eventually, Callaway's brother David joined in, calling Small a punk and challenging him to "meet me outside, (expletive)."
ATLANTIC CITY — City Council approved a long-term tax abatement for Carver Hall Urban Renewa…
"Want to know why A.C. is a mess?" asked The Save Jersey Blog in a tweet that included a link to a video from the meeting. "Start by watching this."
"You're a rat," Small told Craig Callaway, referencing a 2006 FBI probe that ensnared the then-council president, who then aided the investigation. "Let's talk about you wearing a wire and snitching on people."
"Is this personal?" resident Juanisha Wheeler can be heard asking as she captured video of the argument.
On Thursday, Wheeler called what happened "very unprofessional and disrespectful."
"We are trying to break the code with this 'no snitching' stupidity, and our very own councilman calls another grown man a rat," she said. "What is that telling our children? Not to be a rat? That when you see something that you know is wrong to not speak up?"
But Small said a rat is a criminal who commits a crime and then points the finger at somebody else.
ATLANTIC CITY — The local school board refused to send a proposed $147 million 2015-16 schoo…
"At the end of the day, I know I'm a public official and I am held to a higher standard," he said. "But at the end of the day, I'm a family man. And when someone constantly attacks you and your family publicly, it has to stop."
"I was talking about issues, politics and policy," Callaway said in a phone call Thursday. "That's all it was, and if you can't take it, then you're in the wrong business."
During the fight, Small referenced his two court battles, when he was twice acquitted of voter fraud. Once, it was due to his connection to Callaway.
"If it had not been for me, Marty would have been my cellmate," Callaway said. "And he knows it."
As for his own legal issues, which included a prison sentence, Callaway said: "The things that I was involved with that led to my demise, I'm not going to publicly say some things. People will have to pay for that when I write my book."
Little was done to bring the battle under control, with council attorney Robert Tarver unsuccessfully interrupting with, "Gentlemen, gentlemen."
The Atlantic City school district has enough money to finish this school year, but school of…
"We are going to instruct the officers to remove people in just a moment," Tarver said.
As Tarver announced the meeting would adjourn for five minutes, he and Council President Frank Gilliam left the dais, but the verbal sparring continued.
Gilliam then looked on through the door that leads to council's meeting room.
It finally ended with Craig and David Callaway being led out by police officers, and Small getting a fist bump from Councilman Tim Mancuso.
Atlantic City High School principal John DeStefano will become the new superintendent of the…
"Was it done at the best place?" Small asked. "No, but I have absolutely no regrets. I'm sick and tired of being attacked."