A wind advisory is in effect for the Jersey Shore counties through 3 a.m. in Cape May and Atlantic counties. It's in effect until 6 a.m. for Ocean and Monmouth counties. 
Damaging winds and power outages will be possible Sunday night. Given that this will happen overnight, impacts may be exaggerate as many of us are asleep and not aware of what will be happening outside. 
As of 10:30 p.m. Sunday, wind gusts have generally topped out in the 30s inland and lower 40s at the shore. A 45 mph reading in Harvey Cedars has been the highest so far. Power outages have been few and far between. That's to be expected, as power issues and wind damage typically won't start until gusts top 45 mph. 
Aloft, a streak of howling winds around 70 to 80 mph will sit about 2,500 feet high. However, with an inversion, temperatures rising with height, that won't mix down unless something like a thunderstorm mixes it down. 
There are thunderstorms with this system. However, they have been offshore. As long as they stay there, we should be safe.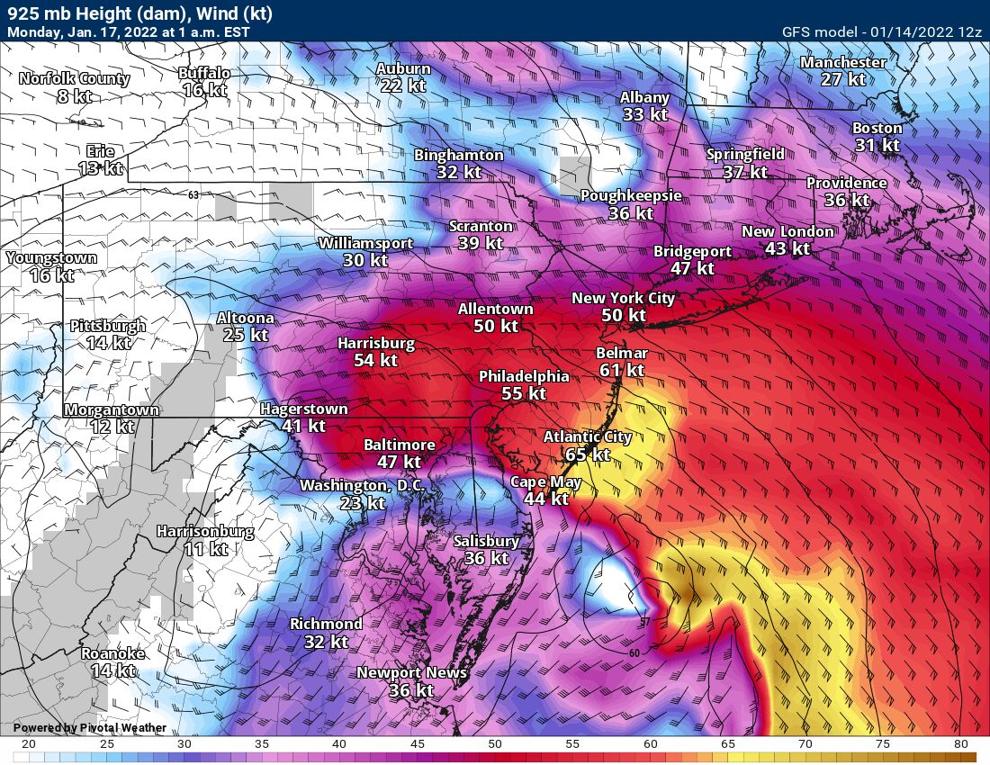 Here's a look at the forecasted winds for the night and into Monday, which will also be breezy. 
Midnight Monday.: East sustained winds 25 mph inland, 40 mph at the shore (tropical storm force). Gusts likely hit the 50s at the shore, but the potential for higher gusts remain. 
Monday 5 a.m.: Southwest winds sustained 20 mph inland, 30 mph at the shore. Gusts will likely be in the 35-45 mph range. 
Monday 5 p.m.: West winds 20 mph inland, 25 mph at the shore. Gusts will likely be in the 30s. 
Contact Joe Martucci:
609-272-7247
Twitter @acpressmartucci