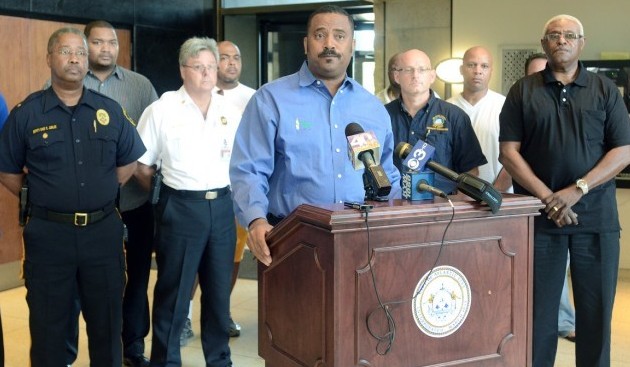 ATLANTIC CITY - Public safety officials are urging people to get out of the city immediately before anticipated 80-miles-per-hour winds make it essentially impossible to drive.
The evacuation is the first known in city history. Hurricane Gloria prompted only a partial evacuation, according to Vince Jones of the Atlantic County Office of Emergency Preparedness.
City residents without their own transportation should head to the closest elementary school where government shuttles will take them to inland shelters.
Authorities willl stop allowing people back onto the barrier islands at 2 p.m. After that, only credentialed essential personnel will be able to enter.
Mayor Lorenzo Langford urged residents to bring in anything outside their homes that could potentially get blown away, at minimum, before leaving if time allows.
State Police Lt. Tom Gilbert said police will conduct sweeps to make sure people haven't stayed behind and are working with the Atlantic City Rescue Mission, Jewish Family Services and other social service agencies to relocate the homeless population and others with limited resources.
A couple blocks from the press conference at city hall, school buses lined up outside Baltic Plaza to shuttle residents offshore. Streets, including the Boardwalk, were much quieter than usual in the city, and in Ventnor and Margate to the south.
Throughout the downbeach communities, residents boarded up their windows, hit cash machines and discussed overnight arrangements as Hurricane Irene continued to approach.
The Atlantic City Fire Department will be at full staff, starting when Friday night's shift comes in, Fire Chief Dennis Brooks said.
"We're looking to have a full complement on duty," he said, meaning a minimum of 47 firefighters.
At some point, as Irene nears, all equipment and personnel will be moved out of the firehouses and into the Convention Center, he said -- and they will not be answering calls during the height of the storm.
Flooding could also pose a problem for fire workers even after the storm passes. If there is too much water in the streets, the trucks will not be able to function. The department does have a water-rescue unit with a Zodiac. Personal watercraft also may be able to be employed, Brooks said.
"Everything right now is a judgment call," he said. "I just know we're not going to be in the firehouse."
The Atlantic City Police Department has split its normal three eight-hour shifts into two 12-hour ones, which began at 8 this morning. A new shift will come in at 8 tonight. They will be assisting with evacuations, police said.
Once the water starts rising and floods the streets, police will use a fleet of rescue boats to patrol. The vessels, which arrived last night, on a temporarily and specifically to deal the hurricane, Deputy Police Chief Ernest Jubilee said today.