Q: My dog is frightened by fireworks. How can I help him?
A: Great question, and this is very common.
It's certainly best to know when fireworks are to be expected so that you can make preparations if possible. If you can leave town for a quieter setting, that would be fantastic. But because fireworks are mostly ubiquitous this time of year, it's going to be tough to avoid, so try to insulate your dog from the sights and sounds. Use your basement or an internal room of your house. Play the radio or turn the television up loudly to help mask the sounds. Close windows, doors and blinds to reduce the visual clues and sounds of the fireworks.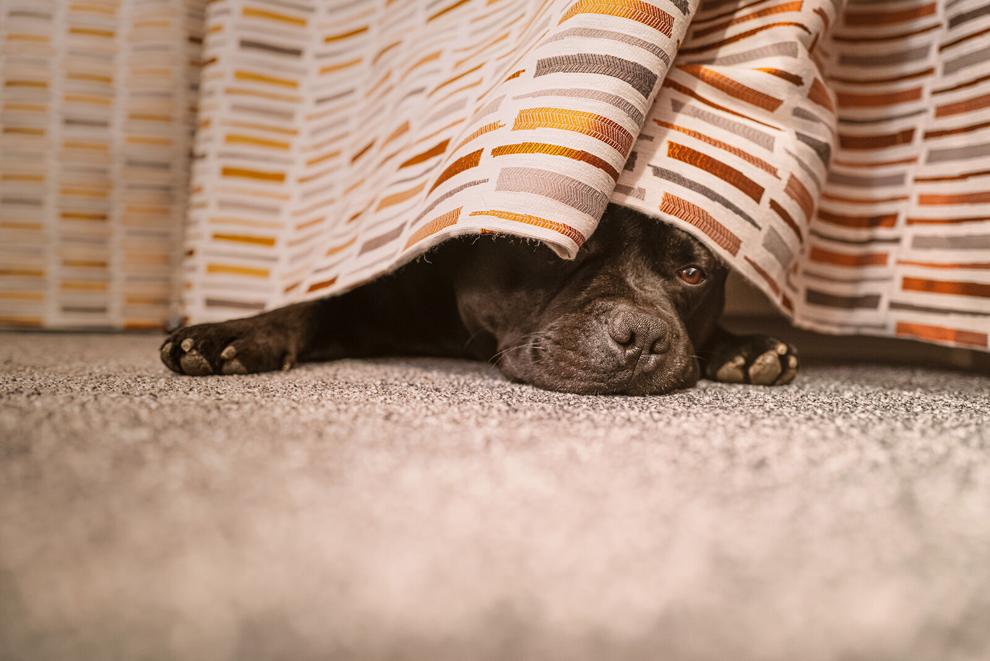 It's best to stay with your dog if possible. Dogs are social creatures and your presence is comforting. Dogs will respond to situations that are potentially scary to them by watching their owners actions and emotions. Be calm, supportive, and snuggly. You can give treats or play games to distract them as well. It's also good for you to be present to ensure that they do not injure themselves if they were to panic. More dogs escape home during the Fourth of July than any other time of the year, so make sure that all doors and gates are secure. Also, make sure your dog is microchipped in case of an escape during a panic.
We have some success with Thundershirts or Anxiety Wraps. These are snug-fitting vests that squeeze and apply pressure over the body that many dogs find comforting. Your veterinarian might recommend a pheromone product that comes as a collar, room diffuser or spray. That pheromone is appeasing to dogs and helps reduce anxiety.
There is also now an FDA-approved medication that is labeled and advertised to reduce noise aversions. It inhibits anxiety by blocking the release of norepinephrine. We have been using this medication more and more with great results.
It would be a good idea to talk to your veterinarian about a comprehensive "fireworks" plan. — Drs. Josh and Marya Teders, owners of NorthArlington Animal Clinic in Upper Arlington, Ohio.
Calming dog treats can help de-stress a dog and help with anxiety or excess energy:
Calming dog treats
Calming ingredients
Calming dog treats can get their antianxiety and de-stressing properties from a range of calming ingredients. These are some of the most common:
L-tryptophan and theanine: These amino acids are both capable of increasing serotonin in the brain. Serotonin causes feelings of happiness and well-being.
Passionflower: By slightly boosting the brain's levels of gamma-aminobutyric acid (GABA), it can lessen feelings of anxiety in dogs and humans alike.
Chamomile: Thanks to this flower's mild calming effects, it may help stressed or anxious dogs to feel calmer.
Valerian root: This helps most dogs with anxiety, especially those showing compulsive behaviors such as excess chewing and licking.
Melatonin: A synthesized version of this natural sleep hormone is occasionally added to calming treats for its relaxing effect.
Package size and dosage
It's important to know both how many calming dog treats you receive in a package and what the correct dosage is for your dog. Only then will you know how much these treats will cost you monthly. For example, if your chosen product contains 100 individual treats in a package and the dosage is one treat per day, a single pack will last you more than three months, but if the dosage is five treats per day, it will only last you 20 days. Of course, big dogs have larger doses than small dogs, so adjust your expectations accordingly.
Features
Organic: You might choose to buy certified organic calming dog treats if you're concerned about pesticide use.
Treat type: Most calming dog treats are small chews or crunchy treats, but you'll occasionally find other treat types such as calming rawhide-style chews or calming dental treats.
Grain-free: There's no need to pay more for grain-free treats unless your dog has a legitimate allergy. In fact, whole grains are excellent for heart health.
Price: Dog calming treats vary in price from $10 to $50, depending on various factors including package size, active ingredients and overall quality.
FAQ
Do calming treats work on all dogs?
In theory, calming treats should work equally well on all dogs, but in practice, they seem to work better on some dogs than others. This can vary based on a range of factors including the severity and cause of the dog's stress or anxiety, the dog's size, temperament and natural reaction to the calming ingredients in each treat. For the best results, you should pair your chosen calming dog treats with behavioral training.
How quickly do these work?
This depends on your chosen treats. Some start calming your dog down within 30 minutes, whereas others need to be taken daily for a couple of weeks until you see the full calming effect.