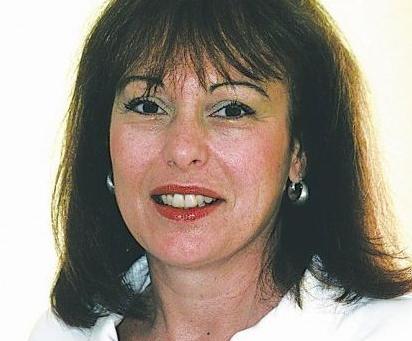 Dear Franny The Shopaholic: Where in Atlantic County can you get fresh-squeezed orange juice? — William Kelly
Dear William: You can purchase 100% orange juice at Wawa. I emailed you the link. Also both ShopRite and Acme sell Simply Orange Juice, however it is not fresh squeezed. It is on sale, buy-one, get-one half price this week at CVS. If any of our readers see fresh squeezed, I am sure they will write in. So keep checking my column.
Dear Franny The Shopaholic: Trying to find, without spending a fortune, a big heating pad with an automatic shut off. — Harry G.
Dear Harry: This week at Boscov's you can purchase a Theracare Deluxe King Size heating pad for $19.99. I actually have an older version of this heating pad and use it on my back every night when I go to bed. It shuts off automatically after two hours, can use dry or moist heat, and it has four heat settings (mine only has three settings).
Dear Franny The Shopaholic: I have seen billboard ads for the new Canada Dry Bold Ginger Ale but can't find it in the local supermarkets. Can you help? — Tuohytours
Dear Tuohytours: You can purchase a 12-pack of 12-ounce cans of Canada Dry Ginger Ale Bold at Target for $4.99. Also Walmart sells the same pack for $4.78, however it is out of stock online.
S wrote in to let Jo Ann Santoro know you can buy Boomer masks at BoomerNaturals.com or CVS for $9.99. They are three ply, very comfortable, come in all sizes and colors and are adjustable. You cannot blow out a candle when wearing it, which is a sure sign of better protection.
• Eastern Cove of BLU lump crap meat: $10.99 per 1-pound can.
• Three-pound bag of Clementines: $3.99.
• Three Starbucks 12-ounce bags of coffee: $5.99 each. Must buy three.
• Three Signature Select rising or thin-crust pizza: $1.99 each. Must buy three.
• Nature's Truth vitamins: Buy one, get one free.
• Two packs of 21- to 44-count Signature Care diapers: $10.
• Herr's 1-pound bag of pretzels: $1.99.
• Chicken value pack of drumsticks, thighs or legs: 99 cent per pound. Limit 1 offer.*
• Edy's 48-ounce ice cream: $1.99. Limit 2.*
• Two pounds of strawberries: $3.99. Limit one offer.*
• Signature Select 5-ounce albacore tuna: 77 cents. Limit two.*
* - with your Acme digital coupon.
• Large Hass avocados: 33 cents each.
• Three-pound bag of mandarins: $2.49.
• Roma tomatoes: 99 cents per pound.
• Priano 16- to 20-ounce stuffed shells or manicotti: $2.99.
• Priano gnocchi 17.6-ounce package: $1.69.
• First Alert fire extinguisher: $12.99.
• San Giorgio pasta: 88 cents.
• Two-pound bag of 16-to 20-count shrimp: $9.98.
• Spice Essentials spices: 77 cents.
• Entenmann's baked goods: half price.
• Kodak four-count AA or AAA, two-count C or D, or one-count 9-volt: 99 cents.
• Banquet pot pies: 88 cents.
• Ajax or Dynamo laundry detergent: Three for $3. Limit 4 offers.*
• General Mills cereal (limited assortment): Four for $5. Limit one offer.*
• Fiber One, General Mills or Nature Valley bars: Four for $5. Limit one offer.*
• Nabisco Chips Ahoy! cookies: three for $5. Limit one offer.*
* - with your ShopRite digital coupon.
• An AmeriGas 15-pound cylinder replacement is $20 at Dollar General. Mr. Clean mops are on sale for $8.
• Assorted storage bench regularly $59.99 is on sale at Boscov's for $19.99.
• Goslings Ginger Beer six-pack or Powell & Mahoney mixers are buy one, get one half price at CVS.
• Dream Street kids bedding, decor, throw pillows and furniture is 20% off at Big Lots.
• Brita Metro five-cup water pitcher or four-pack water filters are on sale at Target for $16.99. The Ninja Professional 1000 watt blender is on sale for $79.99.
• Gevalia Cafe or McCafe 12-ounce coffee is $4.99 at Walgreens. Palmolive 20-ounce dish detergent is $1.99 with your Walgreens digital coupon.
• PPG Timeless 1-gallon pure white/base flat interior paint with primer is on sale at Home Depot for $31.98 today and tomorrow.
• Simply Tide 31-ounce or 13-count pods are $2.45 at Family Dollar with your Smart Coupon.