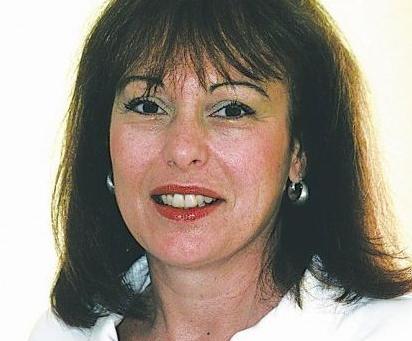 Dear Franny The Shopaholic: Can you find a breathable form fitting mask for flying? I intend to also wear a plastic shield, too. — JoAnn Santoro, Somers Point
Dear Jo Ann: Just so you know, I recently flew and had on a shield and a neck warmer type mask that was fabric. Of course it matched my outfit! The flight attendant told me the mask itself had to be two layers of paper or fabric. Luckily I had a few in my handbag to switch to. After doing some investigating at Health.com, the Koral Netz Face Mask came in with flying colors. You can purchase it at Koral.com for $20, and it comes in four colors. If you sign up at their website, you receive a 15% discount. Also, Bloomingdales, Saks Fifth Avenue and Neiman Marcus sell them. Boscov's this week has the KN95 masks in a three pack for $6.99 and a 10 pack of three-ply paper masks for $2.99. I emailed you the links.
Dear Franny The Shopaholic: In need of a clothing rack. Running out of space. — Steve Rinaldi, Brigantine
Dear Steve: This week at Boscov's, a Sunbeam Garment rolling rack regularly $29.99 is on sale for $19.99.
Dear Franny The Shopaholic: Maybe you can help me find Lavoris Mouthwash. It used to be sold locally, but I can't find it anywhere. Much appreciated. — Jim, Ocean County
Dear Jim: Walmart carries Lavoris Whitening 18-ounce mouthwash for $13.99. I found three 1.5-liter bottles of Lavoris Citrus on eBay.com for $19.99. I emailed you the links.
Tmeeker wrote in to let The Bar Keeper know she found Bar Keeper's Friend cleanser in Aisle 19 at the Somers Point ShopRite. A 26-ounce can was $2.69. Lou of Somers Point also wrote in to say besides ShopRite selling it, if a husband wants to be a hero to his wife, buy this for her. Loe says it amazingly cleans cooper bottom pans and stainless steel sinks in a jiffy.
• Boneless chicken breasts: $1.88 per pound.
• Brussels sprouts 24-ounce package: $5.
• Signature Farms boneless pork tenderloin: Buy one, get one free.
• Fisherman's Net fresh salmon 5-ounce portions: $3.99.
• Gorton's seafood: Buy one, get one free.
• Jif peanut butter: $2.50.
• Eight O'Clock 11- to 12-ounce coffee: $3.99.
• Duncan Hines cake mix: $1.
• Pantene Hair Care: 3 for $7. Must buy 3. Limit one offer.*
* with your Acme digital coupon
• A pound of strawberries: $1.29.
• Lamb loin chops: $7.99 per pound.
• Elevation 2-pound vanilla or chocolate protein whey powder: $13.99.
• L'oven Fresh 8-ounce Keto wraps: $3.69.
• Crane Home Gym Kit, including segmented jump rope, resistance tube, ab wheel and two push-up bars: $16.99.
• Simply Nature 14-ounce organic coconut oil: $3.79.
• Yardley bar soap: 88 cents.
• Gorton's seafood: half price.
• Italian Village 12-ounce frozen pasta: 88 cents.
• Asparagus: $1.99 per pound.
• Broccoli crowns: 99 cents per pound.
• Colavita imported pasta: 88 cents.
• Maxwell House 10.5- to 15.3-ounce cans: $1.49. Limit four.*
• Hellmann's real 20- to 30-ounce mayonnaise: $2.99. Limit one.*
• Post cereal: Three for $5. Must buy three. Limit four offers.*
• Ajax, Dynamo or Final Touch: Three for $3. Must buy three. Limit one offer.*
• Blue Diamond 6-ounce almonds: 99 cents. Limit one.*
• Pert Plus 2 in 1 shampoo: $1.49. Limit one.*
* with your ShopRite digital coupon
• Men's and women's jackets are 65% off at Macys.
• All home decor and apparel trim by the yard, ribbon, trim and tulle spools, scissors and rotary cutters, home decor pillow covers and Sewology sewing notions are half price at Hobby Lobby.
• An Emeril Lagasse Air Fryer is $49.99 at Big Lots.
• Ninja 5.5-quart air fryer Max XL regularly $229.99 is on sale at Target for $169.99.
• Conair Garment Steamer regularly $19.99 is on sale at Bed Bath & Beyond for $14.99. Save an additional 20% with your coupon from their website, making your cost $11.99.
• Red Heart yarn buyout at Ollie's Bargain Outlet. All Red Heart yarn 4.5- to 7-ounce packages are $1.99.
• Wednesday is the last day to get a Special Value washer and dryer at Lowe's for $721.
• Get a Ring Stick Up Cam Wireless Indoor/Outdoor Security Camera on sale for $84.99 until Thursday at Home Depot.
• All Stems are half price at Michaels. Belmont frames and shadow boxes are 60% off.
• Yaucono 14-ounce Cafe Molido coffee and Nescafe 6.7-ounce Instant Mexican coffee are $4.99 each at CVS.
• Blue Diamond 5- to 9.25-ounce nuts are buy one, get one free at Walgreens.