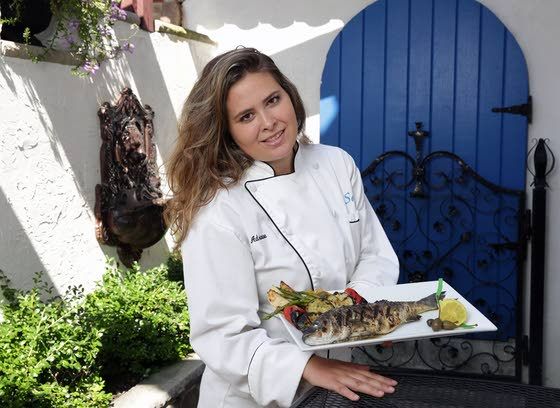 Adrienne Armenia, the executive chef at Sofia Restaurant in Margate, likes to lighten things up in the kitchen.
Armenia, 25, is a 2008 graduate of the Academy of Culinary Arts in Mays Landing who still remembers going to the Brooklyn home of her paternal grandmother for those special Sunday dinners and family get-togethers.
"We called her Grand-mom Liz," Armenia says about the woman who seemed to stand in front of the stove for hours cooking tomato sauce and meatballs in a big aluminum pot.
"I was always the one helping," Armenia says.
Her grandparents had owned a seafood restaurant in Sea Isle City, way back when.
Born in Washington Township, Armenia was raised in Egg Harbor Township by her Italian parents who carried on their parents' traditions.
"Everything was always fresh," Armenia says.
Little wonder the girl would pursue cooking as more than a hobby.
After high school, Armenia was faced with a choice between a culinary or nursing career. Armenia felt pulled to the culinary side.
She worked as a steakhouse cook at Tropicana Casino and Resort in Atlantic City while attending culinary classes. Before accepting what she calls "an awesome opportunity" at Sofia, she cooked for more than three years at the Flanders Hotel in Ocean City.
The opportunity to learn about, and cook, Greek food was too much to pass up.
Armenia knows there are similarities in ingredients and techniques used both in Italian and Greek cooking, but describes it as "speaking two different languages."
Armenia prefers the lighter cooking style that she associates with Greek cooking, with lots of lemon and plenty of olive oil.
"I don't like to cook heavy," Armenia says.
Instead, Armenia's style is a lighter Mediterranean, Greek, Italian fusion.
Branzino is a Mediterranean seas bass that is flown in fresh daily and is among Sofia's most popular dishes. It sometimes served as a fillet, but is served whole in this recipe.
What is the best meal you have ever eaten?
The best meal I have ever eaten was simple yet done so elegantly at One Fish, Two Fish in Wildwood. Pan-seared scallops served on top of a smoked tomato risotto drizzled with a hint of lemon. Everything was done perfectly the cheesy parmesan risotto, grilled asparagus spears, golden delicate pan-seared scallops and then finally the taste of smoked tomato.
Which local chef is doing food you admire?
I think Ryan Allenbach, chef at One Fish, Two Fish is doing an awesome job, although I admire every chef out there that goes in everyday to that hot steamy kitchen, works the long days that never seem to end and who give their heart and soul to every dish. They are the ones I admire. The chefs that simply create a flavor profile for your taste buds that you will never forget.
How would you describe your personal cooking "style?"
My cooking style is best described as a Greek-Italian fusion. Ninety-nine percent of the time, my dishes will include fresh minced garlic and shallots for aromatics and who could forget balsamic. Everything I ever touch needs a hint of balsamic, fresh olive oil and wine to deglaze. That is the start of any great dish.
Do you watch any culinary shows on TV?
I love the Food Network. I basically eat sleep and breathe food. My all-time favorite shows are "Chopped" and "Diners, Drive-Ins and Dives." I get all into "Chopped" as if I was watching a football game. I cheer, I yell and I get excited to see the final outcome of the dishes.
When I have time I love to cook at home. I always try to cook one home-cooked meal a week for my son. I want him to grow up and know his mommy makes the best. On my other night off we go out to see what's cooking and to get him to experience food from a more sophisticated palate. His favorite dish right now is the chargrilled baby octopus from Sofia's.
What's one kitchen ingredient any home cook shouldn't be without?
So hard to pick just one ingredient but I could not live without garlic. Garlic would definitely be the one cooking ingredient one should not go without.
What about a kitchen gadget?
You should never find yourself without a finely honed chef's knife. Without a sharp chef's knife your hard work will be unsuccessful. You would not be able to achieve that perfect brunoise cut or that perfect julienne cut to finish off a dish.
My favorite cookbook would be anything by Julia Child. Her cookbooks don't just give you recipes, they tell you a story and make you feel as though you are right there cooking in her kitchen.
When did you know that you wanted to be a chef?
I knew as a young girl I had a passion for cooking. When Sundays or a family gathering rolled around, I was always standing next to my dad watching every little ingredient drop in the pot. My job was to keep stirring the pot with that wooden spoon we still have today. I lived to watch my family's recipes come together and watch the smiles on the faces after my family would taste the meal we would serve that night. It was in those very moments, I knew in my heart, that all I wanted to do was to please people, making people feel like they just had the best dish yet and keep them coming back for more.
What do you enjoy cooking most?
I love cooking Greek and Italian fusion dishes. I also love making sauces. I feel like sauces enhance a dish. Without a great sauce the components of the dish can be weakened. Sauces give proteins a new meaning. To me the most important part of your meal is how well that sauce is made.
What's your ultimate desert island meal?
My ultimate desert island meal would be fresh local fish served wrapped in banana leaves cooked over a fire with a coconut drink in hand.
What are your culinary influences?
My culinary influences are locally sourced produce and freshly caught fish that come in every day. That's where my dreams become reality and everything I was taught from the hands of my Italian family flow and my own passion shines through onto my plates.
Which food is your guilty pleasure?
My guilty pleasure is low-fat soft serve ice cream. There is something about the way the ice cream twists on top of the cone, finished with the perfect ice cream curl on top and the joyful color of rainbow jimmies sprinkled around that gets me every time.
Whole Branzino with Fire Roasted Vegetables
Branzino with Mediterranean Herb Rub
1 1/2- to 2-pound Branzino, cleaned and gutted
1 teaspoon fresh thyme, chopped
1 teaspoon fresh oregano, chopped
1 teaspoon garlic, minced
1 teaspoon black pepper, ground
Mix all spice ingredients until combined. Rub branzino with herb mixture.
Use pan coating spray so your fish will not stick to the grill. Cook each side until skin gets a nice golden brown on the outside. Brush generously with olive oil and lemon to baste your fish. Cook until internal temperature reaches 140 degrees.
1 green zucchini, sliced on the bias
5 spears of asparagus, trimmed
Salt and pepper, to taste
Rinse vegetables before slicing. Par cook potato in boiling water, cool, then cut into wedges. Drizzle with olive oil, season and bake on a sheet pan at 375 degrees until golden brown, about 10 minutes.
Cut peppers into thick strips, cut zucchini on a bias, trim the tough bottom ends of asparagus. Gather all vegetables into a mixing bowl, toss together with pesto and then finish by cooking vegetables on the grill.
1/2 cup pine nuts, toasted
1/2 cup parmesan cheese, grated
1 cup extra virgin olive oil
Salt and pepper, to taste
Blend all ingredients in food processor until smooth.
9314 Amherst Ave., Margate,
Hours: 4 to 10 p.m. Sundays to Thursdays; 4 to
11 p.m. Fridays and Saturdays