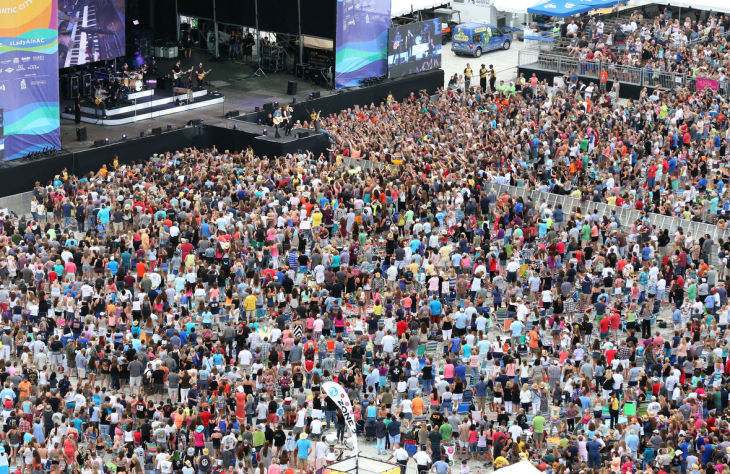 ATLANTIC CITY — Anyone heading to one of the two upcoming beach concerts is welcome to bring a beach blanket and umbrella, a small beach chair, "a small, soft cooler for snacks," and one sealed bottle of water to the shows.
But organizers warn that no outside alcohol or beach chairs with seats higher than 9 inches off the sand will be allowed into the performances by Maroon 5 on Aug. 16 or Rascal Flatts on Aug. 20.
SEEN at the AC Maroon 5 Beach Concert
Crowds descended on Atlantic City for Sunday's Maroon 5 concert as early as 5 a.m. to be first in line for best beach seats.
The Atlantic City Alliance and Live Nation, the promoters, also announced some good news for anyone who wants to go to the shows but doesn't have tickets.
They're planning "pop-up" ticket giveaways for lucky fans at two locations, one in Philadelphia and the other at Kennedy Plaza on the Boardwalk. They say these will be the only chances for free tickets and advise anyone interested to follow #Maroon5AC and #RascalFlattsAC on Twitter for more information.
Promoters said tickets are still for sale at Ticketmaster, some for as little as $20. The Maroon 5 performance also will feature Nick Jonas and Matt McAndrew; Ashley Monroe will open the show for country stars Rascal Flatts.
ATLANTIC CITY — Don't let the rain get you down. For many, the rain is welcome and needed, after an especially dry start to August.
Both concerts are set to start at 4 p.m., and the gates — on the Boardwalk at Kentucky Avenue — will open at noon. A full line of concession stands also will open at noon.
The concert crowd is welcome to swim in the ocean, which will be protected by lifeguards. But be prepared: Organizers say they won't allow readmission to anyone who leaves the concert area.
Parking will be available for as little as $5 at the Atlantic City Convention Center, which is about four blocks from the Boardwalk and can handle 1,000 cars. Plus the managers of Boardwalk Hall, just down the boards from the concert stage, said they will charge $25 for the garage under the hall, which has a 400-vehicle capacity.
A park-and-ride shuttle service is available for $20 per vehicle-load of people from the intercept-parking areas on the Atlantic City Expressway, between the Pleasantville toll plaza and the Atlantic City Visitor Center. The shuttles will be managed by the South Jersey Transportation Authority and will run from noon to 10 p.m. each show day.
The organizers said parking will also be available at casino garages, including the former Atlantic Club — one of the casinos that closed last year — and at surface lots near the Boardwalk for "as low as $10."
For more details, see DoAtlanticCity.com. And now two more bits of practical advice from the promoters: Bring your own sunscreen, and while umbrellas are