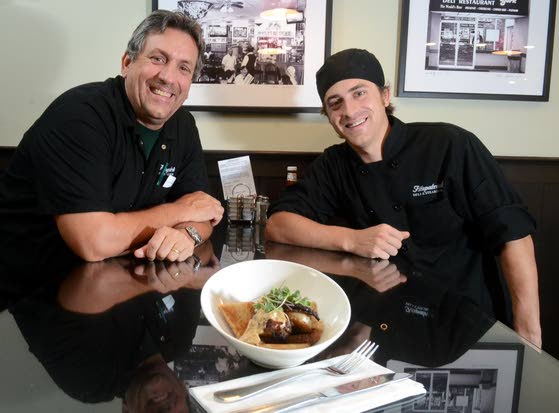 At the ripe old age of 52, Billy Hurst has already spent much of his life working in restaurants.
"When people find out I am a chef, the first question they want to know is what favorite dish do I like to prepare, and to ask for recipes so they can prepare the dish at home," says Hurst.
A dilemma for Hurst, not because he isn't willing to share his recipes with his customers, but because he simply wasn't trained to follow a step-by-step recipe.
For the professional chef, it is all about technique and execution.
"As a chef, you learn early on it is all about mastering the cooking techniques like pan frying, searing, sauteing and oven roasting, to name a few," says Hurst. "You have to basically know how to execute the procedure to get the end result you are looking for."
Hurst got an early start in the business, working as a dishwasher while attending the seventh grade in Edison, Sussex County.
He graduated from the Culinary Institute of America in Hyde Park, New York, in January of 1981. By the spring of that same year, he was employed as a chef, helping to open up the brand new Playboy Casino Hotel in Atlantic City.
After nine years at Playboy and a six-month stint at a smaller hotel, he landed in the deli at Showboat Casino Hotel. His experience there pointed him in the direction of starting a deli restaurant of his own.
When Hurst bought Fitzpatrick's Jewish Deli at the corner of Route 9 and Ocean Heights Avenue in 1989, he enlisted the help of his dad, a carpenter, who helped him remodel the place.
In 1994 they made the move to the Groveland Avenue location, where they remained busy for 18 years, longer than many jobs, and much longer than many restaurants can dream of staying alive.
The latest move is just a short drive down Route 9 from the Groveland location, where JR's Tavern recently stood. Completely renovated, this time with the help of his son, Billy Hurst Jr., a recent graduate of the Academy of Culinary Arts in Mays Landing, the new restaurant opened in May.
That made Fitzpatrick's a three-generation restaurant.
In their new restaurant, the word "steakhouse" has been added to the Fitzpatrick's Deli brand. The new menu includes several "fusion" offerings, such as Reuben egg rolls, which are made in house.
"The pastrami wrapped scallops tie in what we do in the daytime, with what we do in the nighttime at Fitzpatrick's," says Hurst.
"Successful chefs like to change techniques or tweak ingredients to make it their own," says Hurst. He believes customers go to a restaurant and order a favorite dish, preferring a certain dinner house over another because they have set the bar on that particular dish, not some secret ingredient the restaurant uniquely uses.
Hurst thinks it is all about what the chef knows, how he trains his kitchen staff and how well he has trained them to execute that same dish.
Hurst has learned to never experiment on his customers, preferring to put the dish on his menu only after perfecting it, first.
Hurst loves using fresh local foods, such as scallops, that are not processed, then handles them simply but properly.
"I do not like to cook at home for two reasons; one, the equipment is not up to industry standards, and two, the mess the splattering makes when you're utilizing techniques and trying to execute the dish properly," says Hurst. For Hurst, a dish never tastes the same at home, even while cooking with the same ingredients.
Hurst believes it all comes down to the cooking technique the cook chooses. "When you cook at home, your wife is saying 'Don't make a mess, don't do this, don't do that,'" says Hurst. "I just can't cook that way." Hurst would be the first to admit cooking in a restaurant kitchen is different than cooking at home. Much different.
•8 large (10 per pound) sea scallops
•8 thin slices of pastrami
•1 large shallot, chopped finely
•1 1/2 tablespoons Pommery Mustard (or any grainy-style mustard)
•Salt and pepper to taste
Dry scallops, then season with salt and pepper. Wrap each scallop with one slice of pastrami. Pan sear scallops in saute pan over high heat until golden brown on both sides. For sauce, sweat shallots in butter over low heat until translucent. Do not allow to brown. Add heavy cream, reduce by half. Stir in mustard and 1 tablespoon butter, swirl to finish. Grill one piece of rye bread per serving and cut in quarters. Place scallops on toast points then pour sauce over all. Garnish with micro greens.
•1 head cauliflower, chopped
•1/2 cup Monterey Jack cheese, grated
•1/4 cup Asiago cheese, grated
•1/4 cup fresh tomatoes, diced
•1/4 cup green onions, chopped
•2 tablespoons horseradish
•Salt and pepper to taste
Sweat out onions in butter until translucent, add chopped cauliflower and salt. Cook until tender, do not allow to color. Add cream and reduce 2 to 3 minutes until almost dry. Remove from heat, add remaining seven ingredients. Keep warm. Dry scallops, season with salt and pepper. Heat 1 tablespoon of neutral oil in hot saute pan. Place individual scallops in pan. Allow to sear for 2 to 3 minutes on each side. Searing will bring out the natural sweetness of the scallops.
Spoon cauliflower mash on to four individual plates. Top with five scallops for each portion.
Recipe from Billy Hurst Jr.
Be the first to know
Get local news delivered to your inbox!