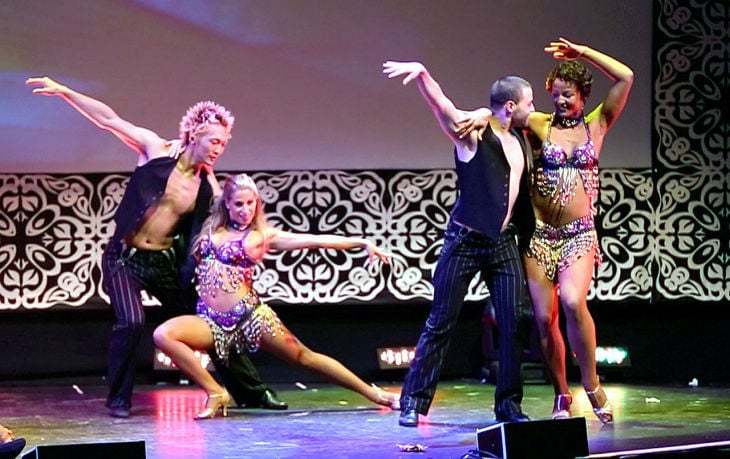 Atlantic City has certainly seen its share of Latin-themed shows, particularly at the Latin-themed Tropicana Casino and Resort.
The results have been mixed, at best.
So it would be natural to be a little skeptical of Revel Casino Hotel's decision to stage "Latin Quarter," a variety show that revisits the genre inside its casino-floor club The Social Thursdays to Sundays through Dec. 1.
Skeptics need not to worry. "Latin Quarter" lives up to Revel's promise of delivering a "talented, sexy" show thanks to a brisk pace, eclectic performers, amazing flamenco dancers and an overall fun show.
Unlike Revel's last revue show, "Cirque Dreams Revealed," there is no stage that extends into the audience, offering a more traditional side-to-side stage that suits the show while still giving audience members a very intimate experience.
Although the show would certainly benefit from live music, the producers wisely have its cast banging on bongos in conjunction with the pre-recorded music to give attendees that live music vibe.
Marketing images for the show might paint a picture that "Latin Quarter" is all about dance. While dance is a major component of the show featuring stunning costumes and attractive male and female dancers performing a variety of Latin dance styles, "Latin Quarter" is so much more.
The night is hosted by Joey Vega, a regular in the city's comedy clubs, who does a solid job adding some humor to the revue. On a recent Saturday night, it took Vega a while to find his groove with the crowd.
He had a few funny jokes that broke the ice, particularly talking about "Latinas" wearing the "tightest jeans known to man."
"They fit, they fit," Vega imitated a woman trying to get into her jeans. "Yeah, when you were 6."
As the night progressed, so did Vega's act and the audience's reaction to him. His later material got a little more raunchy as he dished out some funny sex-related material, which had the audience laughing louder and more frequently.
The night continued as Jose Mejias took the stage for the Rolla Bolla act that showed the performer's amazing balance work. Whether balancing a sword on top of a knife, then balancing three drinks on a tray on top of that sword while kneeling down and getting back up again, Mejias had the audience at the edges of their seats. The show-stopper featured Mejias balancing on rolling cylinders and then jumping from cylinder to cylinder while blindfolded. Impressive.
The main reason to check out "Latin Quarter" is crossbow expert Ben Blacque. The "America's Got Talent" finalist is an unbelievable marksman and a hit with the ladies because of his good looks.
Blacque does things with a crossbow that you would never imagine. The more simple parts of his act feature him playing William Tell – with a balloon instead of apple – with his sexy female assistant. But he takes it to the next level, also shooting a balloon that the assistant holds by her teeth. He shoots arrows through a playing card and a flower stem (after missing the stem once - his only miss of the night). The guy is so good that he hit a single piece of paper sideways and ripped it in half with an arrow.
The finale features a blindfolded Blacque using a ringing bell for aim to set off a series of crossbows in a chain reaction that you have to see to believe and understand.
Equally entertaining are Los Huincas, a gauchos (Latin cowboys) act that not only adds more humor to the show but some excitement as well.
"As you notice from my outfit, we are not from here," one gaucho said referring to his Latin blinged-out attire. "We are from Brooklyn."
The excitement came from the gauchos ability to swing boleadoras, also known as bolas, which are a throwing weapon featuring two balls made of weights on the ends of interconnected cords.
While it might not sound like a tremendous night out watching two cowboys swinging around weapons, once you see them swinging bolas at 90 mph and doing tricks with them, it's pretty amazing.
Of course, there is also plenty of dancing, including some great ballroom work by Dmitry & Darina, and the choreography by Luis Salgado is top-notch as many of the dances feature a cast of about a dozen rhythmically tapping in sync - Latin style - for some enjoyable moments.
Priced at just $25, the 75-minute "Latin Quarter" is not only a bargain, but a great date night propelled by a strong mix of talented performers. With The Social lending a laid-back vibe where you can sit at the bar and have a drink while watching the show, "Latin Quarter" adds some much-needed spice to Atlantic City's entertainment scene.
"Latin Quarter," inside The Social at Revel through Dec. 1. Showtimes 5 and 8 p.m. Thursdays and Fridays, 2, 5 and 8 p.m. Saturdays and Sundays, $25, available at Ticketmaster.com, Revel box office or call 800-745-3000.