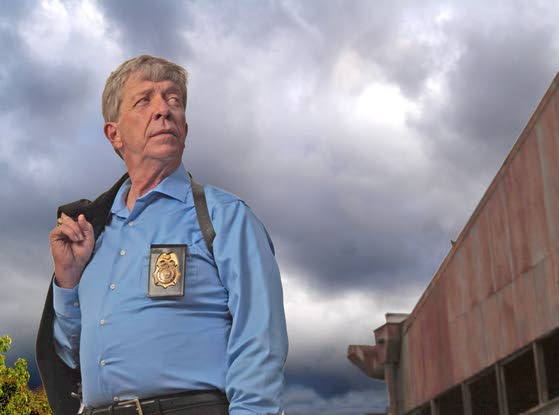 KNOXVILLE, Tenn. - Retired homicide detective Joe Kenda is the last person on Earth you'd imagine a TV star. With straight gray hair, a hounded look in his eyes and a minimalist way of speaking, he never would be chosen at a casting call.
But Kenda is the star of Investigation Discovery's "Homicide Hunter," returning for its new season
9 tonight, in which Kenda narrates re-enactments of the crimes he covered. It's not so much the cases Kenda recalls from his years on the force in Colorado Springs, Colo. - it's the way he handled them.
He never raises his voice, he says, on a humid day here where the show is filmed. "I never ever get upset, never raise my voice. That's intentional because that scares people. They're ready to be yelled at. And when you don't yell, it's like, 'Well, you're different.' 'Yes, I am.'
"When I arrested somebody I'd have a gun in one hand and a badge in the other. I say very quietly: 'My name is Kenda. I'm with the police department and you're under arrest for murder. If you don't do what I say I'm going to kill you right here and right now.'
"Everybody goes, 'I believe him.' Because I'm not yelling at them. I'm just talking ... 'Wait a minute, he's not yelling. I think he probably will shoot me.' 'Yes … I will.'"
Kenda spent 19 years on the force in Colorado Springs, working his way up from patrolman to commander of the major crime unit when he retired at 52.
There's no magic to his solving 92 percent of his assault cases, he says. "I'm a student of human nature. People do stupid things. They do. And if you watch them and observe them and talk to them and deal with them - hundreds of different people - you become a student of what they do. And that's all this work is ...
"Tell me a story," he leans forward, "that I'm going to believe based on my knowledge of what people do. Tell me something that works. And you know when you're getting lied to and when you're not, based on what they're telling you because you know what people do even though this person believes he's very different. He's very much the same," he says.
"If you let people talk they will tell you their life story even in an interrogation room. Don't interrupt them. They all suffer from diarrhea of the mouth because they're frightened and it feels better when they talk, particularly when you're not responding. They'll talk even more."
Kenda didn't start out a cop. He and his wife of 45 years, Kathy, met at college in their native Pittsburgh and he tried for a time to work for his dad's trucking business. They had two children, a boy and a girl, and couldn't make a living. Finally Kathy gave Kenda an ultimatum.
"I couldn't make ends meet and I'm really good at making ends meet," says Kathy Kenda. "If he wasn't working he was with the boys, golfing and stuff and I was stuck with the two kids. So he came home and I was drunk one night, and I said, 'This has got to change. I never see you. You never see the kids.'
"He said, 'OK, I've always wanted to be a policeman.' The next morning he said, 'Do you remember what I said last night?' I said. 'Yes, would you like chapter and verse or just a synopsis," recalls Kathy, who is nurse.
He soon applied and was accepted on the force in Colorado Springs, their first college graduate.
It was also at Kathy's insistence that Kenda retired.
"I had gotten to the point where I was at my emotional limit," he says. "And everything around me became white noise. I thought, 'OK, it's time to go. I can't do this anymore.' So I did, and I couldn't sleep at all for like four or five months."
He ran into the chief of police later on the golf course. "Everybody on the police force calls me Joey. He says, 'Joey, how you doing?' 'Hmmm.' 'You sleeping?' 'No.' He just looked at me and said, 'You know that (expletive), Joey, it never goes away.' And that was an epiphany for me," he nods.
"When my dead people come to visit in the night: 'Oh, hello, how are you? Still dead I see. You're not looking well.' You have to turn it into some sort of a gag because it never ever goes away. That was worth it to me to do that because I put people in a cage who needed to be in one. And it was worth it to suffer those consequences. She (Kathy) wasn't so sure sometimes how much it was worth it."
It was Kenda's brief official appearances on local TV that came to mind when producer, Patrick Bryant, first got the idea for the show. But when his query letter arrived, Kenda ignored it. Again Kathy insisted he reply. When Kenda arrived for the tryout Bryant instructed him to talk to the camera about murder.
"So I did, for about an hour - whatever came into my head. I reached what I thought was a natural stopping place and I stood up and said, 'Is that what you had in mind?' And everybody's standing there with their mouths open. And I'm thinking, 'Well, this didn't go well.' Nobody said a word. I said, 'Let me ask you again, is that what you had in mind?' 'Oh, yeah.' And here we are."
Distributed by MCT Information Services