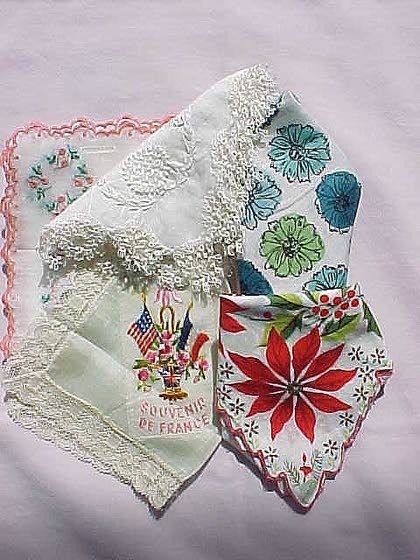 Question: When my grandmother died, I inherited a large box of her handkerchiefs. Many were given to her when she taught school and have never been used. Please tell me if anyone might want to buy the hankies. - L.Y., Northfield
Answer: Modest treasures from a bygone era when women carried a hanky in their handbag, tucked one in an apron pocket and accessorized clothing with a favorite, ladies handkerchiefs have become quite collectible. Affordable and easy to store or display, hankies appeal to novice and veteran collectors as well as creative crafters who recycle them as useful, decorative items.
Collectors search flea markets, thrift shops and yard sales for delicate, antique handkerchiefs and colorful vintage examples made to catch a sneeze or dry an eye from the 1940s through the 1960s. Particularly popular are white-on-white, holiday, designer-signed, souvenir and floral hankies. Other specialties include sports, calendars, animals, zodiac and politics, as well as round handkerchiefs and mourning pieces.
Crafters shop for "hobby" hankies to create ornaments, sachets, lampshades, wall hangings, pillow covers and quilts. Some frame handkerchiefs, use them to decorate clothing, create scrapbooks or tuck them into handmade greeting cards. Like collectors, crafters evaluate hankies based on their age, condition, workmanship, design and rarity.
Pictured are some choice hankies currently cherished by collectors and crafters, with value ranges. Clockwise from top left, the items include:
•A crisp, unused, machine-embroidered 1960s cotton lawn hanky, with original "Made in Switzerland" paper tag. It is valued at $12 to $15.
•An antique, white-on-white edged with hand-tatted medallions. A bridal heirloom once converted to a christening cap, it later was used by the original owner's great-granddaughter as her bridal handkerchief, and has a value of $40 to $50.
•A vivid green and turquoise cosmos decorate a large, unused 1950s linen floral signed by textile designer Ann McCann. Its value is $15 to $25.
•An unused, 1960s holiday hanky featuring a bright red poinsettia print and lacy cut edges valued at $10 to $15.
•The perfect "Souvenir de France" from 1900 to 1930, a pale blue silk with embroidered insert and fine lace border valued at $22 to $35.
Question: I recently purchased an electric brass desk lamp at an estate sale. It is 16 inches high with a brass shade and glass chimney. "1st Class Only - S.S. Titanic" is stamped on an applied brass oval that shows a transatlantic steamship. What is the lamp's value? - G.G., Upper Township
Answer: The lamp you describe is a replica of oil lamps made by British manufacturers for ocean liners and luxury trains at the turn of the last century. Introduced in the late 1990s - following the success of the movie, "Titanic" - the copy is presently produced and sells for $120 to $150.
Alyce Hand Benham is an antiques broker, appraiser and estate-liquidation specialist whose consulting firm, Treasures Unlimited, is based in southern New Jersey. Send questions to: Alyce Benham, Life section, The Press of Atlantic City, 11 Devins Lane, Pleasantville, NJ 08232. Letters may be used in future columns but cannot be answered individually, and photos cannot be returned.