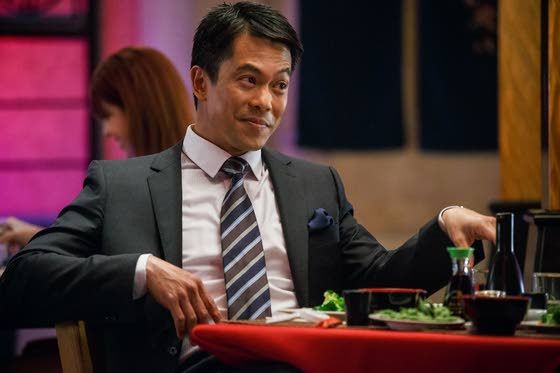 PASADENA, Calif. - An honor student, actor Byron Mann had earned his law degree and passed the California bar exam only to be told by a fellow lawyer that he needed to get out of the field.
Instead of being upset, Mann says he felt liberated.
"It's like these women who are in an abused marriage, somebody needs to tell them: 'You just need to get out.' That's how it was," he says over breakfast in a coffee shop here.
His first year away from his native Hong Kong was spent shivering at a Christian college in Chicago. "My parents are very Christian, and I went there and it was cold," he recalls.
"But I was in a relationship back then, and the girl was going to move to UCLA. So I just wanted to be with her, so I said I'd transfer. Turns out she didn't get in. I got in. I thought, 'Do I really want to go or do I want to stay in negative-40 degrees Chicago? I'm going to go to the West Coast!'"
True to his academic roots (honed at a boarding school in Hong Kong) Mann majored in philosophy. "I had a lot of time because all I had to do was think and read. In my spare time I saw a lot of movies before they came out – producers, actors, directors (visited the school). I thought how cool it would be if I could actually do this for a living. If I went to school in Ohio or Rhode Island, Hollywood would just be too far away. But I was here and getting an agent was just making a call. So that girlfriend changed my life."
Though they're no longer together, that acorn of an idea about acting grew into a robust passion, and Mann has never held another job since he started performing.
He's acted in "Catwoman," "The Man with the Iron Fists," played Yao Fei in "Arrow," and the crafty Chang in "Hell on Wheels." And now he's playing the quasi-bad guy in "The Big Short," with Ryan Gosling, Steve Carell, Christian Bale and Brad Pitt. It's the story of the mortgage crisis of 2008.
"What's ironic is that my brother, who's a banker, told me about this movie a year before the casting started. He said, 'I've a client who's involved with this movie and you should look into it.' I just blew him off. A year later I met Adam McKay, the director. He loved me and put me in the movie. It turns out that my brother's client is the character played by Brad Pitt. Every person in the movie is a real person."
Once he was set on acting, Mann (who changed his name from Chan) was resolute about his choice.
"There are two things: one is being an actor and the other is carving out a career," he says. "They are two different things. I'm probably better at just being an actor but through the years I've learned how to build a career. I just thought for years and years and years all you needed was to be a good actor. To a large extent that is still true, but you also need to know how to manage and preserve your career," he says.
"The hardest thing is longevity. It's the hardest thing in anything, even a coffee shop," he gestures around the room. "Starting is not that hard. If you have some passion and some luck starting is not that hard, but doing it for five or 10 years, 15 years, 20 years, that's a whole new ballgame."
He nabbed his very first role in the comedy series "Murphy Brown." "And I just hated it. I just hate the format of the sitcom, so I never did another sitcom in my life. But ironically that was my start. Then I did a show called 'Tequila and Bonetti,' and I worked with Tony Plana ("Ugly Betty"). I thought he was a God. He was in the business for 30 years, and it was my first job.
"I said, 'Hey, Mr. Plana, what advice would you have? My parents are not happy with this choice.' He said, 'Byron, don't worry about it. Once your parents see that you can make a living for yourself, you have a house, a wife, and two cars, they'll be happy for you."
While he has the two cars, Mann has yet to fulfill the other requirements. His mother is Chinese-American; his dentist dad is Chinese. Mann, who speaks Mandarin, Cantonese, English and some Thai, has moved back to Hong Kong.
He says the main reason for returning is that Hong Kong is his home, the other is to take advantage of the burgeoning Chinese film market, where salaries are commensurate with Hollywood's.
Although at 48 he's an international name, Mann says he wishes he had spent more time on relationships and less on work. "It'd be nice to find someone and have a family," he says. "Because career and stuff, I've seen it and done it. I still have things to do but there's more to life. There's other dimensions to life."
He says he wouldn't mind marrying an American like his dad did, it's a matter of the individual. And he insists he harbors no proscriptions about dating actresses, "But I prefer not. I've dated one or two, and I just think the house is not big enough for two."