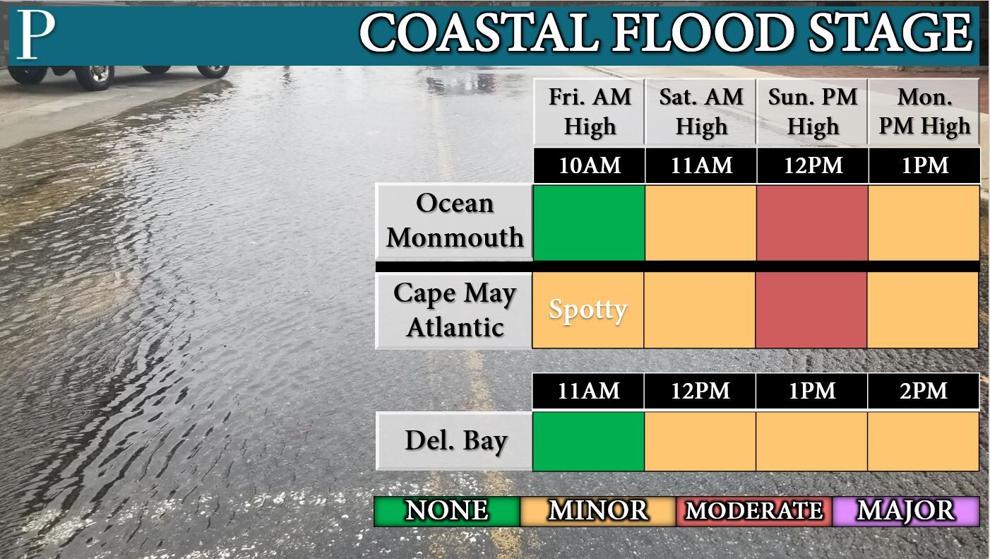 Saltwater will come to normally dry ground around 9:30 a.m. and last until roughly 2:30 p.m. Sunday. The Delaware Bayshore will be from 10:30 a.m. to 3:30 p.m. as high tide occurs later here. 
While most of this time will be in minor flood stage, the hour surrounding the roughly 11 a.m. to noon high tide will be in moderate flood stage. One to two feet of water will be likely on a few roads, with many roads around the bays seeing inches of water. Find your tide times using the link below. 
The Sunday night high tide, cresting roughly around midnight, will see spotty nuisance coastal flooding. Expect it to be similar to Saturday. While that could lead to some problems, the flooding will mostly be a nuisance, but will not destroy property. 
The Monday afternoon high tide, peaking at roughly noon to 1 p.m., will teeter on the edge of minor coastal flood stage and moderate coastal flood stage. Expect flooding between 10 a.m. to 3 p.m., with the Delaware Bayshore doing so an hour later. 
ATLANTIC CITY — Paula Rudolph Stryker drives her grandson to the Brighton Avenue School almo…
Contact Joe Martucci:
609-272-7247
Twitter @acpressmartucci