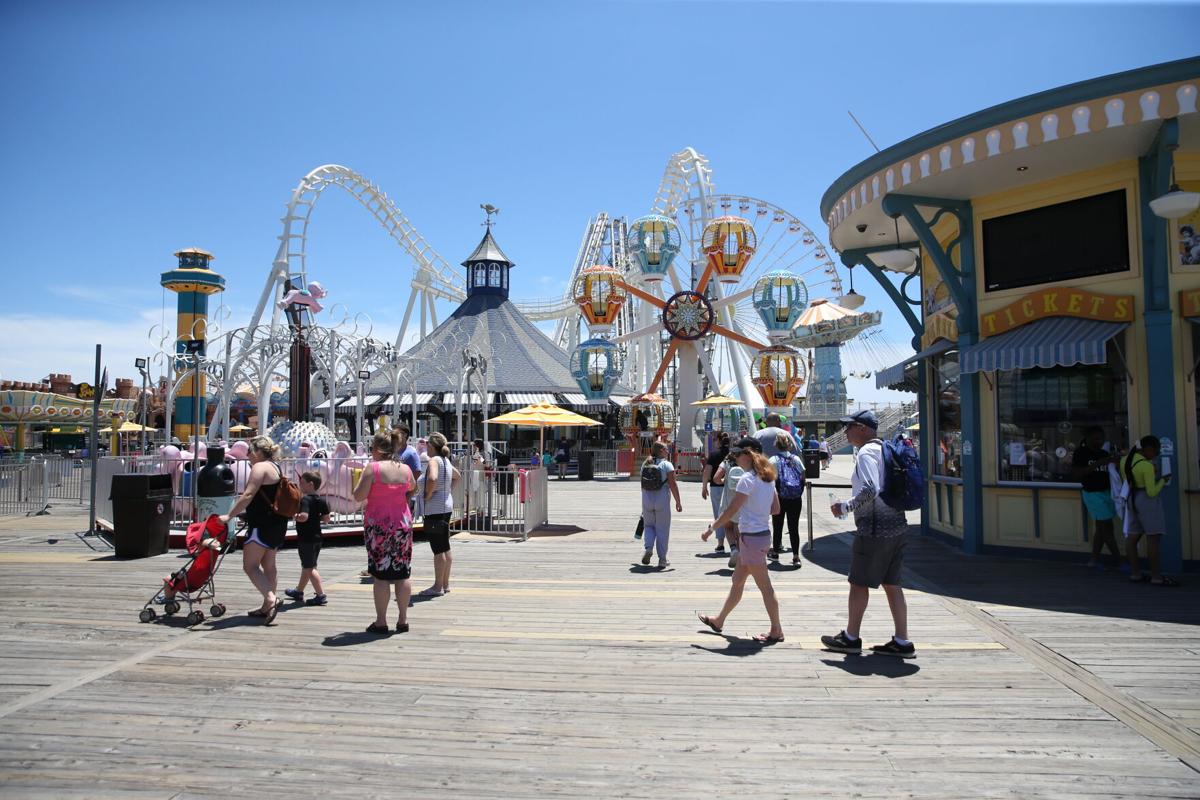 Of New Jersey's roughly 45 shore towns that face the Atlantic Ocean, five have the rides, games and thrills of a boardwalk amusement park.
From Wildwood to Pt. Pleasant Beach, the seven ocean "piers", as most of them are known by in the state, have and continue to be the cornerstone of a Jersey Shore stay.
In the far northern reaches of Ocean County is Jenkinson's Pier in Point Pleasant Beach. Home to a boardwalk, an aquarium and a sweet shop,  Jenkinson's keeps people entertained day or night, rain or shine.
Travel 11 11 miles to the south brings you and you'll come to Casino Pier, which juts out from the infamous Seaside Heights boardwalk. Casino Pier is home to one of the most extreme rides on the Jersey Shore, the Shore Shot, shoots thrill seekers 125 feet in the air at 45 mph, plunging them back to earth almost as fast. A block inland is Breakwater Beach Waterpark.
Closer to home is Atlantic City's Steel Pier: The historic 1,000-foot-long ocean pier on the World Famous Atlantic City Boardwalk has catered to the seashore going masses since 1898.
The Pier may be best known for "The Wheel", which opened in 2017. The 227-foot high revolving wheel, with a 14,500-light package, is visible for miles at night.
Just a few blocks from there is Central Pier. This boardwalk amusement is known for its large arcade and NASCAR style go-karts and is a great place to break away from the beach.
Continue south and you'll soon hit Ocean City, home to Gillian's Wonderland Pier. Gillian's was founded by David Gillian in 1929. The classic array of carnival rides give joy to all who visit, from the carousel to the monorail to the log flume.
Staying in Ocean City, you'll find nearby Playland's Castaway Cove, which offers a selection of over 30 rides as of 2021. The cove comes complete with mini golf and go-karts, as well as an arcade.
Our last stop of the Jersey Shore boardwalk tour takes us nearly as far south one can go in the state. In the Wildwoods, Morey's Piers and Waterparks beckons on summer days and nights. Morey's Piers consist of Surfside Pier, Mariner's Pier, Adventure Pier and two water parks. In an ode to the tremendous storms that can batter the coast, the Great Nor'easter is the biggest thrill on the boardwalk, going 50 mph, with a 90-foot drop.
A trip to any of these boardwalk amusements is an essential part of any trip to the major New Jersey shore towns. A box of salt water taffy or a huge cone of soft serve ice cream only completes a day or night with the rides or games. Whether you visit one of the amusements or visit any other piece of the 141 mile long coast, you can never go wrong at the Jersey Shore.
Contact Joe Martucci:
609-272-7247
Twitter @acpressmartucci