Two pieces of bread holding together some sort of filling between them. The sandwich as a concept is a basic premise, but a glorious one, and in a world where nobody seems to agree on much, it serves as a sort of unifier, a place of common ground among mankind. After all, have you ever met a person who straight up dislikes sandwiches as a whole? I'm not sure this person exists.
Of course the popularity of sandwiches means you'll find them everywhere, so tracking down the good ones is a job unto itself. And it's my job. As a food writer I have had to endure my share of sub-par subs, but I've also stumbled upon some true gems. And with that in mind I have compiled for you my list of the 10 best sandwiches in South Jersey. Are there other great subs and wraps that didn't make the cut? Absolutely. Will you all agree with this list? Probably not. Will you curse me out for not including your favorite spot? Almost certainly. And that's all part of the fun. Bring it on.
---
#10. The Warm n' Cozy at Funky Cow Café 
If you think the concept of a waffle sandwich is gimmicky, you are right. And if you think the waffle sandwiches at Hammonton's Funky Cow are utterly fabulous, you are also right. Pretty much any of the sandwiches on the menu will impress you with their savory and light as air waffles surpass any and all expectations, but my favorite of the bunch is their seasonal Warm n' Cozy – an autumn treat consisting of roast pork, caramelized apples and brie that simply cannot be wolfed down fast enough. Go to FunkyCow.com.
---
#9. The Fred at Marsini's Kitchen 
Most places that serve a meatball sub all serve it the same boring way: a bunch of meatballs laid out on a roll with marinara sauce and melted mozzarella cheese. And that's it. That's why The Fred at Marsini's Kitchen in Somers Point is such a breath of fresh air. This twisted up foodie's dream starts with sliced Italian-style meatballs and quickly adds cherry pepper relish, Italian long hots, broccoli rabe and sharp provolone to a long, seeded Rando's roll. It's practically perfect as is, but those with any common sense will also opt to spend the extra $2.50 to top the whole thing with prosciutto, quickly taking this party to the next level. MarsinisKitchen.com.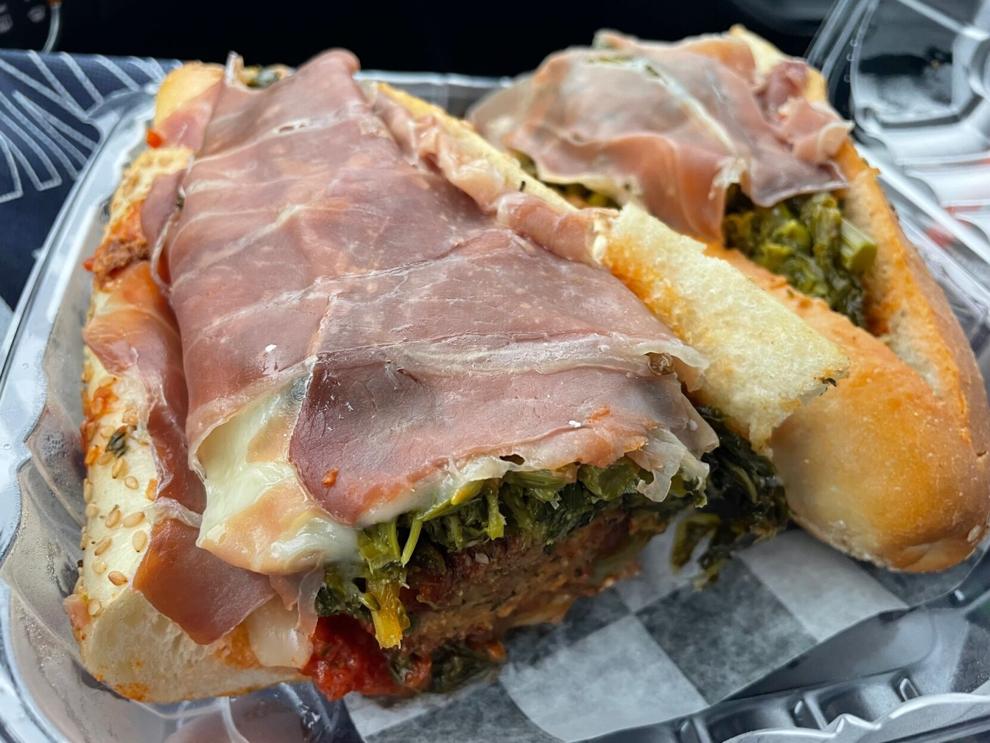 ---
#8. Short Rib Banh Mi Tacos at Taco Caballito Tequileria
How does a taco become a sandwich? Who knows, but swapping the tortilla for a heavenly fried bao bun is a step in the right direction. In fact everything about these incredible Mexican-Asian fusion delights is a step in the right direction, from the endlessly tender shredded short rib to the pickled onions to the sriracha mayo that tops it with a perfectly creamy kick. This Cape May Mexican joint has hit a home run with this one. Don't forget to pair it with one of their fabulous blueberry margs for an unbeatable combo. Go to TacoCaballito.com.
---
#7. Anne's El Paso Taco Cheesesteak at Sugar Hill Sub Shop 
You can't begin a conversation about great subs in South Jersey without somebody bringing up Sugar Hill Sub Shop in Mays Landing. An old-school deli offering up everything from basic turkey sandwiches to legendary Italian subs and beyond, its fun to pop in with an open mind and let the menu steer you out of your comfort zone with its many tempting options. One such option is Anne's El Paso Taco Cheesesteak, a one of a kind sub that starts with your standard AC sub roll spread with salsa and sour cream, then adds taco-seasoned steak, a combo of melted Monterey Jack and Colby cheeses, plus lettuce and tomato. As the name suggests, its flavor profile lands somewhere between a cheesesteak and a taco, imparting the best of both worlds. Pro tip – if you are more of a fajita lover, swap out the lettuce and tomato for grilled peppers and onions – you won't be sorry. Go to EatSugarHillSubs.com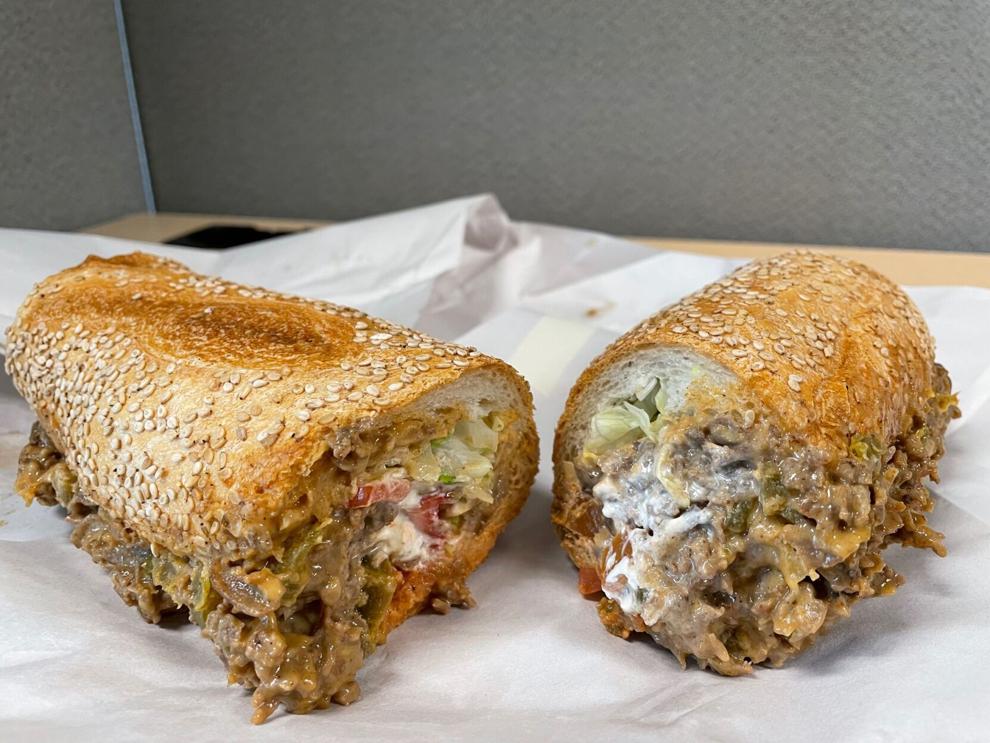 ---
#6. Buffalo Chicken Sandwich at The Anchorage Tavern
I'm always an advocate for quality over quantity, particularly when it comes to food, but in the case of the Buffalo Chicken Sandwich at The Anchorage Tavern in Somers Point you end up with equal measures of both. A chicken breast the size of a modest Hawaiian island is coated in a thick, Southern-style breading and dunked in a tangy Buffalo sauce with just enough kick to make the blue cheese a welcome relief. The comically undersized bun sits on top like an NFL lineman wearing a child's hat and adds to the Instagram-worthiness of the whole thing. Go to AnchorageTavernRestaurant.com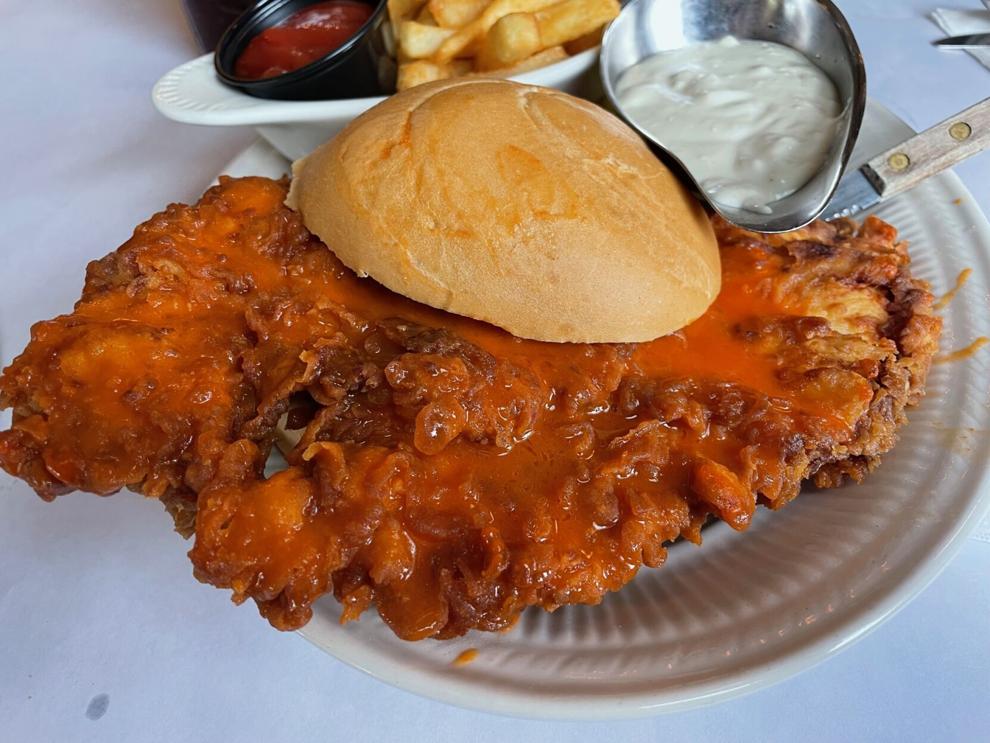 ---
#5. The Stockton Bomb at Costello's Pizzeria & Wings
Costello's in Smithville does a lot of things right, but this South Jersey version of a Rutgers grease truck style "fat sandwich" is easily the crown jewel of their menu. A seeded torpedo-style roll is filled with a pile of their signature boneless buffalo tails, mozzarella sticks and french fries before being topped with blue cheese dressing. It's incredibly filling, incredibly tasty and wildly unhealthy, and that's exactly how it should be. Go to CostellosPizza.com.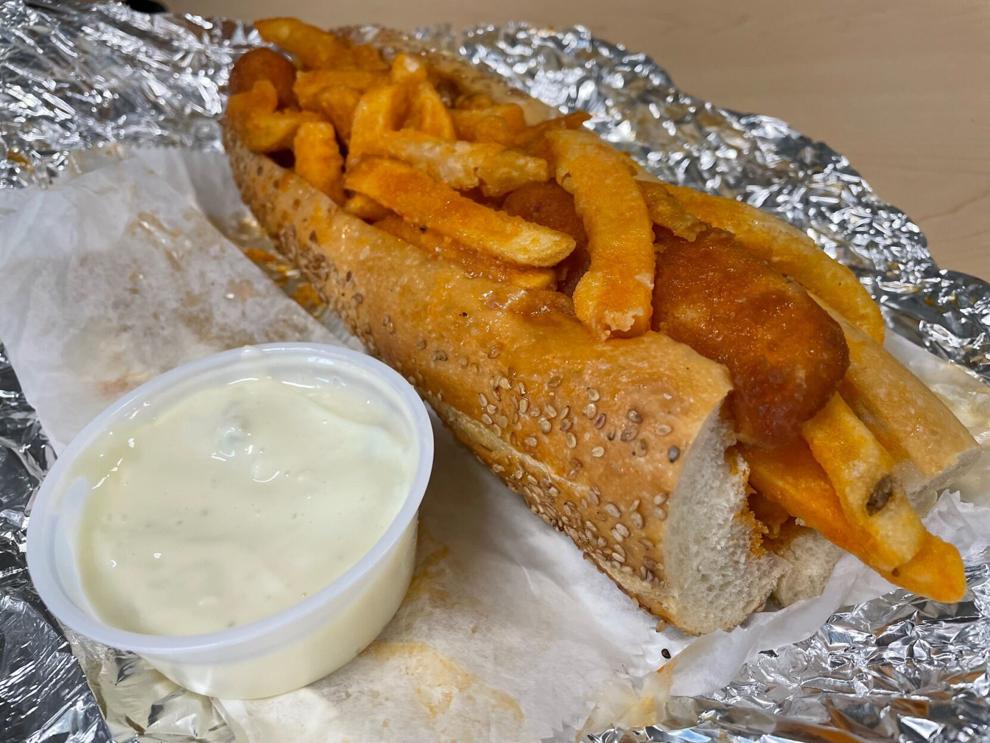 ---
#4. The Italian Hoagie at Cuzzie's Pizza 
This Orange Loop pizzeria does a nice job of filling its menu with unique and highly craveable sandwiches. Picking just one to be included in this list was tricky, as arguments could easily be made in favor of items like the much loved Brisket Cheesesteak, or the South Tenn Roast Pork, but in the end, this spin on the classic Italian sub was so good, it simply couldn't be denied. A combo of prosciutto, porchetta, ham, thin-sliced onion, thick-sliced heirloom tomato (somehow they manage to find fabulous tomatoes even out of season), honey-whipped ricotta, oil and vinegar and a roasted garlic cherry pepper aioli on a sub roll. It all adds up to true greatness and is not to be missed. Go to CuzziesPizzeria.com.
---
#3. The Bacon Cheeseburger at Tailgaters Sports Bar & Grille 
I can hear the shouting and complaining already. "How dare you? A burger is NOT a sandwich!" I don't concern myself with this type of silliness. It's bread with meat and cheese between it. That's a sandwich in my book. Anyway, sandwich or not, my go-to burger at Tailgaters Sports Bar & Grille is a classic made with a half-pound of Angus beef, lettuce, tomato, paper thin slivers of red onion and the secret weapon – a few slices of their fabulous brown sugar bacon. This all gets stacked on a brioche bun before I hit it with equal parts ketchup and mayo for the win. Tailgaters in Galloway is one of the few spots that always nails a perfect medium rare and has managed to sustain its status as the home of my favorite burger in all of South Jersey for the last 8 years. Go to TailgatersNJ.com.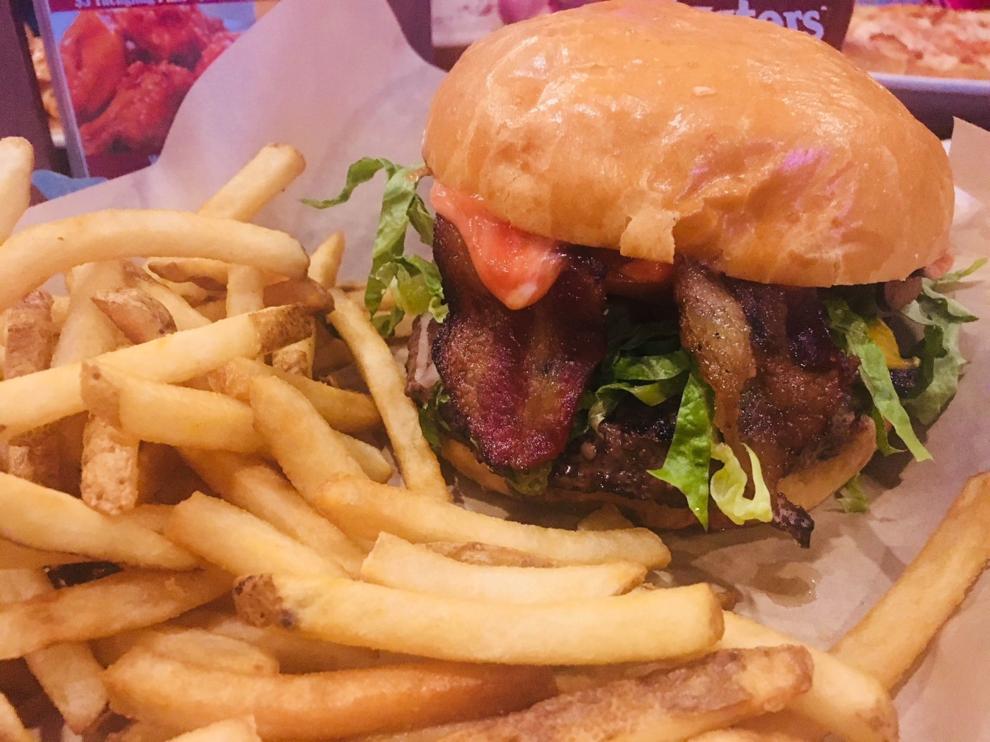 ---
#2. The Acadia at Water Dog Smoke House
A hot tip sent me in search of this lobster roll, and boy did it ever pay off. This sandwich – a hybrid of both Maine and Connecticut-style lobster rolls - features an entire lobster's worth of meat poached in clarified butter and served on a long brioche bun with scallions and a side of tarragon aioli. The genius is in the blending of the two popular styles of lobster rolls to somehow come up with a sandwich that surpasses both. Water Dog may be best known for their smoked meats, but this Ventnor lunch staple can sling crustaceans with the best seafood restaurants at the shore, and any of them would kill to have a sandwich this good on their menu. Go to WaterDogSmokehouse.com.
---
#1. Wagyu Cheesesteak Bites at B-Prime Steakhouse
You'll have to jump through a few hoops to sink your teeth into my No. 1 pick, as unlike the rest of the sandwiches on this list, the Wagyu Cheesesteak Bites aren't exactly available in a grab-and-go situation, but I promise the effort will be worth it. You'll need to grab a reservation at Borgata's B-Prime Steakhouse and order these mini cheesesteaks off the app section. Your efforts will be rewarded with a melding of flavors so unique and so delicious that even the best steaks on their impressive menu will have a hard time competing. Two mini cheesesteaks prepared with Wagyu beef, caramelized onion, aged provolone and a hint of truffle all on a buttered parker roll. As I stated when I first tried them, they need to set up a pop-up shop at the entrance to Borgata selling nothing but full sized versions of these beauties. There would be a line down the block. It literally doesn't get any better than this. Go to Borgata.mgmresorts.com.