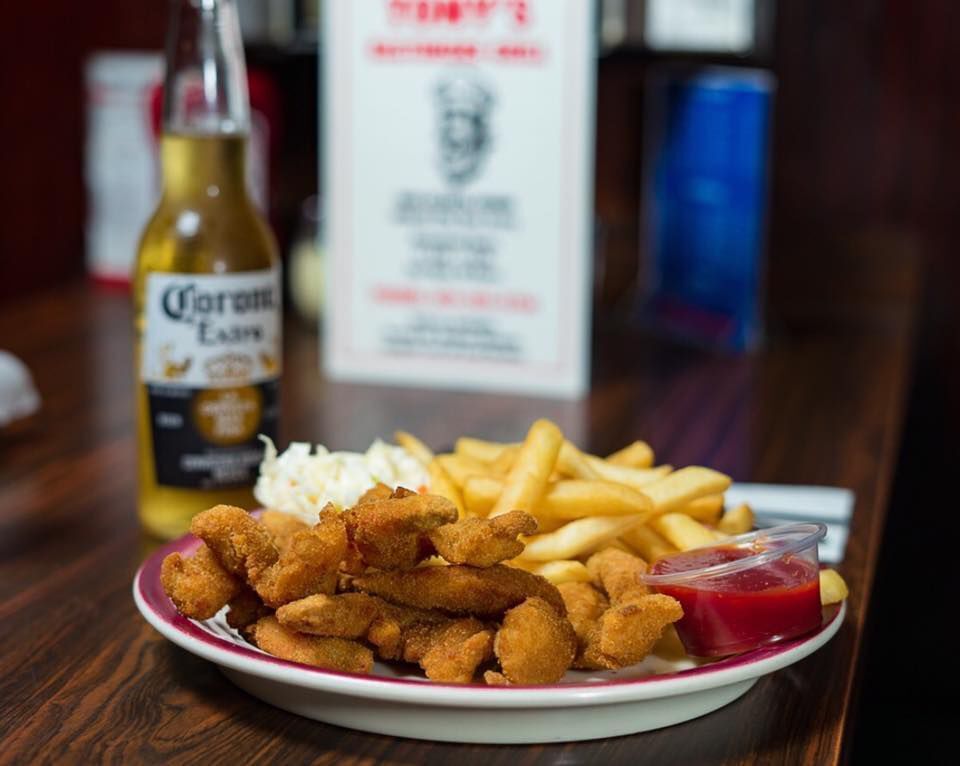 For months, COVID restrictions kept the indoor nightlife options ending at the almost comically early hour of 10 p.m., but recently that curfew has been lifted, which means you can once again hit up a local bar for a late-night bite and maybe even a few cocktails. Here are a few of our favorite spots to do just that.
One of the only spots currently operating at full steam 24/7, Hi Point Pub in Absecon seems to employ the philosophy that sleep is not only overrated, but downright uncalled for. The vibe here is always lively — especially in the middle of the night — and the crowd is chatty and will soon make you feel at home, no matter where you stumbled in from. Stop in literally anytime for a full menu of pub grub, complete with sandwiches, pizzas and a long list of top-notch burgers. They even have a full breakfast menu, should the sun start to come up. But whatever you do and whatever time it might be, don't miss their legendary crab bisque. Hi Point Pub is located at 5 N. Shore Road in Absecon. Go to HiPointPubAC.com.
So you hit the slots, tackled the tables, hit a few jackpots and are looking to celebrate with a few bites and maybe a drink? Zhen Bang Noodle inside Ocean Casino Resort has got you covered. Offering something a little different that the normal late-night greasy spoon diner and pub standards, Zhen Bang is open until 1:30 a.m. on Fridays and Saturdays and features a list of Asian-inspired dishes such as dim sum, fried rice, noodles and a great selection of sushi, sashimi and specialty rolls. And that is before you get to the wine and sake. Ocean Casino Resort is located at 500 Boardwalk in Atlantic City. Go to TheOceanAC.com.
A true legend in the world of bar pies, Tony's Baltimore Grill has been a staple of late-night shenanigans in Atlantic City since 1927. Since the pandemic began, their hours have been scaled back, but they recently extended them, and on Fridays and Saturdays both the bar and kitchen are open until midnight. And really, what is going to hit the spot better than a couple of beers and a bar pie just before the dawning of a new day? Answer: Not much — but if you were a REAL expert, you'd know enough to add a basket of their fried shrimp to that order. Thank us later. Tony's Baltimore Grill is located at 2800 Atlantic Ave. in Atlantic City. Go to TonysBaltimore GrillAC.com.
Tennessee Avenue Beer Hall
One of the most popular spots for visitors, locals and casino workers alike, this popular Orange Loop watering hole is a great spot to make the last stop of the night, as the beers are always flowing, and they keep the kitchen open until midnight on Fridays and Saturdays. And what comes out of that kitchen is nothing short of perfection thanks to Chef Charles Soreth, whose masterful munchies include lobster tater tots, some award-winning sweet soy wings and one of the tastiest fish sandwiches you are likely to try in your lifetime. Add to that 40 taps of craft brews and around a hundred more in bottles, and you have all the ingredients for a great spot to wrap up any evening. Tennessee Avenue Beer Hall is located at 133 S. Tennessee Ave. in Atlantic City. Go to Tennesseee AvenueBeerHall.com.
Recently reopened after a long hiatus, Wonder Bar is back in action, offering up tasty treats in their waterfront location on the southernmost outskirts of Atlantic City. The kitchen used to be open till 6 a.m., but with the COVID nightlife scene being as limited as it is, they have pulled the hours back slightly. On Fridays and Saturdays the kitchen throws out its last call at around 2:30 a.m., and on weeknights that comes at 1:30 a.m. That still gives you plenty of time to have a full night out and wrap things up with a final cocktail or two and some craveable morsels like their cheesesteak eggrolls or deep-fried pickles. Wonder Bar is located at 3701 Sunset Ave. in Atlantic City. Go to WonderBarACNJ.com.