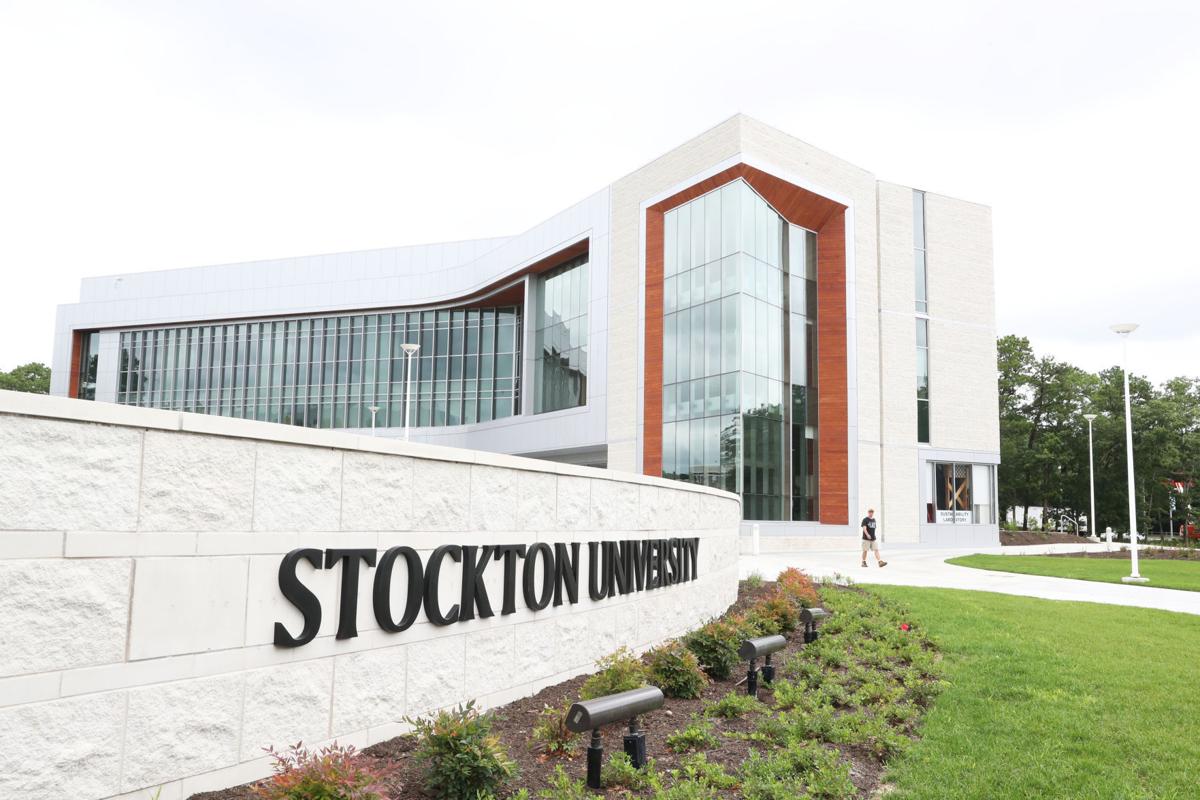 GALLOWAY TOWNSHIP — A white Stockton University student who was criticized this month for a widely circulated social media post in which she wore "black face" and wrote a racial slur on her forehead will not have disciplinary action taken against her because the photo was taken when she was a minor, the student said this week.
Another white student's posts on Facebook and Twitter describing rioters as "animals" also are being investigated. College officials have condemned the posts, but many students say the school hasn't done enough.
Stockton senior Ina Boateng, event planner for the African Student Organization, said she understands the subject of racism is difficult to talk about but argued the college needs to address it more authentically.
"The more we don't talk about it, then the worse it gets," said Boateng, 22, of Mays Landing.
"They kind of sugarcoated the situation. I know that they can't reveal everything, but I feel like the students need to be aware," said ASO secretary Bernice Ntambwe, 19, of Galloway.
Shelby Israel, 20, of Voorhees, Camden County, a nursing student at the college, issued a statement Wednesday in which she acknowledged the "discomfort and anger" the photo of her with "black face" incited. Reached by phone Wednesday, Israel said the photo dates to 2015 when she was a high school freshman and was not posted on her own social media pages, but rather shared by a former high school classmate on Twitter late last month. Israel said she recognizes that is not an excuse for her behavior.
"I am not asking for forgiveness, and I acknowledge the privileges that allow me to even be making this statement," Israel said. "Moving forward, I hope that I can embody the idea that people are capable of change and growth, and I will continue to take steps towards a meaningful allyship."
Students at Stockton have been calling for the expulsion of Israel and another student, 22-year-old Gunnar Pearson, of Barnegat Township, after screenshots from social media were circulated widely in the wake of nationwide protests that started after the death of George Floyd in police custody in Minneapolis last month. One Change.org petition had nearly 80,000 signatures Wednesday in support of Israel being expelled. A similar petition related to Pearson has about 34 signatures.
Following a Change.org petition, a retired New Jersey police officer who killed a black teen…
Stockton spokeswoman Diane D'Amico said the university does not tolerate racist behavior but must, under federal law and its own rules, follow a process in addressing complaints.
"But the fact that that takes a little bit of time doesn't mean we're ignoring the situation at all," D'Amico said.
She said that in Israel's case, the college does not have the jurisdiction to punish the student because of when the photo was taken. The Pearson incident remains in the investigatory process, which she said includes student interviews and a hearing.
On Wednesday, Stockton President Harvey Kesselman condemned the students' actions.
"We condemn that photo, condemn it. It's abhorrent. It's against every value that we have at Stockton and every value that we try to promote. It runs counter to who we are," Kesselman said. "The other (post) is threatening in addition to being horrific, and there's no place for that in an institution of higher education or anywhere in our society, quite frankly."
Stockton University President Harvey Kesselman on Saturday issued a statement regarding rece…
In one of Pearson's posts from May 31, he retweets a video of rioters in Dallas attacking a man who is left bloodied in the street and states "White mans mind am I right" and "y'all are animals and need to be put down." In another from June 4 he states, "Imagine flying the flag in a country that you're so happy to be in and it gets ripped down by twisted fruit bags. That's a joke, boy would get a 9mm down his throat."
Reached by phone Wednesday, Pearson said those tweets were taken out of context and that he used the "wrong language at the wrong time."
"I was just meaning to call out criminals and people who are burning the American flag," he said, adding he is not a racist.
Pearson, who said he is a member of the Army National Guard and an aspiring police officer, called himself a patriot.
"I can't say much. There's so many people against me that I am silenced and I am oppressed," he said. "I'm scared to even step outside my house, as anybody would. I feel attacked, I feel embarrassed."
Pearson said he is unsure whether he will return to Stockton in the fall, pending the outcome of the college's investigation.
After the posts were made public last week, Stockton issued a statement that it was investigating the alleged violations and that no final determinations have been made. But a subsequent Facebook post by Pearson stating that he had been put on probation by the college fueled a backlash against the college.
Many student organizations, students and alumni called on the college to do more. The African Student Organization issued a statement that Stockton has repeatedly failed in making students of color feel protected and safe.
"Posting a black square and sending out an automated political response just to protect themselves was a big slap in the face," the statement read. "With the amount of money put into police/security, it is an insult and a disgrace to the black community that even a fraction of that money is not spent on speaking up for the underrepresented. How is it that a school located in Atlantic City, a predominantly Black community, continues to allow people like Shelby Israel to treat us like we are nothing and the only punishment she receives is academic probation?"
ASO Vice President Amaka Aliche, 22, of Millville, said the college should not have asked students to share resources on addressing racism and being an ally with the college, but instead offered more education to its students. She suggested some education be mandatory.
Boateng said it seems ASO and the Unified Black Students Society are often looked to to make statements after racist incidents, but they can only do so much.
"It's not our responsibility to educate everybody else. It's our responsibility to show people our culture, to welcome people in, to show them what we're all about," she said.
Ntambwe said even knowing that the picture of Israel was taken when she was 14, there is no excuse and would still like to see some punishment.
"I think she owes the public an apology," she said. "Hopefully, she's done a lot of learning since then and her (prior) actions don't continue."
Israel said she plans to return to Stockton in the fall but is afraid, but not a victim.
"I know that people are very disappointed in me. The only thing I can do is continue to educate myself and grow from this," she said. "Everyone's thoughts and feelings right now are completely valid."
She said she wants people to know that she isn't suddenly changing because the photo resurfaced.
"I've been working on growing and educating myself ever since this happened (in 2015)," she said.
Stockton's Vice President for Student Affairs Christopher Catching said the college has many programs to address inclusiveness and social justice, and that recently, he has seen an increased interest from white students and faculty in being allies and advocates.
Kesselman said the Faculty Senate was considering resolutions that would require and incorporate lessons on racial issues throughout the college curriculum, which he said he would eagerly endorse. He said the college is working to be more intentional in its hiring process and appreciates the students bringing up the issues regarding racism and inclusivity at the college.
"It has to be interwoven with everything that we do at the institution, and that's going to take us really reflecting," he said.
Contact: 609-272-7251
Twitter @clairelowe