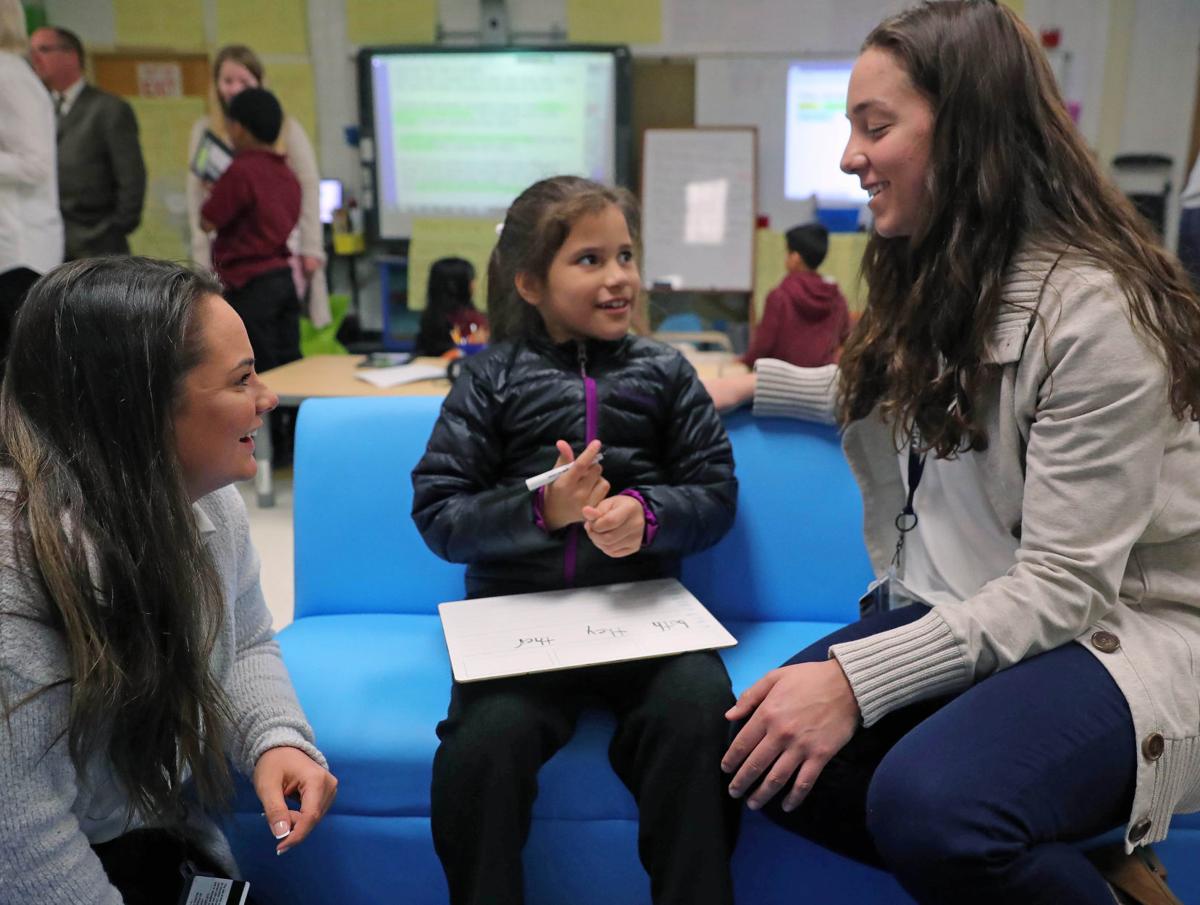 PLEASANTVILLE — Stockton University undergraduate Amanda Lenahan kneeled on the ground next to a student Tuesday and coaxed her gently to put together the letters that spell "where."
Lenahan pointed to a bulletin board in the second-grade classroom with several letter combinations and asked the student to find the one that made the same sound. The student eagerly pointed it out and then completed spelling the word on a small dry-erase board.
Lenahan, 26, of Egg Harbor Township, is studying to become a teacher and is one of 10 Stockton students participating in a hands-on learning experience to improve literacy developed with the North Main Street School and funded through a $10,000 OceanFirst Foundation model classroom grant. Stockton and Pleasantville hope the program, in its first year, will help close the achievement gap in the district, where they say so many students are falling behind because of poor reading skills.
EGG HARBOR TOWNSHIP — Nine Principle Academy Charter School employees, including four teache…
"From kindergarten through third grade, you're learning to read. Fourth grade and up, you're reading to learn," said second-grade inclusion teacher and former literacy coach Renee Alford, who applied for the grant.
If a student isn't reading proficiently by fourth grade, the achievement gap begins to widen as students spend more time figuring out how to read the words and not understanding what the words mean.
Alford said second grade is a key point in that development, to help students catch up.
The program is being implemented in two inclusion classrooms at North Main Street where literacy problems exist. The grant paid for the Fundations phonics program by Wilson Language Training — a company that provides professional development and research-based reading and spelling services — as well as furniture for classrooms.
PLEASANTVILLE — Eight high school students who participated in a summer education program at…
Alford said it blended nicely with what the district was already doing to improve literacy through the New Jersey Department of Education's Tiered System of Supports.
In Alford's classroom, 12 of the 15 students have some type of special education classification, she said. In total, North Main Street has about 300 students from kindergarten through fifth grade, of which 23 percent have disabilities and 22 percent are English language learners.
Stockton Associate Professor of Education Susan Cydis said the literacy program benefits both the college and the district. Undergraduates get hands-on learning experience inside two classrooms at the school, and the students benefit from literacy interventions, she said.
"Our students have the opportunity to take what we typically teach in a regular classroom setting at the college level and see the pragmatic application of that here at the elementary school," Cydis said. "They're working one on one with the elementary school students in remediating their literacy needs."
ATLANTIC CITY — Shalon Blake plans to be the first person in her family to go to college.
The Stockton students who are working at North Main Street are part of the college's Literacy Development class, a required course for the future teachers. The professors have brought the classroom to North Main Street and are able to meet with the college students after the school day ends and go over techniques used in the elementary class.
"It is making the connection between theory and practice," Associate Professor of Special Education Shelley Meyers said.
In addition, the Stockton students receive professional development and 50 hours of clinical working experience.
"I have never learned so much in any of my semesters than I have in just this class solely," said Lenahan.
She said the experience has helped her "learn on the fly" and given her levels of professional development she couldn't have achieved as a student.
North Main Street Principal Teresa McGaney-Guy said the school is using regular reading assessments and data to track student success.
"We've been struggling with just cracking the code with teaching our students how to read," she said. "And this gave us an opportunity to put some training in place to improve literacy skills."
McGaney-Guy said the school is hoping to continue the program next year, even if funding is not available for the professional development portion.
Also involved in the project is Stockton literacy development professor Priti Haria.