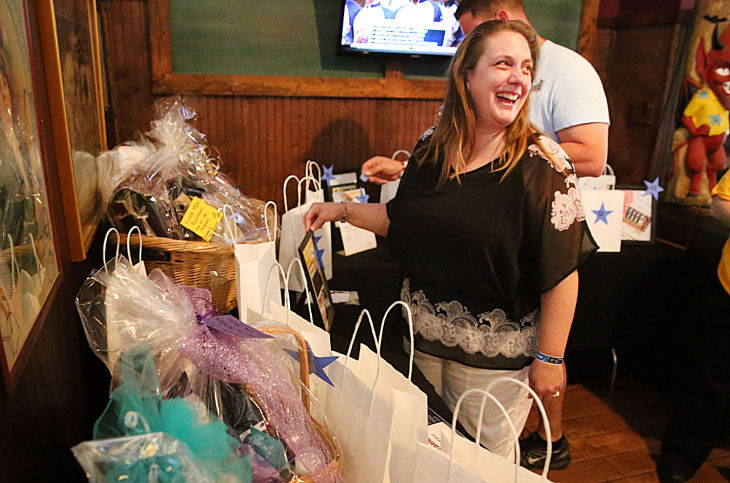 MULLICA TOWNSHIP — Minutes from executive sessions of the township Board of Education shed no light on how the decision was made to try to fire tenured kindergarten teacher Kelly Mascio after she reported that two 5-year-olds said they had engaged in sex play in her classroom bathroom last September.
The minutes include no information about discussions of the case, nor do they include questions asked by board members or concerns considered.
They read more like agendas, listing the topic as "Alleged incident regarding Kindergarten students and investigation regarding same," or "Teacher issue and potential disciplinary action."
The case, which ended in June when a state arbitrator ruled that Mascio should not lose her job, was discussed in seven executive session meetings of the school board during the 2013-14 school year, according to documents provided by School Board Secretary and District Business Administrator Karen Gfroehrer in response to an Open Public Records Act request.
Executive session meetings are closed to the public, but minutes are to be taken and made public upon request after an issue is resolved, according to the state Open Public Meetings Act.
Mullica is not the only district to avoid detail in closed-session minutes.
"There is no requirement in statute that board minutes include details of discussion, in open or closed session meetings," wrote Jeanette Rundquist, communications officer for the New Jersey School Boards Association, in an email response to questions. "Boards would generally rely on local policy and/or the advice of their board attorney to interpret statute and case law, and determine what they include in their meeting minutes."
She quoted the Open Public Meetings Act as requiring only that public bodies keep "reasonably comprehensible minutes of all its meetings" showing time and place, members present, subjects covered, actions taken, votes of each member and any other information required.
But in a 1998 letter to the acting director of the Division of Local Government Services to clear up "confusion over the requirements of the Open Public Meetings Act with regard to the keeping of minutes of closed session," then-state Attorney General Peter Verniero came to a different conclusion.
Verniero said the "any other information required" clause had been interpreted by the state Supreme Court to include "sufficient facts and information to permit the public to understand and appraise the reasonableness of the public body's determination," quoting from a 1991 decision in a case brought by The Press of Atlantic City in South Jersey Publishing Co. v. New Jersey Expressway Authority.
In an email response to questions from The Press, Mullica Superintendent Brenda Harring-Marro said the format of executive session minutes was already in place prior to her becoming superintendent and prior to the current board.
"I also understand that our executive-session minutes format is consistent with the format used by many other public entities," Harring-Marro wrote.
Gfroehrer said she has been instructed to keep minimal minutes in executive session.
"I would think that is because with executive session minutes there is confidentiality of the topics," she said. "Much of what is discussed has attorney-client privilege."
She said she has gotten the same guidance from her professional association and from School Board Solicitor Will Donio, who declined to comment.
Neither Board President Mia Jones nor Vice President Vickie Tomasco responded to requests for interviews.
One detail that is clear in the minutes is how long meetings lasted.
The first discussion of the Mascio case was Oct. 30, and the entire executive session lasted one hour and 25 minutes and included discussions of other personnel issues and contract negotiations.
On Nov. 19, 2013, the Mascio case was the only thing discussed in executive session, and the closed meeting lasted 20 minutes.
On Jan. 7 the case was discusssed in a closed meeting that lasted one hour and 10 minutes and also covered a former student's lawsuit, contract negotiations and a request for independent evaluation of a student.
The next closed meeting in which Mascio was discussed was a three-hour Feb. 19 tenure hearing, when the board voted to certify tenure charges against Mascio, brought by Harring-Marro.
The minutes say: "1. Tenure Hearing, a. Tenure Charges Reviewed; b. K.M.'s Response Reviewed; c. IAIU (Institutional Abuse Investigation Unit) Letter Reviewed."
(The IAIU is part of the state Division of Youth and Family Services, now Child Protection and Permanency. Its Dec. 3, 2013, report concluded no harm had been done to the children and found no evidence of neglect or inadequate supervision by adults, but said the district could conduct its own investigation.)
The minutes say board member Joy Wyld moved the resolution to certify the charges against Mascio, and Tomasco seconded the resolution; and record a vote of 8 to 1 to certify the charges, with all members present and only board member Robert Stollenwerk voting no. They also include the resolution itself.
Those voting in the affirmative were Tomasco, Wyld, Susan Brownhill, Charles Freeland, President Mia Jones, Lori Kelley, Melinda Matos and Terrence Watson.
Later minutes refer only to scheduling of arbitration.
State Arbitrator Daniel F. Brent ruled in late June that Mascio should not lose her tenure or her job, but should be reinstated as a kindergarten teacher with all back pay, minus a 10-day unpaid suspension for her five-minute lapse in attention Sept. 30 that allowed two children to enter the bathroom together unseen.
In response to other OPRA requests, the district provided documents showing it paid Donio's law firm of Cooper Levenson about $40,000 to handle the case; and it had to pay Mascio's full employment package of about $98,000 in salary and benefits, minus a 10-day suspension.
The district also hired a teacher to replace Mascio at the starting salary of $51,000, Mullica Township Education Association President Barbara Rheault has said.
Mascio was resinstated as a kindergarten teacher last Thursday in a meeting with Harring-Marro and Mullica Township Education Association Vice President Jeannine Ingenito.
Many township residents rallied behind the 16-year veteran teacher Mascio, 42, who is also a township resident. They said firing was too harsh a punishment, held fundraisers to help her pay bills while on unpaid suspension, and put up bright yellow-and-black yard signs saying, "We Support Kelly."
Mascio said she still doesn't understand why the board took the action it did against her.
"But at this point I am trying to pick up the pieces and move forward," Mascio said. "I'm excited to be going back and ecstatic to be back in kindergarten."
She said the community learned it can't be so accepting and unaware of what elected officials do.
"We have to go to meetings and ask questions," she said.
Contact Michelle Brunetti Post:
@MichelleBPost on Twitter