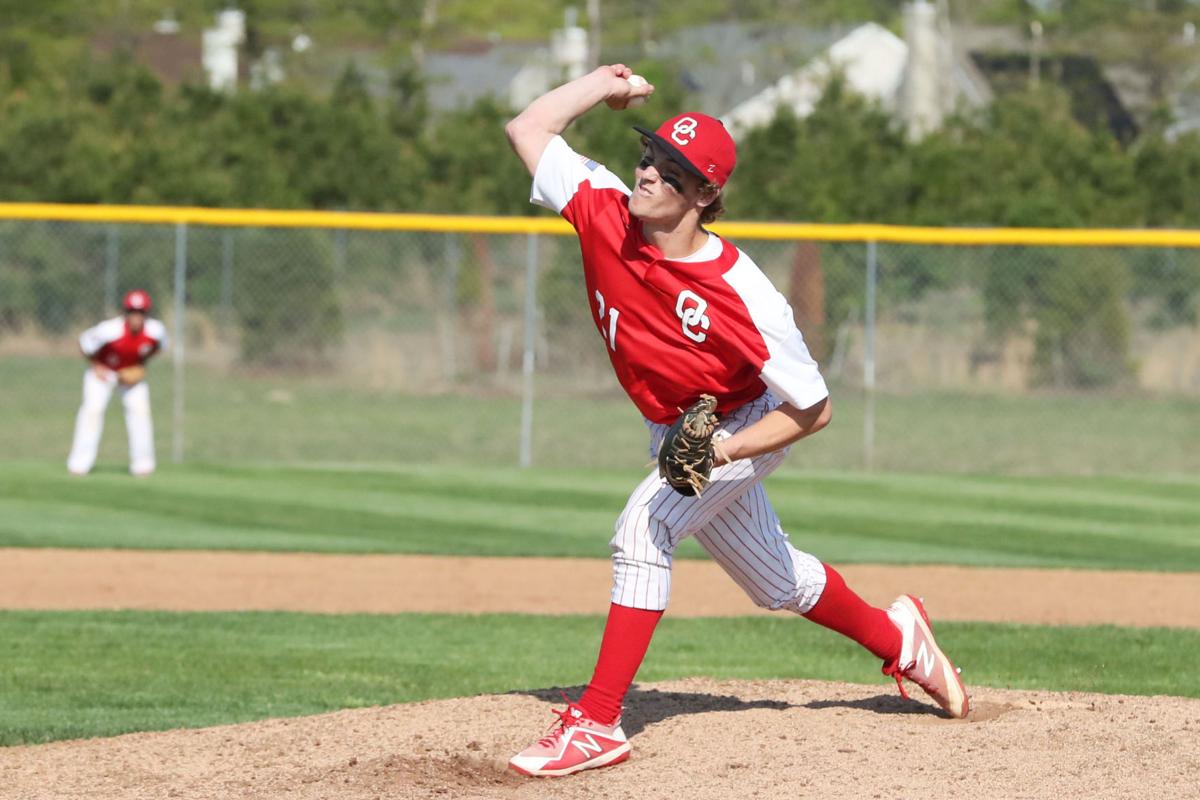 OCEAN CITY — The day Ocean City High School baseball coach Andrew Bristol knew was inevitable but still hoped would never come finally arrived Thursday afternoon.
Bristol coached his twin sons — Parker and Peyton — and the rest of the Red Raiders seniors for what is probably the final time.
Luke Hoey of Seneca ended a 10-pitch at-bat in the top of the eighth inning with a three-run double to propel the Golden Eagles to a 4-1 win over Ocean City in the South Jersey Group III quarterfinals.
Red Raiders starting pitcher Brandon Lashley struck out 16 and allowed two hits in 71/3 innings.
"It's a lot of years of baseball coming to an end," Bristol said. "It's bittersweet. I had a ball, and I'm not ready for it to end. I've been coaching my sons since they were 5 years old. I was thinking this day was going to come one day. It came pretty quick, and the emotions overflowed."
All season-ending losses can be painful for teams. But Thursday's defeat was especially heartbreaking for Ocean City because of the way the thrilling contest unfolded.
Fans surrounded Ocean City's field to watch the matchup between No. 10 seed Seneca (16-5) and second-seeded Ocean City (16-5). Seneca, despite its low seed, is one of South Jersey's top teams. The Golden Eagles feature outfielder/pitcher Nick Decker, who could be selected in the top three rounds of the Major League draft in June.
No player on the field, however, impressed more than Lashley, who dominated Seneca hitters with his slider. The junior struck out 14 batters swinging.
Lashley did not allow a hit until the top of the fifth. He left the game in the top of the eighth with a runner on first because he reached the 110-pitch limit.
"The slider was probably the best it's been all year," Lashley said. "My curveball was really on, too. It feels good when everything is working. I don't even know how to explain it. It's a great feeling. You're just out there competing."
Ocean City led 1-0 until the top of the sixth when Seneca tied the score.
With a runner on first and one out, Ocean City elected to intentionally walk Decker. That moved the tying run into scoring position at second base. Kevin Gsell followed the intentional walk with an RBI single to make it 1-1.
"We went into the game from the get-go (knowing) that we weren't going to let (Decker) beat us," Bristol said. "That's a compliment to him. He's the best player we've seen this year. I thought I would let somebody else beat us, and we had already predetermined that as a coaching staff. I would do it again."
Ocean City had a chance to win in the bottom of the seventh. Lashley reached on an error. After a sacrifice bunt, Parker Bristol singled to right to advance Lashley to third. Parker then stole second.
With runners on second and third and one out, Ocean City tried a suicide squeeze. The Red Raiders' hitter bunted through the pitch, and the Seneca catcher easily tagged Lashley out.
"I saw the infield up," Bristol said. "I thought it would be a good opportunity. We didn't get a good pitch (to bunt), and that's my fault. Hindsight is 20/20. I wish I didn't squeeze."
After the game, Bristol told the Red Raiders the loss was his fault.
"I take the hit," Bristol said. "I own it. It's what I called, and I take full responsibility. I don't want anyone else to be blamed but me."
The failed squeeze gave the Golden Eagles momentum for the top of the eighth.
Hoey called his at-bat that inning the best of his life. It came with two outs and the bases loaded.
The count went full, and then Hoey fouled off four straight pitches. He then hit a double deep to right-center field to clear the bases.
"I would just stare at my bat and take a deep breath," Hoey said. "I said to myself, 'Just keep your head down. Don't try to do too much and hit a ball hard somewhere.' "
Hoey is one of Seneca's top pitchers, and his experience on the mound helped him in that at-bat.
"I knew there was no way (the Ocean City pitcher) was throwing anything but a fastball," he said. "I know if I was in that situation, I'm trying to blow my fastball by a kid. I was getting a fastball. I had to do something with it."
Seneca advances to host No. 11 seed Mainland Regional in the semifinals Tuesday. Mainland upset third-seeded Triton 3-1 in the quarterfinals Thursday.
Meanwhile, Ocean City's season is probably over. The Red Raiders have some regular-season games that were postponed by rain left on the schedule, but those contests probably will not be made up. Ocean City excelled this season behind the pitching of Lashley and Dan Nunan.
"I've known all these kids forever because of my sons," Bristol said. "I know what they're made of. They believed in each other. We just came up a little short."
Contact: 609-272-7209 MMcGarry@pressofac.com Twitter @ACPressMcGarry
Seneca 000 001 03— 4 3 2
Ocean City 001 000 00—1 6 1
2B—SEN. Hoey; OC. Robertson
WP—Decker
LP—Lashley
​Contact: 609-272-7209
Twitter @ACPressMcGarry
Be the first to know
Get local news delivered to your inbox!