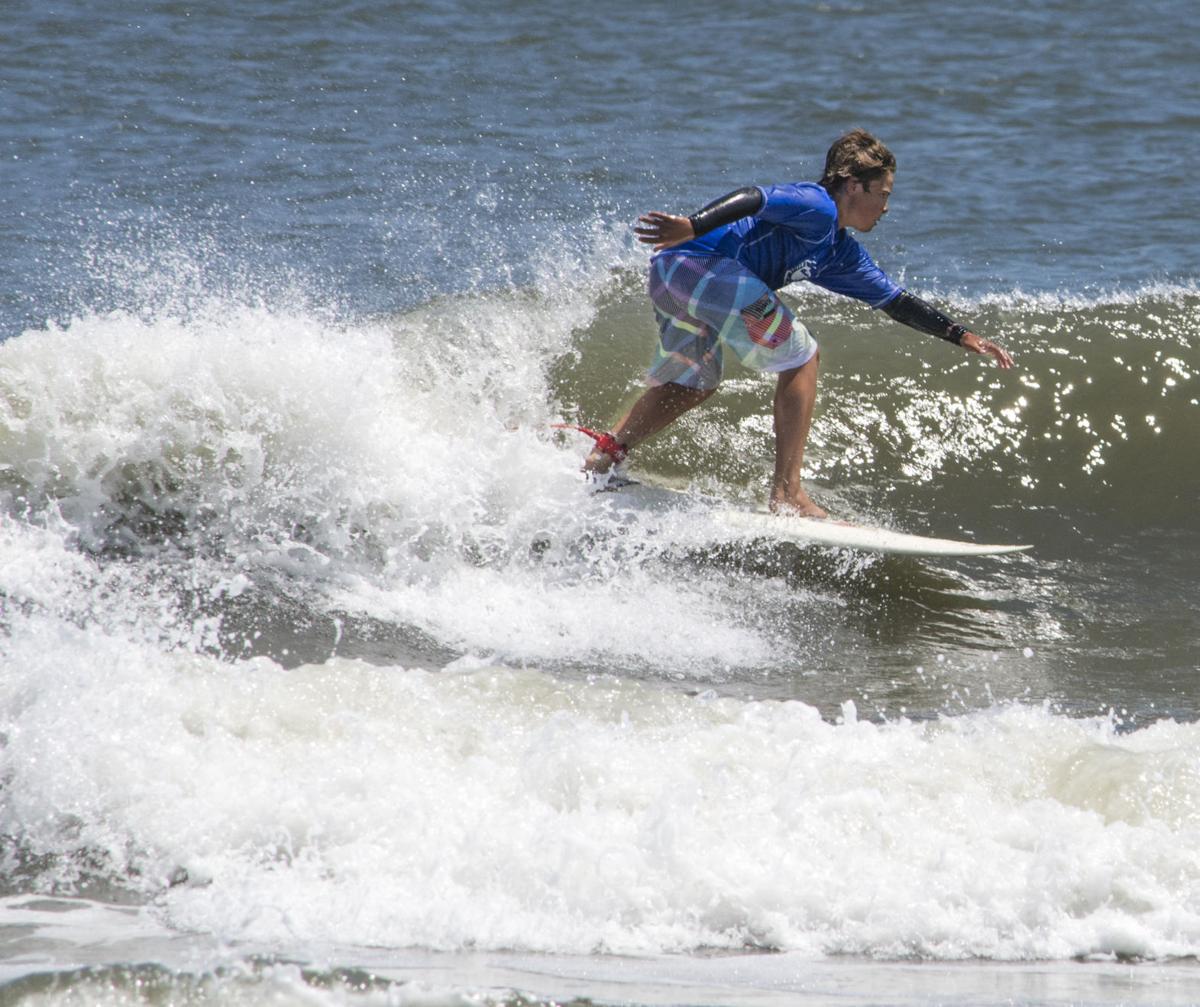 Can there ever be a more perfect sport than surfing? Going out in the water with the sun and friends for intense aerobic exercise riding waves is exhilarating. It's pure fun. There is no other sport that combines such a good time with such collateral benefits.
Strength and fitness
The benefits are many. The most obvious advantage is that surfing builds physical conditioning and strength. One cannot surf well if not in good physical form. Regular sessions keep you strong, fit, and in tip-top shape.
The athleticism required for surfing is extreme. A person must be able to swim and be at ease in the ocean. Many people become uncomfortable and scared if they cannot touch bottom with their feet. Being relaxed in water that is way over your head is a strict requirement.
Even fast pool swimmers can become overwhelmed by the ocean. Many surfing beaches do not have lifeguards; if you go out, you must be able to get yourself back to the beach on your own power.
Strength and endurance are required for paddling out and for catching waves. Wading, swimming and duck diving through 30 yards of whitewater can exhaust a person even before a wave is caught and ridden. Each wave caught requires a paddle back to the lineup.
Riding reef with a paddling channel makes this much easier. Riding shorebreak involves a long slog back outside. Riding sandbar on the return can be timed to avoid getting skunked, but it may be a long paddle back to the outside across the bar. The return to the outside, no matter what the break, causes fatigue as the session progresses. Endurance is required for those long monster sessions.
Balance is necessary for staying upright on the board. There are many moving parts to the sport, and balance is involved in every aspect. Balancing the board while paddling prevents "pearl diving," or digging the nose in by being too forward on the board. Being too far back while paddling will result in no progress. Balance while on the face prevents wipeouts.
The cool factor
Surfing has always been a cool sport. It brings to mind summer, being out of school, waves and girls. Surfers were always regarded as hip. Before the Beach Boys, surfers were sort of mad men who went out voluntarily into the water and big waves.
In southern California and Waikiki, they rode the surf on long balsa planks. In the '60s with the addition of foam blanks, surfing became more accessible to the masses, and surf music and surf culture exploded.
We were surrounded by and enveloped in this new culture. Some tried to look the part, dressing in the latest surf fashion and driving around at night with boards racked for everyone to see. Those dudes were never seen out in the lineup on dawn patrol the next morning.
A safe sport
A major benefit of surfing is that is a very safe sport. Of course, there are dangers including drowning, getting hit by the board, and the creepy crawlers in the ocean. However, for the vast majority of surfers it is a safe endeavor, and most survive an entire career without injury.
Exotic locales
Travel to exotic and faraway locations is one of the great benefits of surfing. When my family took vacations it was to Oahu, Barbados, Kauai, Florida, Puerto Rico, California, etc. Children, wife and surfboard in tow, I experienced travel and waves in beautiful locations on those trips. My wife, Joanne, contended that it is easier to travel with a toddler than with a surfboard.
Professionals on the World Tour experience travel in the extreme. There are waves everywhere around the globe. Be your own travel agent. Pick an ocean, then pick a city on the coast and go. A surfing safari is that simple.
Looking to quantitate the cost of safari waves, on one trip to Hawaii I divided the cost of the trip by the number of waves I rode. The calculation worked out to $5 per Hawaiian wave. I consider that a bargain.
Low cost
Excluding safaris, surfing is a relatively inexpensive sport. There is the initial expense of purchasing the surfboard. Over the years they have increased from $200 when I was a teenager to upward of $1,000 for a decent board in today's market. This may seem a steep price to pay, but it is an inconsequential investment when compared to other sports. The waves are usually free except on beaches where there is an entrance fee. All in all it does not cost much to be a surfer.
Being outside in the water has its own rewards. The surfer is immersed in nature and becomes an intimate partner with it. Gulls and dolphins dance around you. Donax and coquina clams greet you as you step into the water. Ospreys are out circling looking for a fishy meal. Bait fish are jumping into the lineup escaping predators. The surfer is at one with nature.
Other sports and recreation for the young and middle-aged can be pricey.
Golf, with membership fees, greens fees for each round, clubs, shoes, etc., can put the cost of a round of golf at $50 at a local course to more than $600 for Pebble Beach. Surfing sessions are comparatively inexpensive, requiring only wax and occasionally new board shorts, a rash guard, and maybe a wetsuit.
Powerboating and sailing are also expensive sports. A boat has been described as a "hole in the water into which money is thrown." First there is the initial purchase price; next comes the dock fees, upkeep and maintenance, and the price of gas. Add to this the cost of fishing equipment, and the cost of the fish caught can be upward of $50 per pound.
A private airplane can be purchased for the equivalent of a nice used car. Hangars, maintenance, landing fees, gas and recurrent training are all extras. To stay sharp and out of trouble one must fly on a regular basis. A book titled "The Hundred Dollar Hamburger" lists small airports that have a diner. When outlays are totaled, the cost of a flight to a Saturday afternoon hamburger can cost more than a pricey round of golf.
The waves are free.
Family fun 
Families can all participate in surfing. There is no greater feeling than passing on the stoke to your children. For many years the only communication I had with my younger teenage daughter was when we would surf together. Memories were made; hot summertime sessions, cold Christmas waves. She is now a responsible adult, an excellent surfer, and we share a close personal relationship.
Fred Weber is a goofyfoot who lives in Ocean City. To comment email wavelengths.fw@gmail.com.
Catch the latest in Opinion
Get opinion pieces, letters and editorials sent directly to your inbox weekly!