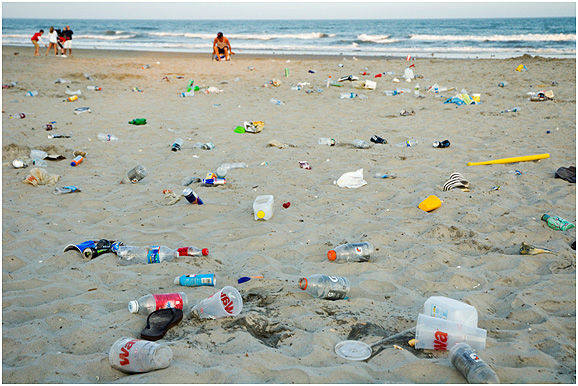 Some 8 million tons of plastic waste ends up in the oceans every year, yet scientists are not sure how it gets there. Perhaps there is a human element involved. Perhaps our behavior regarding trash and the environment has something to do with it. Perhaps we should do something about it.
In today's modern society, it is hard to imagine our lives without plastic products.
There is no doubt that plastic has made our lives easier. But there is a problem: Only a fraction of plastics are reusable. The majority of plastic is thrown away. Once made, it is here to stay, and the amount of trash being generated is mounting at an alarming rate.
Plastic is made from oil and gas; it does not biodegrade. To biodegrade, bacteria breaks down organic material and returns it to its basic elements. Plastic is inorganic; therefore it will not breakdown.
What it does do is photodegrade. The sun's ultraviolet light breaks down the molecular structure of the plastic, making it brittle. The plastic then breaks down into smaller and smaller parts, into an unseen toxic hazard.
The staggering amount of plastic being discarded is easily seen on our roadways, beaches and oceans. It's everywhere. While plastics have created problematic areas like the Great Ocean Garbage Patch, smaller particles called microplastics are now embedded in beach sand and in the ocean. Small fish ingest microplastics with plankton, while dolphins, whales and seagoing turtles are choking on larger pieces of plastic, such as plastic bags.
Sustainable Downbeach and the Surfrider Foundation have been working to combat this growing problem by spreading awareness messages and hosting beach and bay cleanups.
As part of the educational campaign to inform the public, the South Jersey Surfriders Foundation will present the movie "A Plastic Ocean" 6:30-9 p.m. Sunday, Oct. 29 at Enlightened Cafe, 6414 Ventnor Ave., Ventnor. The movie brings to light the problems facing our oceans and discusses ongoing and innovative techniques to fix the plastics problem. After the movie, we will discuss what steps we can take to protect our environment.
Sustainable Downbeach is working toward creating a healthier, friendlier community with an eye on protecting the environment. For information or to get involved see Sustainable Downbeach on Facebook.