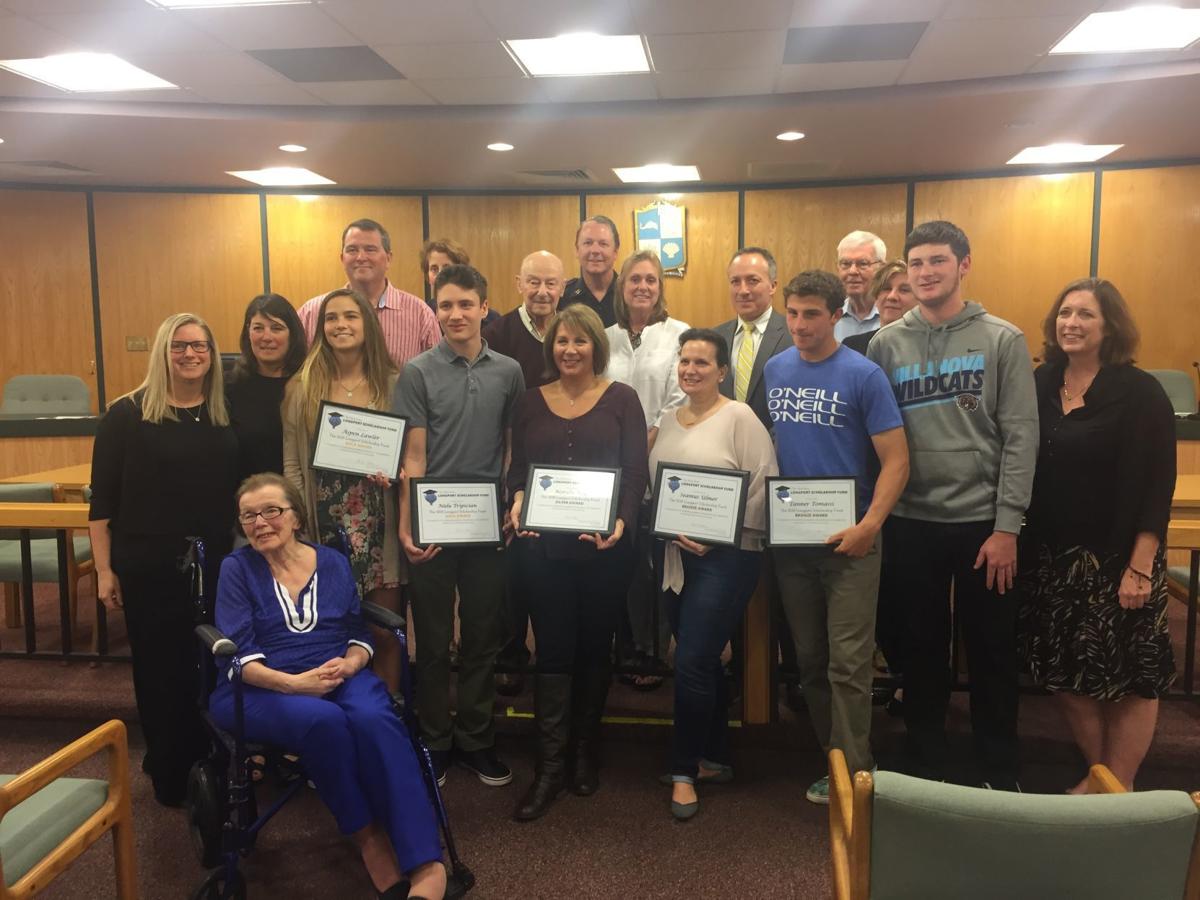 LONGPORT — The officers and directors of the Herb Stern Longport Scholarship Fund introduced the seven recipients of this year's scholarship at the Borough Commission meeting May 16 at Borough Hall.
The fund awarded the largest amount of scholarships in its 12-year history, totaling $12,500. Funding for the scholarships comes from donations from year-round and seasonal residents.
The awards are given out annually to Longport student residents graduating high school or attending college who demonstrate scholastic achievement, civic leadership and strong work ethic.
The directors named Aspen Lawler, Nalu Tripician and Thomas M. Rafter Jr. as Gold Award Winners, each receiving $2,500.
LONGPORT — Beach Patrol Capt. Matthew Kelm was promoted to chief April 18 at Borough Hall.
Lawler has been the top female student at Ocean City High School for two consecutive years and is the treasurer of her National Honor Society. She is also captain of the OCHS surf team, competing nationally, and is a member of both the field hockey and lacrosse teams. She intends to pursue a degree in biostatistics.
Tripician also attends Ocean City High School and is president of the school's History Club and its Academic Team. Tripician will attend Wesleyan University this fall to pursue his interests in computer science, math and physics. He hopes to either become a doctor or work in the aerospace industry.
Rafter played all four years on Atlantic City High School's varsity baseball team and Ventnor Rec basketball teams. He will attend Villanova University this fall to double-major in finance and economics. He hopes to start his own business after graduation.
Erin Rafter and Natalie Viso were named this year's Silver Award Winners and each received $1,500.
Erin Rafter, a previous scholarship recipient, is pursuing a degree in English and secondary education at The College of New Jersey. As a member of the Alpha Xi Delta sorority, she participates in community outreach, including volunteer work at the Mercer County jail and the Trenton Area Soup Kitchen.
LONGPORT — The Board of Commissioners approved a budget that will not increase property taxe…
Viso attends California State Fullerton and majors in communications. She is a member of the Film Club, is writing a screenplay and has interned and volunteered on various TV and film projects.
Bronze Award Winners Tanner Tomassi and Seamus Ulmer each received $1,000 scholarships.
While ranked as a No. 1 singles tennis player at Ocean City High School, Tomassi was also a member of the Academic Competition Team, the Leadership Club and the History Club, and an intern at several local physical therapy offices. Tomassi plans to attend Rowan University this fall to pursue a degree in marketing. He hopes to travel and work in the sales industry.