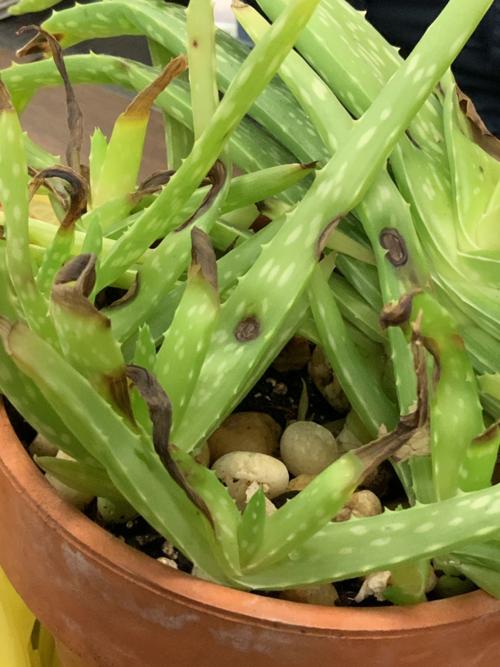 Question: My aloe plant has brown, oval spots on it and the tips of the leaves are shriveling and dying. I am also seeing new growth with discolored leaves. Can you tell me what might be wrong with it and if the plant can be saved?
Answer: Aloe is a succulent plant, meaning water is stored in its stems and leaves. It has a very short stem, with thick, fleshy, greenish leaves fanning out from it. It usually grows in a rosette form and depending on the species, can grow from 1 to 15 feet. They are generally very hardy plants in zones 7 through 11, though they should be kept indoors during the winter months in most of our area.
Most of the issues we receive calls about at the extension office are related to the care of the aloe plant. With proper care, an aloe plant can last many years. They should be planted in a pot with a drainage hole in well-draining potting mix that consists of perlite, lava rock, coarse sand, or all three. Do not use the same soil you would use with other plants as it is too heavy and may hold too much water leading to root rot. Place your aloe in bright, indirect sunlight or artificial light. A western or southern window is ideal. Aloes that are kept in low light often grow leggy. They prefer temperatures between 55 and 80 degrees. They should be watered deeply, but infrequently, allowing the top inch or two of soil to dry before watering to discourage bacterial and fungal growth.
Bacterial and fungal diseases can spell trouble for an aloe plant. Overwatering and poor drainage are the most common issues that lead to decline. Common diseases in these plants include root rot, fungal stem rot, soft rot and leaf rot. Leaf spots usually result from too much water. Aloe rust causes black spots. The blackened area oxidizes and seals itself from the rest of the plant, and the discoloration does not spread. Fungi, including those from the Phytophthora and Pythium genera, cause root rot in aloe plants. Root rot symptoms generally include dark brown, mushy root tips and dark, mushy lower leaves. Soft rot is a bacterial disease that causes water-soaked spots in aloe leaves. As decay spreads through the insides of the plant, the leaves turn mushy and collapse. The spots may enlarge and merge together. Alternaria spp. has recently been identified as a cause of leaf spots on aloe. Tip die back can occur in poorly drained, over-watered soil. Water-soaked spots appear on the leaf tips, and the tips eventually turn brown and shrivel while the rest of the leaf remains healthy and green. Insect pests such as mealy bugs, aphids, scale and mites also attack aloe and can cause leaf spots.
Seeing brown spots in the new growth is an unfortunate sign. The first thing you can try if you want to save the plant would be to see if there is a pup (a new offshoot from the plant) that does not show signs of the disease. Remove the pup as close to the stem as possible and replant it in new potting mix. If an older plant has new growth that does not have brown spots, remove the leaves that are showing signs of the disease and destroy them. Cut back on watering and watch the new growth to see if the problem is reduced.
For more information on aloe and other succulents contact your local extension office. Atlantic County residents can contact 609-625-0056. Cape May County Residents can call 609-465-5115, ext.3607.
Interested in becoming a Rutgers Certified Master Gardener? Classes in Atlantic County are forming now. Please call 609-625-0056 for more information. Cape May County residents welcome.
Do you have a gardening-related question you would like answered here? Please forward your questions to Belinda Chester, Master Gardener Program Coordinator, Rutgers Cooperative Extension Office, 6260 Old Harding Highway, Mays Landing, NJ 08330. You can also submit questions at Rutgers-atlantic.org/garden or email them to currents@catamaran.com; please include "garden question" in the subject line.