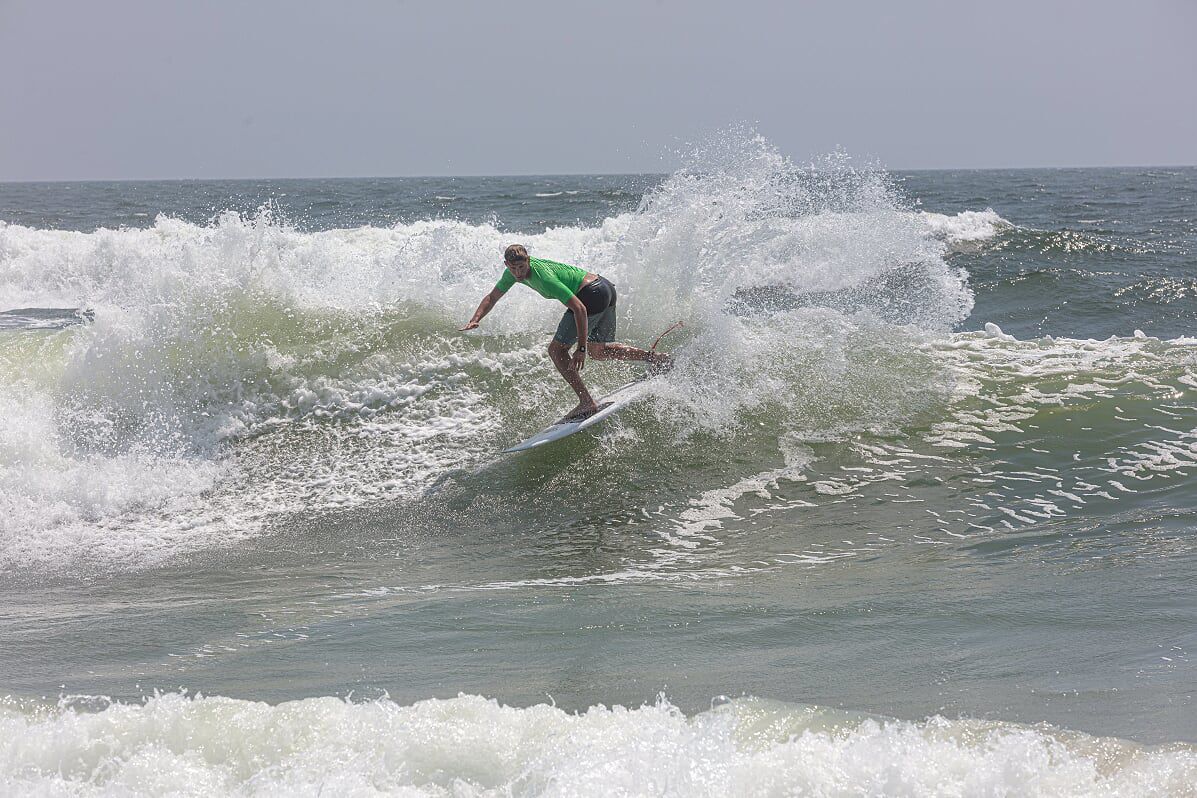 The 15th annual Brigantine Surf Jam surf contest is almost here. The Surf Jam competition is an island tradition that highlights the unique and coveted Brigantine surfing culture and lifestyle, which is rich with history.
Brigantine has had some of the best surfers to come from the East Coast. There are numerous multi-generational families of experienced and well-traveled surfers here on the island as well, some of which have won East Coast surfing titles and gone on to compete at national events. It is great to see the surf culture being passed down to the younger generations, ensuring that great surfing talent will remain in Brigantine for years to come. Everyone is invited to come and watch this surfing contest, which is ultimately a beach celebration of the beautiful island we call home.
The surf competition will be held Wednesday, Aug. 12, at the South Jetty Surfing Beach in Brigantine with a rain-date of Wednesday, Aug. 19. The competition will begin promptly at 8 a.m., and all competitors are advised to show up at the beach prior to 7:30 a.m. as their heat may be first in the water depending on conditions. It is the competitor's responsibility to monitor the Facebook page "Brigantine Surf Jam" for all updates.
Registration to compete in the 2020 Brigantine Surf Jam is now open. The event cost is $25 for the first division, $35 for two divisions and $45 for three divisions. The website address to register is LiveHeats.com/BrigantineSurfJam. All competitors will need to register online. No in-person sign-ups will be accepted, and there will be no sign-ups at the beach the day of the event. We strongly encourage all competitors to register online no later than Aug. 10, so the event can start on time and to ensure all competitors have a spot in their age divisions.
The number of competitors will be limited this year to the first 125 individuals who register. Also, a parent or legal guardian must sign an online waiver for a child participating in the competition. The Surf Jam contest is open only to residents or former residents of Brigantine. Competitors can compete in either body boarding or surfing, but not both divisions.
The divisions for the Surf Jam
• Menehune: Boys shortboard 10 and under
• Groms: Boys shortboard 11-13
• Junior men: Shortboard 14-17
• Men: Shortboard 18 and older
• Wahine: Girls shortboard 10 and under
• Gromettes: Girls shortboard 11-16
• Women: 17 and older
• Junior longboard: 29 and under
• Senior longboard: 30 and older
• Stand-up paddle: open
• Bodyboarding 10 and under
• Bodyboarding 11-13
In addition to the surfing contest entry, all competitors will receive a complimentary neck gator/face covering mask with a stylish Surf Jam logo and a Surf Jam competitor T-Shirt at the beach. Plus, all competitors will have a chance to win great raffle prizes throughout the day from surf companies, local restaurants and local retailers.
Trophies will be awarded to all first-, second- and third-place finishers in each division. All 10-and-under surfing and boogie boarding competitors will receive a medal. Professional photographers will also be in attendance at the Surf Jam, and they will be capturing all the great action.
As we all know, this year is unique due to COVID-19. Surfing is considered amongst the sports best suited for competition to be held safely during these unique times. The event organizers spent a considerable amount of time researching what other youth sports and surfing organizations were doing as safeguards that can be implemented. Although it is important to continue this great tradition, the event organizers also realize that specific adjustments must be made, and certain safeguards implemented at the event in order to hold the competition in a safe manner. As a result, strict social distancing safeguards will be required at the event. These safeguards will be further outlined on the "Brigantine Surf Jam" Facebook page and the day of the event.
One of the major changes that took careful consideration was the lunch BBQ offering that has become a tradition at the Surf Jam. In order to avoid interactions with competitors and spectators alike as well as volunteers at the event, it was determined that there will be no lunch BBQ offered at the event. The Surf Jam will provide all competitors with a water bottle and snack when they receive their T-shirt, but competitors are encouraged to bring their own lunch to the event. Next year, the Surf Jam organizers hope to return to the tradition of offering a lunch BBQ at the event.
The Surf Jam is made possible by the many volunteers as well as the coordinated efforts of the Brigantine Fire Department Local 2657, Brigantine's Community Recreation and Education Department, Brigantine Police Benevolent Association local 204, Public Works, and Brigantine Beach Patrol. We would like to thank everyone involved in this great surfing tradition and also would like to thank the city of Brigantine for its continued support of this event.
For more information, "like" the Brigantine Surf Jam Facebook page and send a message with any questions.
Be the first to know
Get local news delivered to your inbox!