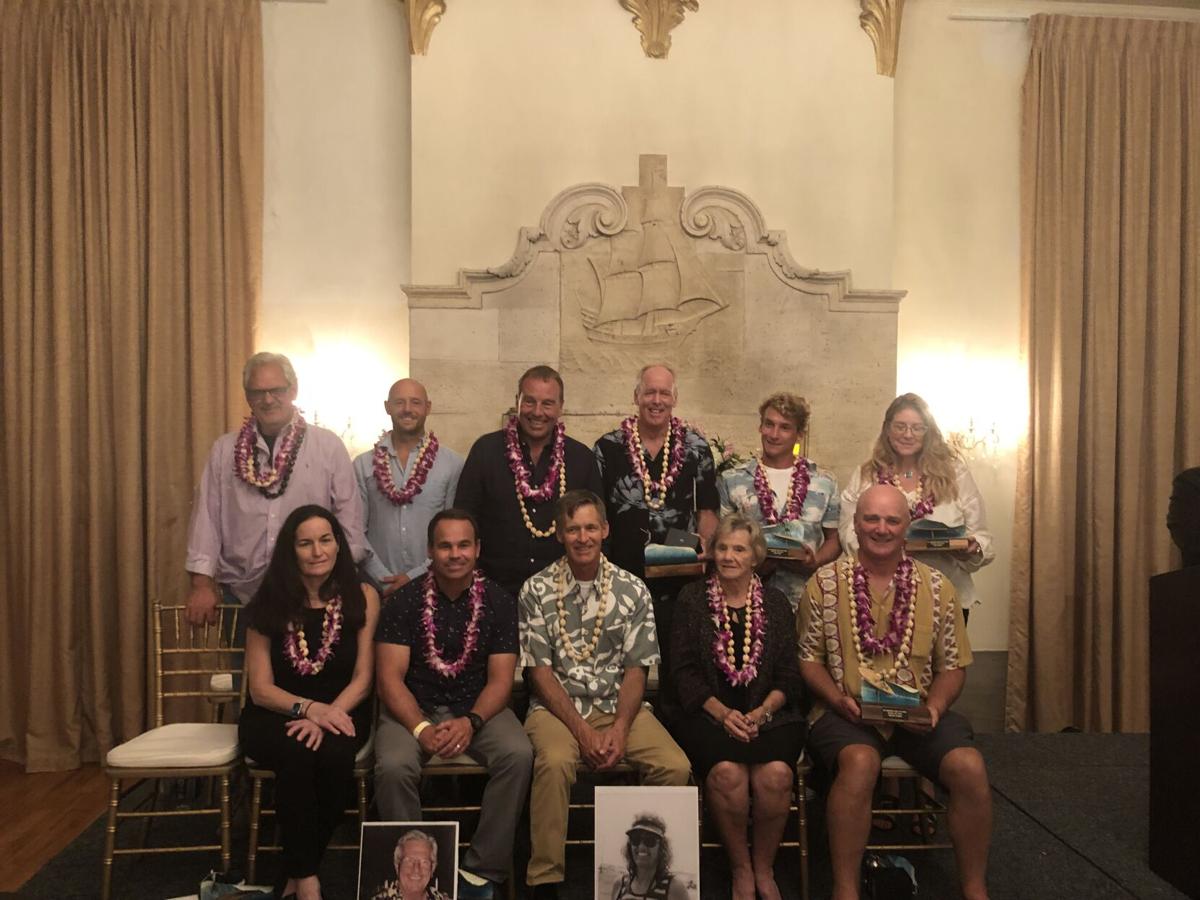 OCEAN CITY — Whenever local surfers Mike Beschen and David Scibal didn't show up for school, truant officers always knew where to find them.
They just headed to the nearest beach.
"It took me five years to graduate from Atlantic City High School," Beschen said with a laugh. "I was supposed to graduate in 1967, but had to wait until 1968. And that was because of surfing."
The lure of the waves also pulled on Scibal.
He attended community college in hopes of earning an associate's degree, but frequently found himself in the ocean instead of the classroom.
"It took me six years to go through a two-year program," Scibal said. "That's because the waves were always good on Tuesdays and Thursdays when I had classes."
Their passion, dedication and love of surfing ultimately paid off, however.
Beschen, Scibel and other surfers from that generation such as Margate's Jim Earle, the late Jimmy Kirk, of Ocean City, and Brigantine's Bob Simon became legends in the sport. They were among those honored on Sunday night as the newest members of the New Jersey Surfing Hall of Fame during a ceremony at the Flanders Hotel.
The 2021 Hall of Fame class also included Gary Clayton, the late Ruth Grottola, Sam Hammer, Barb Heritage, John Ker, Renny Koseff and Scott Thompson.
"I'm really stoked," Scibel said. "This is a special moment for me."
Beschen, Earle, Kirk, Scibel and Simon were pioneers in the sport. They all got their start in the 1950s and 1960s, at a time when surfing had just started to make its way from California to South Jersey.
Simon, who was unable to attend Sunday's induction, was one of the originals. The 78-year-old began surfing in Brigantine in the late 1950s, catching waves at the north end of Sea Horse Pier, known to locals as "The Castle." In 1963, he created the first Brigantine Beach Surf Club and served as a mentor to locals such as Hall of Famer Linda Davoli.
Beschen, 70, got his first taste of the sport while visiting relatives in North Wildwood.
"My cousin (the late Jim Beschen) and I would go to the back bay with an air mattress and that's how I first learned to catch waves," he said.
At 13, his family moved to Ventnor and he began to hone his craft in Atlantic City and the Ventnor Pier with fellow members of the Downbeach Surf Club.
Beschen could not afford his own surfboard, so he spent two years sitting on the beach and waiting to borrow boards from other surfers before joining the famous Curcio Surf Team in Atlantic City along with Earle and Hall of Famer Mark Neustadter.
Once he finally graduated from Atlantic City High School, he headed to California.
"The waves were better, the weather was better and the girls were better," said Beschen, who now lives in Hawaii. "But I never forgot those days in Atlantic City."
Scibal, 67, got his start as a 9-year-old in 1963 on the advice of some friends and his swimming coach, Roger Platt.
He rode his first wave at 29th Street in Longport, at break called "Scriptures" because it was located in front of the Gospel Hall Home for the Aged.
"Once I caught my first wave, that was it for me," Scibal said. "I was in love."
It started an affair that has never ended.
David Weinberg's columns can also be found on his Dave Weinberg Extra Points Facebook page and blog, as well as on 973ESPN.com. His podcast, Dave Weinberg's Tequila and Touchdowns, can be heard on Anchor, Facebook and Twitter. You can also hear him 5:10 p.m. every Monday at Newstalk 1400-AM WOND and WONDRadio.com on Off the Press with Scott Cronick. His Weinberg Wednesday segment airs at 6:15 p.m. weekly on 97.3-FM ESPN.