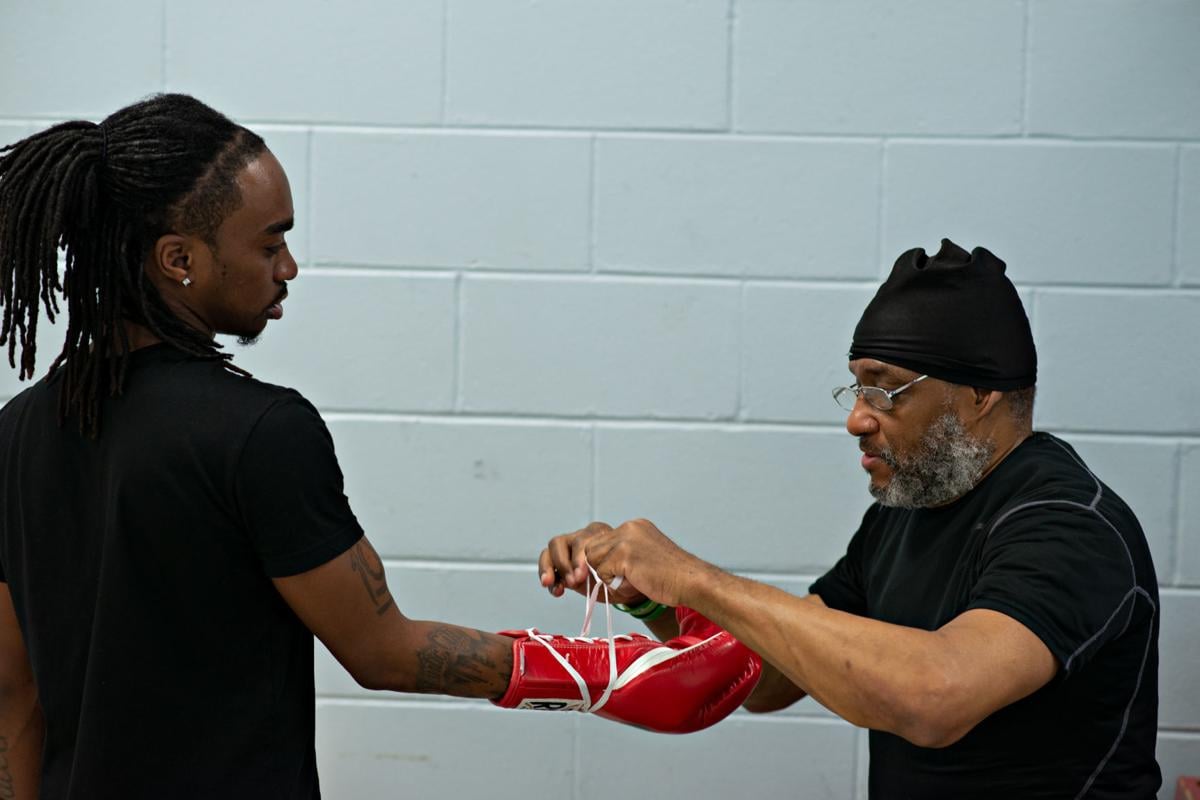 The boxing community has a unique way of saying goodbye.
Whenever a fighter, trainer, manager, promoter or someone else connected to the sport passes away, the next boxing show will include a 10-count in his/her memory. Spectators stand in silence while the ringside timekeeper taps a hammer against a bell 10 times.
The timekeeper at Showboat Atlantic City gave a 10-count last Saturday for former local trainer Vincent Jackson. Jackson, 58, was found dead in his Las Vegas apartment on Nov. 24. No cause of death has been released.
"Coach Vincent didn't take very good care of himself, and I think that just got the best of him," former Atlantic City boxer Antowyan Aikens said. "He was always working two or three jobs at a time and not eating right. He had suffered a mild stroke a few days before my last fight (against Kalvin Henderson on May 10, 2019) and didn't tell anybody.
"I was out in Las Vegas for the Terrence Crawford-Shawn Porter fight (on Nov. 20) and we were supposed to get together. I called and called, but he never answered. That wasn't unusual for him, but I had a feeling something was wrong. The police called me the day before Thanksgiving. He had listed me as his emergency contact."
His passing sent shockwaves through local boxing circles.
Jackson had worked with almost every local fighter in some capacity in the last 20 years. He was a frequent presence in gyms such as the Atlantic City PAL, Pleasantville Rec, and Bullpen in Egg Harbor Township, always willing to help. He gave the same amount of attention to a youngster lacing on a pair of gloves for the first time as he did to an undefeated prospect.
That was evident in his relationship with Henry Birth.
"We met Coach about 12 years ago, when I took Henry to the Pleasantville Rec Center to see if someone was willing to teach him to box, for coordination and strengthening," Henry's mother, Robin Birth, wrote on Jackson's Facebook page. "Coach walked right up to us, introduced himself, put his arm around Henry and said, 'Come on young man, let's get to work.'
"Coach never let Henry's disabilities define him. As Coach liked to say, 'Everybody has problems!' And that's what I loved most about Coach. He pushed Henry just like everyone else. When Coach moved to Las Vegas a few years ago, he left a hole in Henry's heart. Now that hole will be there forever."
Jackson had moved to the desert in 2019 in hopes of starting over in both boxing and life.
According to Aikens, Millville boxer Thomas LaManna, and others, it was something he had done before.
"Coach's life definitely wasn't peaches and cream," LaManna said. "He was a survivor, a hustler. He did whatever it took to get by."
That included changing his name.
Aikens said Jackson arrived in Atlantic City in 1994 from Dorchester, Massachusetts, where he had grown up as Vincent Hunter. He left New England to get away from the temptations and dangers of life in the street. Having worked in some gyms in the Boston area, he thought boxing might be his way out. He took his mother's maiden name of Jackson and came to the boardwalk to further his career.
Jackson soon became a fixture in local rings. He taught the basics to newcomers and became a respected pad man — the person who holds hand pads while sparring with fighters. Whenever there was a boxing card in town, he was there. If he didn't have a fighter on the card, he would show up at the weigh-in and offer to work the corners of boxers on the "B side" of the card, those who had come to town without a trainer or cutman. Although they were essentially brought in as "opponents," Jackson treated them with respect, offering advice and support between rounds.
He often went to great lengths to help local boxers like Aikens, LaManna, former Mays Landing welterweight Jeff Lentz and Egg Harbor Township super-middleweight DeCarlo Perez.
When Aikens was preparing to fight Perez on Sept. 9, 2018, Jackson moved from his apartment in Sicklerville, Camden County, into the Rex Motel on Tilton Road in Egg Harbor Township to be closer to the gym. He made similar sacrifices for LaManna.
"When I was training for a fight, he would take a bus from Pleasantville to where I was living in Williamstown, then we would ride together to Freehold for some sparring," LaManna said. "He was the definition of a true friend. He always believed in me and was always willing to help anyone. He struggled in a lot of ways, but he would give you his last dollar if you needed it."
He had a special bond with Aikens.
Aikens was 10 when he first wandered into the A.C. PAL in 1998 with a friend to learn how to box and encountered Jackson.
"I didn't catch on very quickly, so Coach Vincent spent a little more time with me than some of the other kids," Aikens said. "Through the years, we developed a close relationship. I considered him my mentor and he treated me like a son."
It was fitting that the 10-count given in his honor took place at Showboat. It was at the small, intimate club shows that Coach Vincent was most at home. Although he dreamed of developing a world champion, he was just as happy to help an underdog who simply wanted to go the distance.