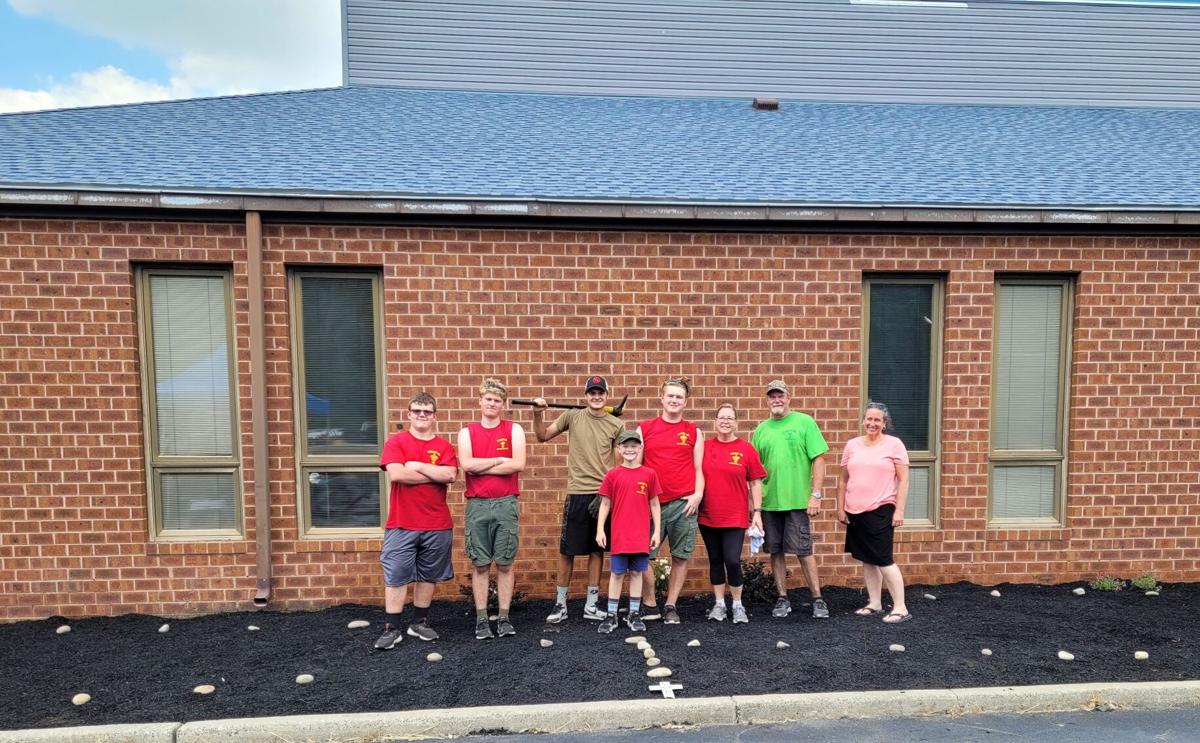 NORTHFIELD — What started out as a casual competition between brothers ended up as a challenge completed. And for Nick Whiteley, 16, of Northfield, who just finished his Eagle Scout project at the end of May, it has been a great experience.
Nick's older brother Zach completed his Eagle Scout project when he was 17.
"I wanted to do it because Zach did it, and I wanted to do it better. I watched him earn all the badges and do all the work and I knew I could do it too," Nick Whiteley said. "But what happened is that I loved the challenge and all the work. I took a lot on and it was really great. I really enjoyed going to camp, learning new things and having a great time and I made a lot of new friends along the way."
Back in January, Nick Whiteley, a member of Boy Scout Troop 55 in Somers Point (same as his brother Zach), was searching for a suitable Eagle Scout project. About the same time Christy Wimberg, the director of religious education at St. Gianna Beretta Molla Parish in Northfield, was searching for a way to create a children's outdoor garden area where she and the teachers would be able to teach children in the parish CCD program the rosary in a large and very visible setting.
According to Nick, Wimberg reached out to Scoutmaster Craig Barnabei to see if any of the scouts were looking for a project.
"As soon as I heard about the garden I wanted to get involved," Nick said. "Mrs. Wimberg wants to be able to teach kids the rosary in a way that will be meaningful to them. Knowing that what I did for my project to make that possible feels pretty nice."
Alongside the St. Gianna Family Memorial Parish Hall was an overgrown plot of land that needed some plans and a lot of muscle to make it viable. Nick said he met with Wimberg and listened to what she envisioned for the space and he put the plans in motion to make it a reality.
About 16 Boy Scouts from Troop 55 worked for two days clearing weeds and removing hundreds of large river rocks from the overgrown garden. They turned the soil, and planted a dogwood tree and many spring perennials that will bloom each spring.
Using flat rocks, they created a rosary that stretches the length of the garden and the scouts put down bags of mulch to hold the moisture for the plants. The final piece they are waiting for is a 6-foot statue of the Blessed Mother. Nick said it is back ordered and not expected in until October.
Debbie Whiteley, Nick's mother, said she is beyond proud of what her son has accomplished.
"Poor Nick was dragged to every scout meeting since he was 4-years-old and for him to take this on and complete it is just something I am very proud to see," she said.
Nick, who is completing his sophomore year at Mainland Regional High School and who is also a member of the marching band, said he is proud of himself for finishing the project and also proud of all the scouts that stepped up to help.
"I am so proud of all the guys who helped, they put their time, energy and their souls into this project. It was a lot of hard work," Nick said.
The new Eagle Scout said he plans to stay active with Troop 55 even though his project is done.
"I will help other guys with their projects, that is what we do; one scout helps another and then another. It is kind of the gift that keeps giving," he said.
Nick added that he wants to go to camp again saying, "That is where we get to put what we learn into action and camp is just a boatload of fun."