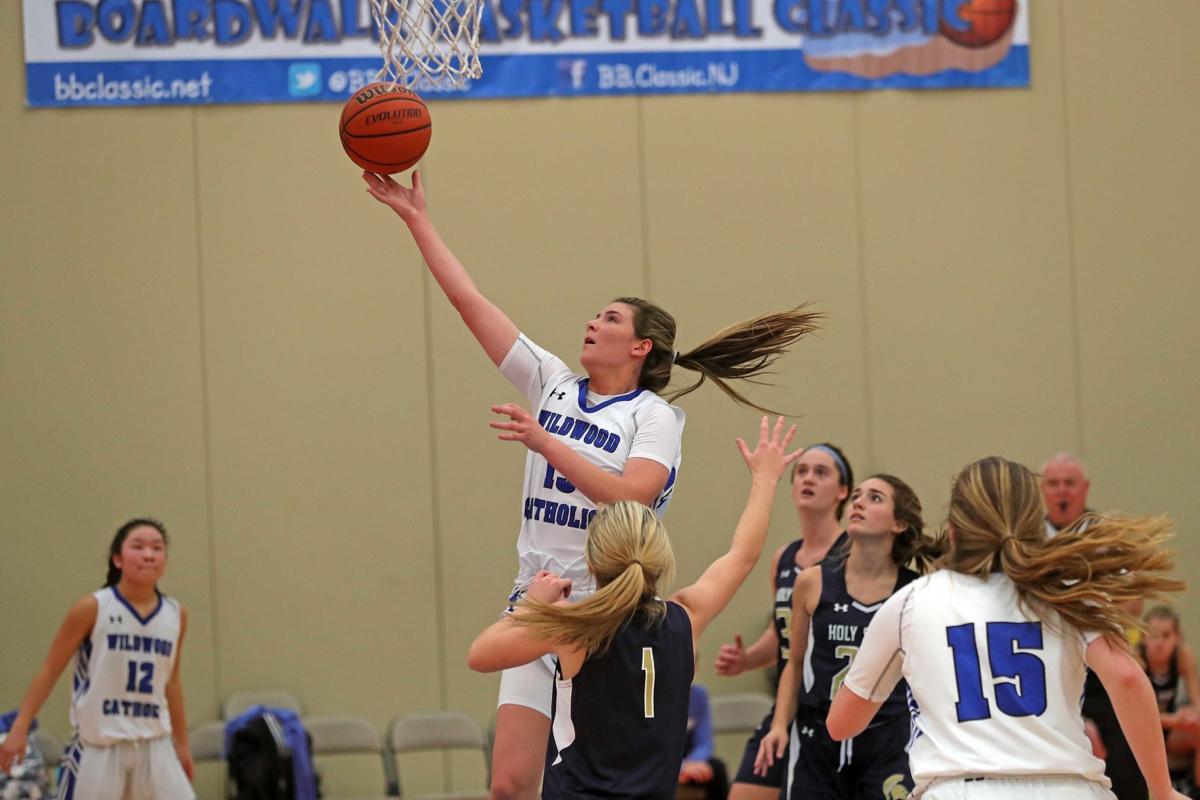 This is normally the time of year when local high school sports programs start gearing up for their winter seasons.
Basketball season would be opening Friday. Later this month, teams would be competing in various holiday tournaments. My personal favorite is the Boardwalk Basketball Classic at Wildwoods Convention Center, which is billed as the nation's largest co-ed high school tournament.
Due to the COVID-19 pandemic, however, the Cape-Atlantic League seasons for boys and girls basketball won't start until at least Jan. 26 and end March 6 in accordance with New Jersey State Interscholastic Athletic Association guidelines. All of the most popular local tournaments, including the Ocean City PBA Tipoff Weekend, Boardwalk Classic, Seagull Classic and Battle by the Bay, have already been canceled.
The same thing obviously goes for the holiday wrestling tournaments, since the first matches have been pushed back all the way to March 16.
As part of the NJSIAA's edict, there will be no state playoffs for basketball, swimming, wrestling or any other so-called winter sport.
But there could be some champions crowned after all.
Teams are limited to 15 events, but that can include league/conference tournaments. With some creative scheduling, the Cape-Atlantic League Basketball tournament could be saved.
The CAL basketball teams have been tentatively divided into three, seven-team divisions based mostly on geography to cut down on travel. Each team would play division opponents twice, leaving three games to be scheduled.
Now I'll defer to local sports expert Tom Williams, who suggested recently that after 12 games, the CAL tournament seeding committee could establish eight-team fields for boys and girls tournaments. Unlike in past years, where the semifinals were played at a neutral site, the higher remaining seed would host those games, as well as the finals.
If things improve over the next few months, however, maybe restrictions would be relaxed enough that the finals could return to Stockton University's Athletic Center, otherwise known as "Big Blue" on March 6?
Or the CAL could get really creative. Weather permitting, the finals could be held at an outdoor setting such as the courts at Wildwood Crest Pier, thus allowing at least a certain number of fans to watch.
A more drastic approach would be to allow a CAL individual wrestling tournament to take place in late April to replace the NJSIAA wrestling championships that are usually held in early March at Jim Whelan Boardwalk Hall in Atlantic City. Again, a lot would depend on the weather, but the Wildwood beaches are plenty wide enough to fit one mat per weight class with plenty of space in between. You'd just have to make sure the mats were set up far enough away from the Boardwalk so wrestlers could make weight without being tempted by the pizza, french fries and funnel cake nearby.
There's really no reason a team or individual swimming tournament couldn't also be held on the final day of its season, which is March 27. According to the U.S. Centers for Disease Control and Prevention, there is no evidence that coronavirus spreads to people through the chlorinated water in pools. But swimmers still have to wear masks, use proper hand hygiene and practice social distancing out of the pool.
Senior wide receiver Bo Melton (Cedar Creek High School, Mays Landing) continued his outstanding season for Rutgers last Saturday.
Melton ran for two touchdowns on trick plays, scoring on a 44-yard double reverse and an 18-yard end-around in the Scarlet Knights' 27-24, overtime victory at Maryland. For the season, the 5-foot-11, 190-pounder has also caught 42 passes for 556 yards (13.2 yard per reception) for six TDs.
Rutgers sophomore linebacker Mohamed Toure (Pleasantville) had two sacks against the Terrapins.
Coincidentally, Melton's coach at Cedar Creek, Tim Watson, played three seasons at Maryland in the late 1990s before transferring to Rowan for his senior season.
Minnesota defensive tackle Abdullah Anderson (Absegami, Galloway Township) has spent most of the season on the Vikings practice squad. He was on the active roster for one game, against Detroit, last month.
Tennessee defensive lineman Jack Crawford (St. Augustine Prep, Egg Harbor Township) had two tackles for the Titans last Sunday in a 31-10 win at Jacksonville. Crawford, a nine-year NFL veteran, has 23 tackles this season with a sack and two tackles for loss.
New York Giants defensive tackle Austin Johnson (St. Augustine, Galloway Township) had two tackles in a 26-7 loss to Arizona. The five-year NFL vet has 12 tackles, a sack and tackle for loss this season.
Carolina tight end Colin Thompson (Cape May) played on offense and special teams in the Panthers' 32-27 loss at Denver. Thompson caught his first career touchdown pass against Tampa Bay on Nov. 15.
David Weinberg's columns can also be found on his Dave Weinberg Extra Points Facebook page and blog, as well as on 973ESPN.comc. His podcast, Dave Weinberg's Tequila and Touchdowns, can be heard on Anchor, Facebook and Twitter. You can also hear him 5:10 p.m. every Tuesday at Newstalk 1400-AM WOND and WONDRadio.com on Off the Press with Scott Cronick and at 5:35 p.m. Wednesdays for his Beat the Degenerates appearance on Cronick's show. His Weinberg Wednesday segment airs at 6:15 p.m. weekly on 97.3-FM ESPN.