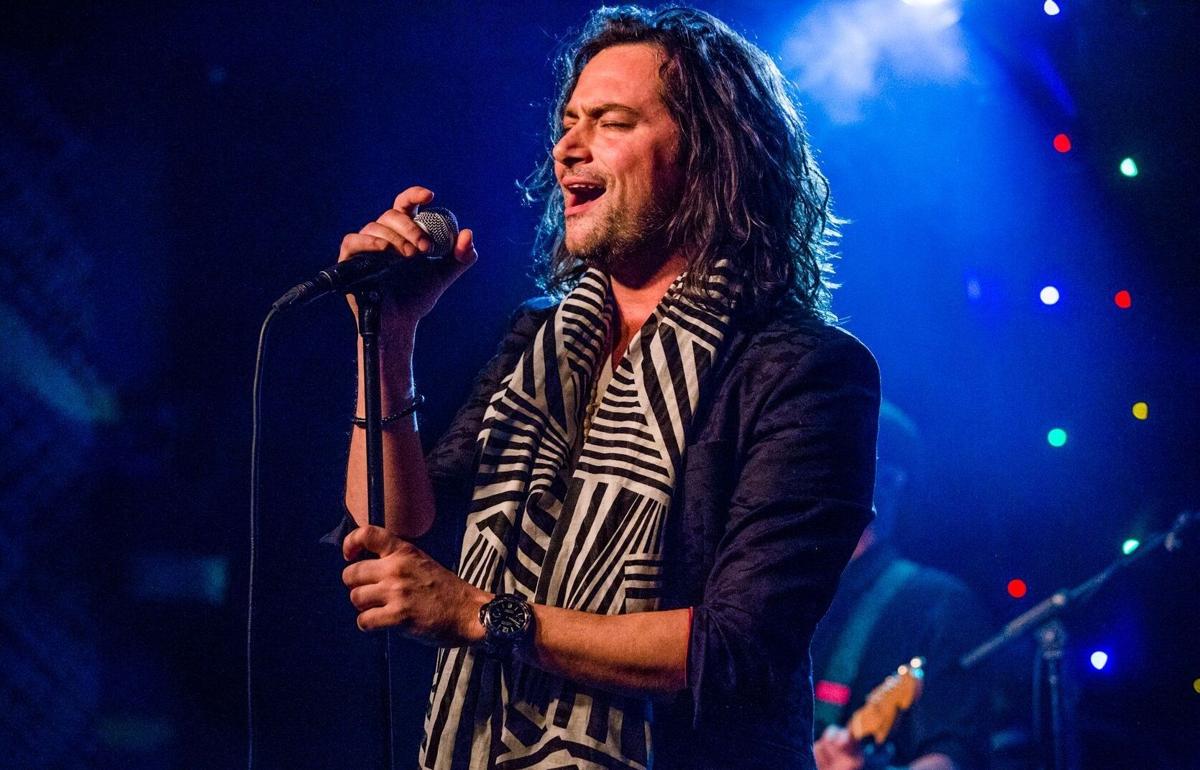 Seeing a tribute band is a fun way to hear some of your favorite songs performed live by a group of musicians who try their hardest to recreate the nuances of the act they are paying tribute to. And many of them do a damn good job at it, with period correct stage clothes and instruments combined with note-for-note musical and vocal accuracy, creating an all-around awesome rock 'n' roll experience.
But one thing they often lack is star power. While most are fun to watch, in most cases the guys on stage in a tribute band aren't people you have heard of or seen on TV or in magazines. But that's not true of Foreigners Journey, a tribute act from Boston that will perform 8 p.m. Saturday, Jan. 8, at the Levoy Theatre in Millville.
As you may have figured out already, Foreigners Journey pays tribute to a pair of legendary arena rock bands – Foreigner and Journey. Leading the group is Constantine Maroulis, a man who has made a name for himself as a finalist on Season 4 of "American Idol" as well as on Broadway, where he famously starred as the lead role in "Rock of Ages," a popular musical focused on the hard rock music of the 1980s in which Maroulis won a Tony Award.
Foreigners Journey was already an established act in the tribute scene, but after teaming up with Maroulis last spring, the band has seemingly found the final piece of the puzzle – and the key to future success.
"Foreigners Journey has essentially become an extension of my work in 'Rock of Ages,'" Maroulis says. "We've created an awesome classic rock experience for the audiences that just want to hear the hits. It was really just easy math when the guys in the band reached out and wanted to work together. There was just a fantastic energy between us from day one."
town boy …Maroulis may be well-known around the country, but he is a local boy, hailing from the North Jersey town of Wyckoff. And to be able to be back performing in his home state is a treat.
"We're excited to be breaking into some cities in New Jersey. We had a great show at the Bergen Performing Arts Center a few months ago, and although Millville isn't exactly my backyard, I'm looking forward to this upcoming show as another chance to perform in Jersey."
The voiceAlthough Maroulis' star power is a nice bonus, his vocal chops are the most vital element he brings to the table in Foreigners Journey. Both Foreigner and Journey require incredible range to duplicate the vocal gymnastics of their respective former singers Lou Gramm and Steve Perry. But for Maroulis, this sort of thing comes naturally.
"I grew up as an actor, so I always try to internalize the lyrics. I feel like if I am really dialed in and connected to the lyric and what I am singing – not just focusing on trying to hit the high notes – I have no problems vocally," he says. "And I am known as a machine. Doing eight shows a week on Broadway for many moons will set you up to have success singing these kinds of songs."
Speaking of songs, a typical setlist for Foreigners Journey goes beyond the obvious choices. Of course you'll hear all the hits like "Cold as Ice," "Faithfully," "Feels Like The First Time," "I Wanna Know What Love Is," "Don't Stop Believin'" and other classics from Foreigner and Journey, but when you've got the guy who played the lead in Rock of Ages singing for your group, it would be a mistake not to explore those songs as well.
"We have some fun medleys and mashups that we have put together for the show," Maroulis says. "You'll hear some great Foreigner songs and some great Journey songs in our set, and then we kind of bring you back to the Sunset Strip with some 'Rock of Ages' stuff too. It's a lot of fun."