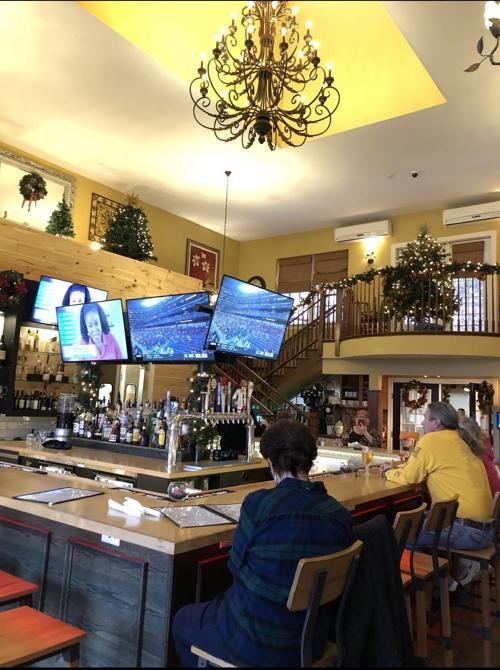 Romanelli's Garden Café in Galloway was always a great place to stop in for breakfast, lunch or brunch, as they have consistently served tasty meals in a visually pleasant atmosphere, but recently we found another reason to visit: The bar!
That's right, the new bar at Romanelli's is a must-see and has managed to reimagine the space entirely. Here are five reasons to check out the bar at Romanelli's Garden Café:
The VibeIf you haven't been to Romanelli's in a while, you may be saying to yourself, "Wait, they always had a bar!" And while that may be true, the tiny bar you are remembering bears little to no resemblance to the current one. A gorgeous, modern U-shaped bar now dominates the space as you enter Romanelli's, providing ample seating for those looking to have a drink while they wait for their table. Several flatscreen TVs hang from above, which means it's also a great under-the-radar spot for watching the game, and the pleasant and relaxed atmosphere provides a nice vibe in which to enjoy a cocktail and relax with friends.
The CocktailsWith a well-stocked bar and talented bartenders, just about any drink can be whipped up for you at Romanelli's, but their rotating list of specialty cocktails is always fun to peruse. If you are in the mood for something sweet but strong, try the Blackberry Bramble, a blend of Conniption Navy Strength Gin, blackberry and lemon juice; or the We Be Jammin' Old Fashioned with Bulleit Bourbon, cherry and orange preserves and bitters.
The BeersA lineup of nine taps offers guests classic options like Guinness, Yuengling, Bud Light and Goose Island, and beer geeks will be pleased to find a nice selection of craft beers, as well. Selections from Left Hand Brewery, Yards, Tuckahoe, Victory, Southern Tier and Blue Point are all available, along with a list of rotating seasonal brews.
The WinesJust about all bars worth their salt are sure to feature a diverse selection of wines. And if you are a lover of vino, you'll be happy at Romaelli's as the list of reds and whites is well-rounded. Available by the glass or bottle, guests can sip from velvety varieties such as The Federalist Cabernet Sauvignon, Trinity Oaks Pinot Noir, Mezzacorona Pinot Grigio and Primo Amore Moscato, among others.
The Happy HourWhat better excuse could there be to head to the bar than a great happy hour? Romanelli's comes through with an impressive list of discounted drinks and apps from 4 to 7 p.m. Mondays through Fridays, including $3 domestic bottles and drafts, $4 import bottles and drafts, $5 select craft and local brews, well drinks, select wines and sangria and $6 house martinis. And if you get hungry, a list of apps ranging from $5 to $7 are available, too, such as maple bacon Brussels sprouts, eggplant rollatini, calamari and boneless wings just to name a few.