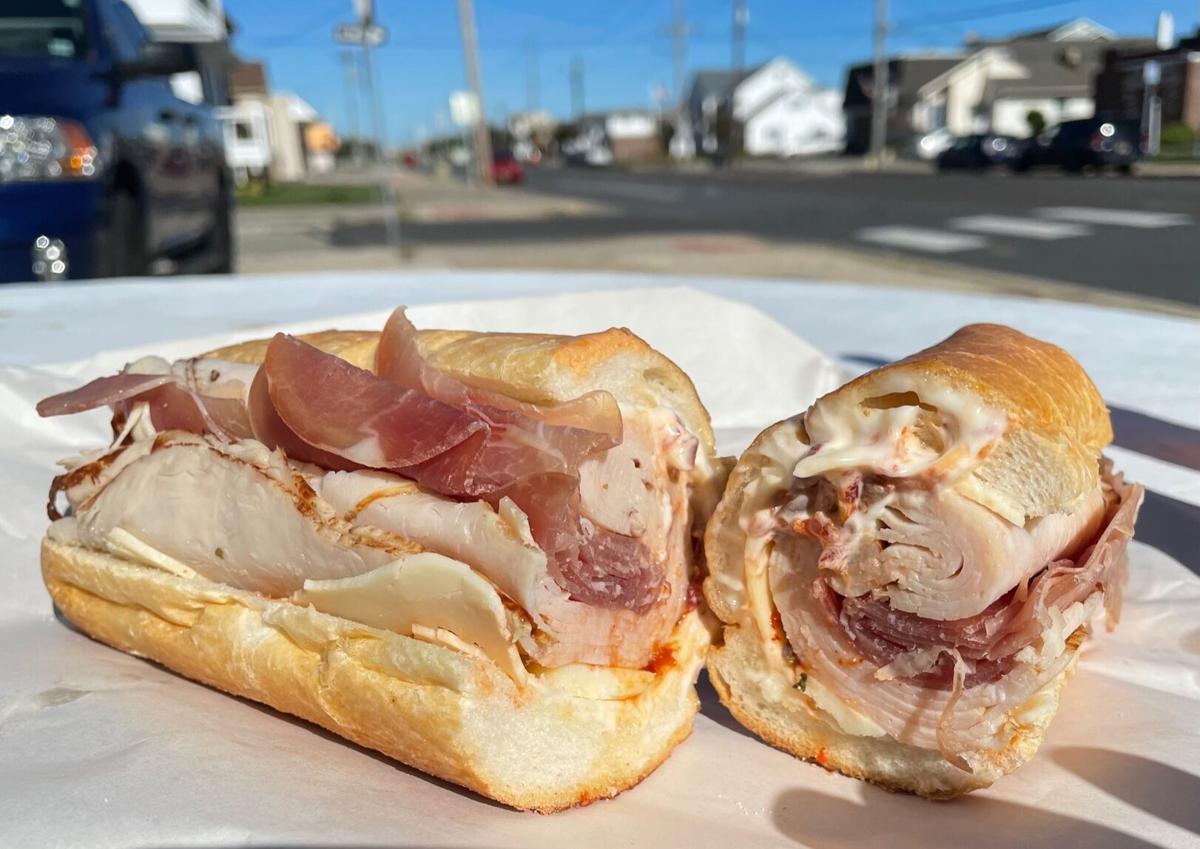 When searching South Jersey for great sandwiches, there are certain places that simply can't be skipped; spots whose reputations are so strong that the very suggestion of leaving them off the list is commonly greeted with responses like, "Are you nuts?!?" and "You gotta be kidding me — you HAVE to go there!"
Such is the case with Ernest & Son in Brigantine.
Ernest & Son is an old-school butcher shop. Located in Brigantine, the place opened up in 1977 and has been serving top-quality meats and sandwiches to the locals ever since. Yet, somehow in all my South Jersey travels, I've never eaten here. I figured now was the perfect time to make that happen.
I called ahead and ordered the "Stormin Gorman" — turkey breast, prosciutto, provolone, hot peppers and mayo — one of a long list of subs on their daily lunch menu. Here's how it went down:
The Bread: Presented with a choice of an Atlantic City sub roll or a standard seedless, I went with the seedless. A long, soft roll, this one reminded me of the ones they use at Pat's and many of the other cheesesteak shops in Philly. My only complaint was that it was not cut all the way through — more on that later.
The Meats: Meats are what Ernest & Son built their reputation on, and both the turkey and prosciutto that came on the Stormin' Gorman were flavorful and clearly of a high quality. But, unfortunately, Ernest & Son takes part in one of my greatest sandwich pet peeves: They roll up the ingredients in the sandwich. This along with not cutting the bread all the way through means that everything slides around as you try to bite it, and it throws off the distribution as well. One bite is all meat, the next is all condiments, depending on what part of the bread you are chomping on. This is what you expect from Wawa, not one of the most celebrated sub shops in the area. Big points off for this.
The Cheese: The Stormin' Gorman comes with mild provolone, but I made a slight modification and had them go with the sharp version of this Italian cheese. It worked well as its flavor is far more pronounced than its milder, more mozzarella-like cousin.
The Veggies: There were none to speak of on this sub unless you count the hot pepper sandwich spread. But the menu said it was supposed to have hot peppers, and a few Italian long hots might have gone nicely on this, or even a tomato or two. It needed something.
The Condiments: Mayo. Scratch that — extra mayo. This sandwich, like all of their sandwiches, is overstuffed, which means potential to be overly dry. The mayo helped remedy that problem before it had a chance to exist. It also blended seamlessly with the hot pepper spread, forming its own super condiment of sorts.
The Bottom Line: I liked my sandwich, but I wasn't totally blown away. The rolled meats and cheese and the bread not being cut through created an awkward eating experience. That said, there is no question that the meats are of the highest quality, and the reputation is legit. I just think I may need to dive a bit deeper into the menu next time.