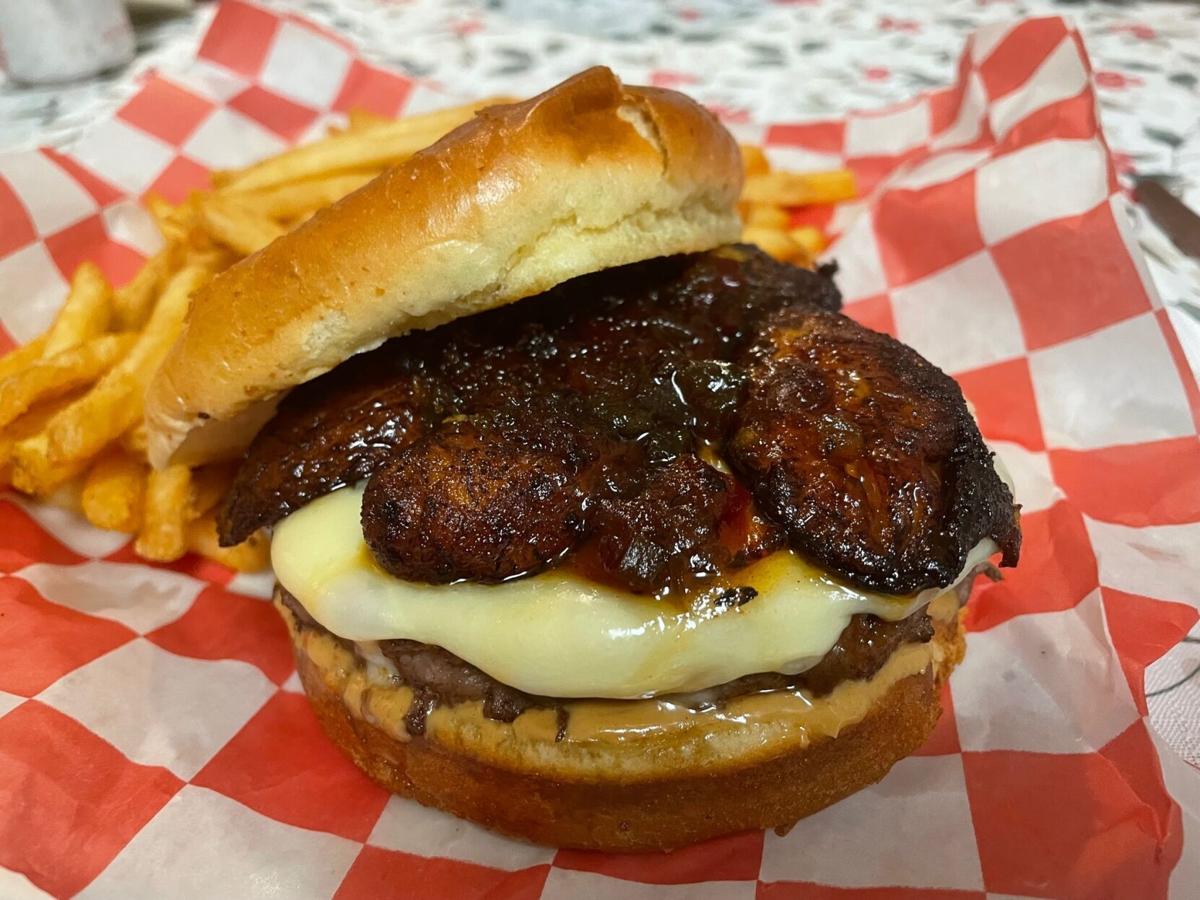 My latest quest to find interesting, unusual and delicious sandwiches led me to Egg Harbor City to a loveable little dive bar called the Crossroads Bar & Grill. The menu at The Crossroads features some standard pub grub such as chicken fingers and mac n cheese bites, but if you look a bit deeper you'll find that they are also pulling out some creative and unexpected flavors in many of their dishes.
Their Caribbean Nachos start with standard ingredients like beef, beans and cheese, but quickly flip the script by adding pineapple pico de gallo, sweet fried plantains and a chipotle ranch drizzle. And sure, you can get your standard fried mozzarella sticks, but why go anywhere near them when they are also offering a dish as uncommon as fried avocados? (An app I can say with certainty that I have never seen on any menu).
The creativity also extends to their list of sandwiches, and they offer some twists on cheesesteaks and Fat Cat-style sandwiches, but since I have covered both of those sandwich types recently in this column, I decided to go with a burger. Yeah, I know some of you will debate whether a burger technically qualifies as a sandwich, but it has a round bun and it holds a pile of meats, veggies and cheeses. That's a sandwich in my book. Debate over.
It was hard to choose, as many of the burger options sounded incredible, and I almost went with the Pirate Burger, which tempted me with its combo of an 8-ounce patty topped with pork roll, bacon, caramelized onions and cheddar, plus a maple-sriracha sauce that nearly put me over the edge, but in the end I opted for The Presley – a gluttonous tribute to the King of Rock 'n' Roll containing an 8-ounce beef patty, Cooper sharp cheese, sweet fried plantains, peanut butter and a bourbon bacon jam. Elvis famously loved his fried peanut butter and banana sandwiches, but would this burger have earned his seal of approval — or mine for that matter? — Let's find out.
The Bread: The bun was perfectly serviceable, but it was easily the least interesting thing about my burger. Round and on the thin side, it held everything together nicely and tasted fine, but nothing about it was particularly memorable.
The Meat: My burger was cooked to a perfect medium-rare and was actually quite flavorful, which actually surprised me a bit. On a burger with this much going on, it would be easy for the actual beef to get lost in the melee, but this was not the case here. Impressive to say the least.
The Cheese: Cooper sharp is the trendy cheese of the moment, and I'm a big fan of the trend. Sharper, smoother and more delicious than just about any other American cheese you may have tasted, the Crossroads scores big points for adding this burger booster.
The Condiments: No traditional ketchups, mayos, mustards or even aiolis were to be found. Instead, The Presley came topped with an utterly divine bourbon bacon jam – a smoky and wondrous chutney-like concoction that I would have no problems eating with a spoon if given the rare opportunity to do so. There was also a generous smear of peanut butter resting underneath the burger patty that was a bit more of an acquired taste. Flavor wise it worked quite well, but I have to take a few points off due to the fact that it stuck to the roof of my mouth (as peanut butter has a tendency to do), but that sensation is an odd one to stumble upon when chomping down on a burger. I can't say I would go so far as to leave it off entirely because that would alter the entire flavor profile of the burger, but at the same time, it's a tricky mouthfeel to get used to.
The Veggies: Plantains are technically fruits not veggies, but they aren't as sweet as a banana despite being called "sweet plantains." Either way, they tasted delicious and helped to cut some of the richness of the peanut butter. A very nice touch.
The Bottom Line: The Presley Burger delivered on many levels. It managed to taste really good despite the use of some really unorthodox ingredients, and although I didn't love the stickiness of the peanut butter, they did a really nice job getting each flavor to be pronounced and relevant – not an easy thing to do when you are working with this many strong and potentially overpowering tastes.