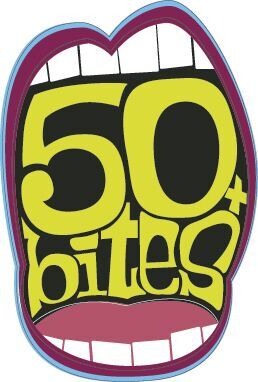 We're four weeks into 50 Bites, and while most of us have been out there knocking back tasty morsel after tasty morsel, word on the street is that there are still a few of you that have not bought your passes yet. While we think that is shameful in itself, we have some really big news for those of you who might still be on the fence: 50 Bites passes are now 2-for-1!!!
That's right — it's all the Bites — 60 of 'em throughout Atlantic and Cape May counties — for half the price. And in case you need a refresher, here is how it all works:
You buy a pass that entitles you to one bite from each participating restaurant in Atlantic and Cape May counties from now through Nov. 24. There will be more than 50 Bites — 60 in total — each offering you a delicious taste of what these kitchens are capable of. Passes are now only $25 for two and can be purchased at AtlanticCityWeekly.com. Grab 'em today and join the fun!
Since the previous two weeks were spent mostly in the suburbs, this week we'll focus strictly on Bites in Atlantic City.
We start off strong with a bite of the famous Italian sub from White House Subs. This year they are offering a fountain soda to wash it down with — a nice touch. From there we head over to Wingcraft Kitchen & Beer Bar where their awesome Southern Fried Chicken Slider gets topped with fried pickles, kale slaw and pimento cheese, bringing a touch of lowcountry cooking to our dining adventure.
The Claridge Hotel is the third stop, and we head to The Twenties where the incredible Dolce Piccante shrimp awaits -a pan-seared colossal shrimp with a sweet and spicy honey butter served over a bed of citrus arugula. A hop, skip and a jump gets us over to Leavander's 22 for a Bite of their Southern-style sweet and sassy wings — a dry-rubbed bite of heaven.
A quick stroll and we find ourselves over at A.C.'s newest and hippest section — the Orange Loop. Stop one is at Bourre where a smoky flavor from the bayou lies in wait. We're talking about their gator bites — a spicy swampland sausage that will blow you away.
A block away we pop in at Tennessee Avenue Beer Hall. This spot features an endless lineup of craft beers on tap and in bottles, and we think that makes for a fine excuse to take a break for a minute and enjoy a brew before biting into their bahn-mi slider, a Vietnamese favorite featuring grilled shrimp, cucumber, pickled carrot, jalapeño and a swipe of sriracha mayo.
Next door is Cuzzie's Pizzeria Kitchen, where a slice of Chef Kevin Cronin's pizza is waiting to impress you with its fresh tomato sauce and blend of rich cheeses. We continue down a few steps to Rhythm & Spirits where Cronin again shines with his fully-loaded croquette, a masterful bite of smashed potato laced with sour cream and bacon lardons and served over red sauce and parmesan.
We saved the sweetest stop on Tennessee Avenue for last, everybody's favorite bean-to-bar chocolate shop, Bar 32. They offer a full tasting of some of their most luscious chocolates as their Bite this year, and we can't think of a more perfect ending to our gluttonous (and delicious) day.