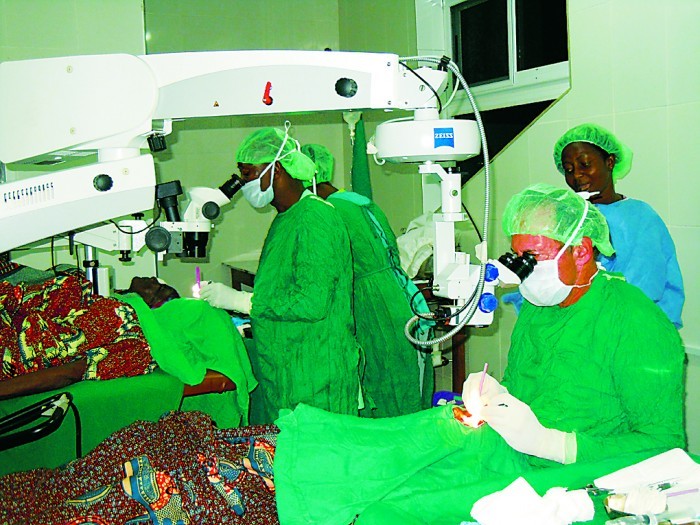 Dr. Howard Gross of Horizon Eye Care had been to Africa three times before as a tourist in search of wildlife. Last month, he went to the west coast nation of Ghana, not to vacation, but to work. 
He was a volunteer with Surgical Eye Expeditions International, or SEE, and his goal was to do as many cataract operations as possible.
"All the people I operated on were blind," said the ophthalmologist who lives in Margate, so he restored sight to scores of people. He is medical director of Horizon Eye Care, with offices in Atlantic, Cape May and southern Ocean counties. 
In Ghana, his patients ranged in age from in their 30s to an active 90-year-old farmer with one eye.
Cataracts cloud the lens of the eye, and are usually related to aging, but can also be caused by poor nutrition and disease. They cause about half of blindness worldwide, SEE says. 
Gross helped native surgeon Dr. Thomas Baah, who runs a clinic in the capital city of Accra. He saw about 60 pre-op and post-op patients each morning. He and Baah would operate on another 45 patients after lunch, finishing about 10 p.m., he said.
He didn't have access to advanced technology, so he did the entire operation "by hand." 
"In (the U.S.), a machine breaks up the lens and aspirates it," he said. "This was different from anything I'd ever done."
Although they have little, "the people there are as happy as any I've ever seen," he said.
 "I was exhausted after the week," he said, and was grateful to have wife Gayle Gross with him to share the experience, and help comfort and move patients. 
"At first I said I'd never do it again. It was too hard. Now I'm planning to do it again next year," he said. 
Getting organized for less
Certified professional organizer Joanne Rinaldi, of Organized Concepts in Linwood, does not use methods like you see on shows such as "Clean Sweep" on cable television.
 "A lot of shows ... go in with giant crews of people. That costs a lot of money," said the member of the National Association of Professional Organizers, Greater Philadelphia Chapter, which is celebrating Get Organized Month in January by donating labor to charities. This week, Rinaldi and four other organizers, including Alix Longfellow of Lionheart Pro Solutions in Cape May, will work on a large storage room for Gilda's Club in Linwood.
Rinaldi works on an individual plan with each client, she said. She takes items to thrift shops for them, she said, so they can't change their minds about purging.
Rinaldi lives in Linwood with "super neat" husband Herman, and son Michael, 22.
Everyone Has a Story appears Sundays, Mondays and Wednesdays.
Contact Michelle Brunetti Post: